Vietnam has fast become a must see country on many tourist's itineraries and it's easy to see why. From historic cities to tranquil beaches and jaw dropping mountain ranges, Vietnam really does have it all, but what became obvious to me during my five month stay is that most travellers fall into the trap of the same route, either up or down the country using tourist buses and trains.
Inspired an episode of Top Gear, I decided the only way to tour would be as the locals do on their favourite method of transport, the humble motorbike. It is estimated that there are around 45 million registered motorbikes in Vietnam making the roads some of the most dangerous in the world, particularly in the cities. However, escape the madness of the masses and you'll find yourself in a lost paradise.
Ha Giang. A rewarding adventure.
I spent my most memorable moments around the little known province in the north of Vietnam, Ha Giang. Unlike its famous neighbour Sapa, Ha Giang has retained its cultural charm and feels mostly untouched by mass tourism.
The town itself is quite underwhelming but offers a sprinkling of hotels and home stays to rest before your adventure begins.
I navigated a route which would take me north along the Chinese border and just moment's from the town I was met by towering limestone peaks and fertile green pastures. The road snaked around the mammoth structures cutting my route with surprisingly smooth tarmac.
Astonished by the giants above, I almost missed the fields of cannabis hemp plants lining the roads right beside me. Stopping to stare and surround myself with the 'forbidden' plant I was joined soon after by the farmer, proud to show me her mature crop.
A popular pilgrimage for young locals, particularly from Hanoi, is to ride to Don Van, Vietnam's most northerly point where a monstrous flag pole sits atop a tower over looking China on one side and Vietnam on the other. To climb the tower and catch a hold of the satin flag for an obligatory selfie seemed to be the outcome for the few we met that day.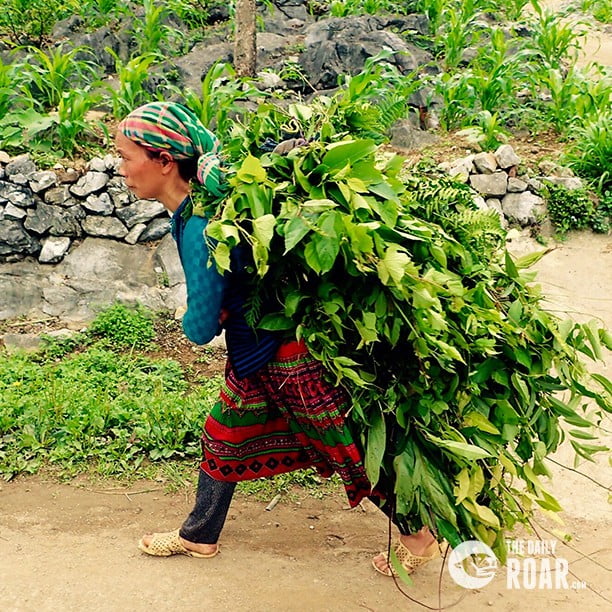 Hopping back on the bike, I rode to the border itself, a tired looking fence with battered barb wire and huge gaps either side. A sign boasting a skull and cross bones warned me to take caution but I tapped my toe onto China soil for good measure (hey I can say I've been to China!) Further along the route I found Meo Vac, a quaint village with oversized mole hills rising up from modest scattered buildings. A short stop for a bowl of local Pho and to shake out the legs was all that was needed. I had no time to waste, the journey still had so much to give.
Heart warming happiness with the locals
The last stretch between Meo Vac and Yen Minh, before returning to Ha Giang town was the cherry on the cake.
Every angel of this landscape will leave you wanting more. Cascading waterfalls from springs high above or descending valleys to find remote farms. Climbing every hill offers surprises and gasps over views too vast for the eyes to process. I couldn't believe the world could be so ruggedly beautiful, so natural. One can be forgiven for shedding a tear of happiness surrounded by this untouched region. For me, however, the most heart warming and humbling experience was to connect with the people that live in the far reaches.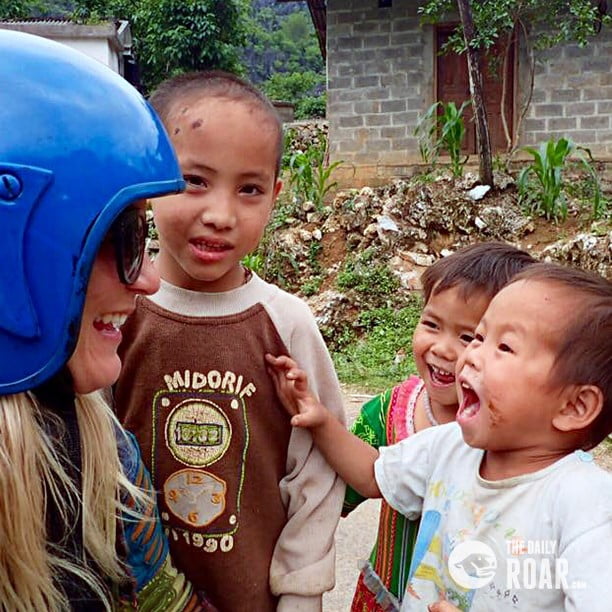 There are 17 colourful tribes in Ha Giang, rich in history and culture and still living a traditional lifestyle in rural villages, far from developed towns. To watch the children working alongside their parents, farming the land, collecting wood, washing their handmade clothes and wearing beautiful smiles with good souls. Every person I met moved me with kindness and showed innocence in their inquisitiveness. Despite fighting wars, floods, poverty and harsh landscapes these communities thrive and taught me to embrace the world around us.
Currently untrodden, Ha Giang is growing in popularity and while this will undoubtedly effect its peaceful roads, I truly hope the land maintains its glory.
Second contestant The Daily Roar 3rd Writing Contest
/// Written by Bex Cobb, United Kingdom