If I was asked which keep your heart when you stay far away from your hometown then I would currently said that: '' Besides my family's images, my country's foods especially Canh Chua – Vietnamese sour soup does have that power".

I believe once foreigners visit my country – Vietnam, they will mention about "spring roll", "phở", "bánh xèo – Vietnamese pancake"… but not "canh chua". Because "canh chua" is not a kind of food for hanging out. In addition, simply foreigners enjoy foods from stores but seldom have chance enjoying Vietnamese family meal, while "canh chua" is daily-meal food, except those who have Vietnamese relatives. These are reasons why travelers or foreigners missing a part of Vietnam's soul.

Its name "Canh chua" means sour soup follows its taste: a little bit sweet and a little bit sour. Cooking this soup is quite easy and its materials, which basically include tamarind or vinegar, snakehead fish, chilly, tomato, bean-sprouts, okras, elephant ear (kind of vegetable), pineapple, Vietnamese coriander, culantro leave (not cilantro), are available in any market and super-market. According to your appetite, you can also have other kind of seafood instead of snakehead fish. You start from fish and pineapple, wash and cut these into slices. Tomato had better be cut into a quarter – pieces (long cut). 3-4cm pieces of okras and elephant ear is good. If you want your soup tastes a little bit of sour or hard sour, use the tamarind or vinegar. Sugar will help you balance the taste if you accidentally put much sour materials. Finally, small pieces of Vietnamese coriander and culantro not only decorating the soup but make its taste and smell become different and special. "Canh chua" with its variety materials always offers exciting taste to people, it is usually enjoyed with cooked-rice in lunch or dinner meal.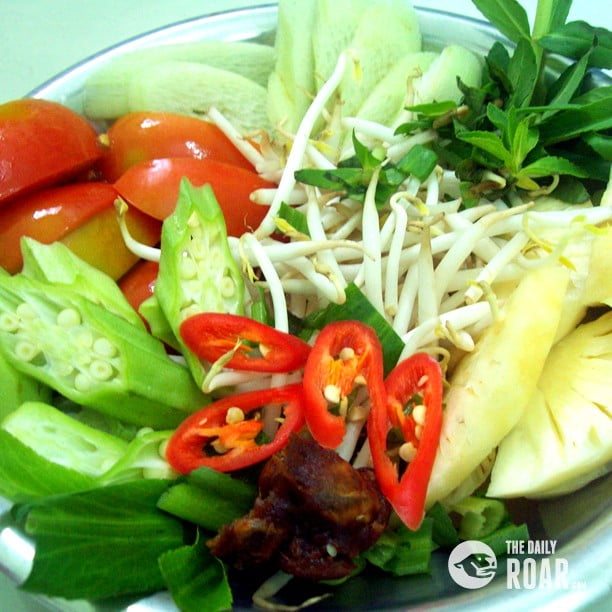 Let me tell you a secret. You will not enjoy "canh chua" in the true sense of the word unless enjoying it with family or cooking it yourself. Actually, you can have it at many food stores but "canh chua" is usually offered as added food so it's hard for you to enjoy it as quintessence soup. In addition, the warm atmosphere is essential element while having a kind of daily food, you should enjoy "canh chua" with family, friends or relatives. As for me, I appreciate "canh chua" which is cooked and enjoyed at home. In addition, enjoying "canh chua" with family or friends while it's raining outside will give you sweet emotion and memorable experience. Because when it's raining, you feel cold outside but with a meal and family or friends you feel warn in your heart.



/// Written by Trần Liberty, Vietnam