One of a kind resort in Zambales
It all started when me and a friend went to Zambales on a business trip. We visited the owners of Cerana Farms, an agricultural company which focuses on Zambalino Wines. The farm is just a couple of miles away from C&J Sunset View Resort, which made is easy for us to choose this resort because of its distance. This resort is fondly called the Sunset View Paradise of the North and is located in National Highway, Binoclutan, Botolan, Zambales, Philippines.
We used our Mazda 323 car and our friends' Toyota Wigo to travel here. If you're from Manila, it took us about 9 hours to get here. Average travel time from Manila is between 7-11 hours, depending on the traffic. If you want to go by plane, the Subic Bay Airport is just 56.3 km away from it and then ride a van or a tricycle.
Parking is free. Check in time is every 2 PM and checkout time is every 12 noon. Once we got inside, we checked in and got two rooms, one standard twin bedroom and 2 standard couple rooms. The standard twin bedroom as two single sized beds while the standard couple room has a queen size bed. They have a flat screen TV, a walk-in closet and a study desk inside the room. Air-conditioning, Wi-Fi access and hot and cold shower is available. Both bedrooms had a view of the resort's gardens.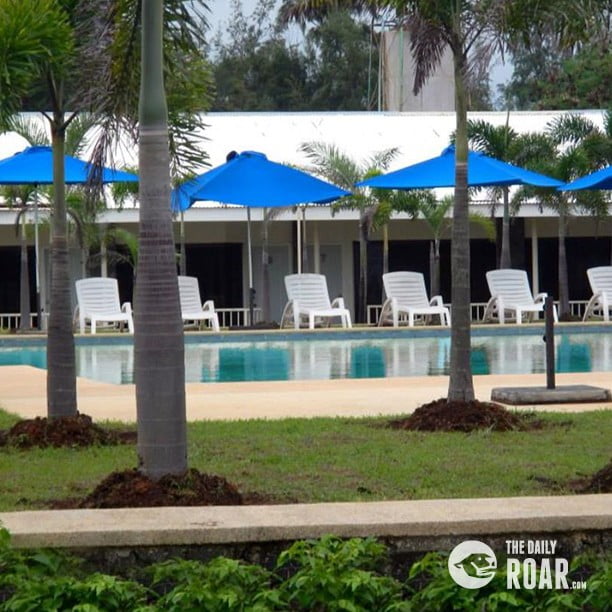 It's recommended to go there on a weekday instead of a weekend because of the price. Since we came on a weekday, we only paid for Php 1539 per night for the standard twin bed and Php 1895 each per night for the standard couple room. Kids 2 years old and below are for free. Meals were not yet included the price, but you can order at the restaurant.
Experience the sunset in Zambales
The Resort has three main areas, the swimming pool area, the beach area and the campsite area. The beach area has a great view of the ocean. The swimming pool area is an U-shaped outdoor infinity pool complete with a terrace, shower rooms and a pool deck. Go for the beach instead of the pool if the weather conditions are right. You'll have a better view of the sunset and it's more breezy.
One good thing about C&J Sunset View Resort is that it is pet-friendly. We bought our Siberian Husky named Boomer along and he really enjoyed it. Other activities you can do is go play darts. There's also a badminton court and a table tennis court and a poolside bar. If you're in a hurry to have clean laundry, they also have a laundry service with a fee.
Overall, it's a great experience. You can take a relaxing break from work. It's a cozy and cool place with wonderful scenery and is recommended for families. The venue can also be a special events venue for weddings and the like. The staff is very accommodating. So if you're looking for a pleasurable stay when you're in Zambales, why not try C&J Sunset View Resort in Zambales?
Save