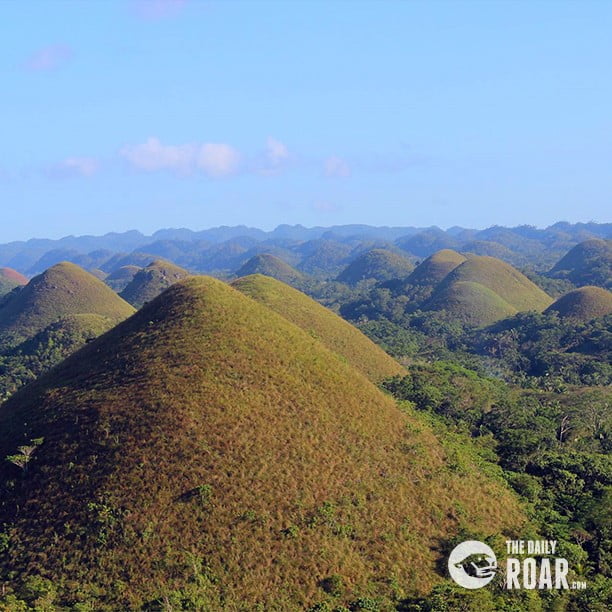 "The Island of Bohol" is one of the most attractive tourist destinations in Philippines. If you are going to visit the spots of Bohol province, you will not want miss the wonderful sight of the Chocolate Hills. The hills are covered with green grass and turn to brown during the dry season. So, it has been named after the natural insight of the hills. You will see the amazing hills spread over a large area of 50-70 square kilometers. The Chocolate Hills are located with 1776 hills of natural beauty. You will feel amazed hearing the most amazing fact that the hills are included in Philippines provincial flag.
Stories about the Chocolate Hills
There are some arguments arose time to time about the formation of the Chocolate Hills. You will even hear some interesting and legend stories from local people. There is a story of two giants who were fighting relentlessly. After being tired, they made peace and went away from that place. But the mess they made created the most astonishing sight of brown chocolate hills.
The Carabao and the Chocolate Hills
Here is another story about it! There was a giant water buffalo that hardly left any crops. So, the villagers made a plan to stop the Carabao. They planted spoiled food to poison the carabao. It really helped. The carabao defecated everywhere around the area till its stomach was empty. After that the hills came out.
There also several stories that can amaze you with fun and history of the hills. But the geologists uniformly accepted the theory that the hills are formed naturally with marine limestones which are arranged layer by layer.
If you want to stay a few days, don't worry. There is an accommodation facility Chocolate Hills Resort run by the Government. Though the facility may be under further construction, you can still enjoy the pool and see the hills as much as you can.
There are so many tourist guides here to help you. To reach here without any guide, you can depart from Tagbilaran. You will have to go to the bus terminal Dao and ride on a bus trip to Carmen. Then you will see yourself at the right place 4 kilometers before arriving to Carmen. You can also enjoy riding on "Habal-habal" or motorbike taxi.
You can also come by boat. You can ride on a boat from Cebu. Then you can ask for habal-habal to bring you to the complex.
If you are going to enjoy your leisure time Chocolate Hills are perfect place for you! You will fall in love with the big bells of the hills and also take some snap to make your album full of fairyland. Ring the bell! Take a wish! Your wish may come true!