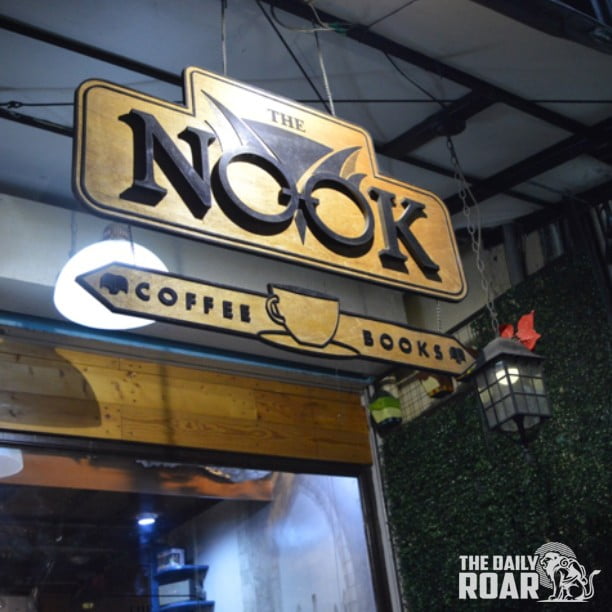 For a girl who's been a Potterhead for 13 years now, it is a dream come true to finally get a taste of Butterbeer. Going to the Wizarding World of Harry Potter in Hollywood is pretty expensive so it is nice to see a piece of Hogwarts hiding along the streets of Maginhawa which is one of the most popular place for food trips in the Philippines. The Nook Café or what I nicknamed the 'little Hogsmeade of Maginhawa because it reminds me of Madam Rosmerta's Three Broomsticks Pub in the film, is a hole in the wall café in Maginhawa. Just like most of the restaurants in Maginhawa, The Nook Café is small and is difficult to find at first. The café is also incredibly tiny inside, with only around 6 tables all in all. Aside from its tiny space, another problem is the lack of parking space; this will be a problem to car owners. However, its small size is worth it because of the cozy and homey ambiance of the café. It is a Harry Potter fan's fantasy dream come true; with its Harry Potter memorabilia and designs, it will make you feel as if you're at Hogwarts.
What makes The Nook Café unique?
Since it's already crowded at the first floor, we chose to stay at the second floor, which for me is the cozier one. The second floor is much smaller than the first floor. It has small tables we have to sit on the floor instead, which is not a problem at all since shoes are taken off at the second floor. One of the most interesting things at the café is that we can use their robes and scarves which are actually needed anyway because it's very cold upstairs. There are more memorabilia upstairs and there are books available to read. What I loved the most is the peaceful and homey ambiance of the café; it's very relaxing to eat there. Because of its relaxing and quiet ambiance, students usually go there to either review or do their assignments.
The Nook Café is affordable for students!
One of the things that I loved the most in The Nook Café is how affordable and student-friendly the food prices are. Despite the low price, the food is very satisfying and delicious. The only problem for me is that, the food is not that warm enough when served, which decreased its tastiness. Their foods are perfect for students who want something to snack-on while studying.
Of course, I ordered the famous wizard drink, Butterbeer. Their Butterbeer is the café's bestseller; it's probably the reason why people went there in the first place. It's no wonder why, their Butterbeer is spectacular, albeit too sweet but delicious nonetheless. It's non-alcoholic despite the beer in the name, so it's safe for everyone. It tastes like toffee candy turned into a drink. The price is a bit expensive for me because for P130.00, the large sized Butterbeer is not big enough. Though it can be messy to drink because of the foam, it is actually quite entertaining; foam mustache anyone?
For the coffee lovers, their cappuccino coffee is recommended. It is a little bitter at first but leaves a sweet after taste on the tongue. Again, it is kind of pricey for me at P105.00 though at its delicious taste, it's probably worth it.
Their beef and mushroom pasta is good for one person. The only problem is that, it is not served warm enough that's why the pasta became clammy. Aside from this, it tastes good, like the usual carbonara. It's satisfying for me.
The Grilled Cheese Panini is for the cheese lovers. It's delicious and tasty, though the huge amount of cheese can be overwhelming for those who are not a fan of cheese. It has at least three kinds of cheese in it causing it to be a bit salty because of all the cheese. This dish is enough for one person but can be shared too because each sandwich is thick with fillings. For the price of P110.00, it can be a bit pricey but worthy enough.
Their Bacon Wrapped Chicken is heaven, pure heaven. This is definitely my most recommended dish. It's juicy, crunchy, and very delicious too. Each piece is medium sized, four pieces is enough for two people. This dish is also perfect to pair with rice because of its tastiness. The saltiness of the bacon and chicken and the sweetness of the honey sauce is perfect. It's just enough crunchiness paired with the softness of the chicken inside. With the price of P160.00, it's definitely worth it. This dish is very much recommended for everyone planning to visit the Nook Café.
For the dessert, who can resist a serving of their cute Golden Snitch Chocolate Truffle? It's perfect for desserts. The bitter and sweet taste is just right, not sickeningly sweet or nausiatingly bitter. It's a bit small for P35.00 but still worth it. It can be difficult to eat at first because of its hard as stone surface but it's all soft chocolate inside.
All in all, my wizarding experience at the Nook Café is worth it. Not only did it triggered by Potterhead tendencies with its memorabilia, it also made me nostalgic. The staffs are very accommodating and caring; they are all smiles the moment we stepped inside making us comfortable and relaxed. The place is very cozy and relaxing, albeit small. The food is also very affordable, making it the perfect hide-out for those who want to study or to just simply relax from the stressful world outside. The Nook Café may be a small place, but its huge influence to everyone is proof that a big place is not needed for a restaurant to be huge; all it needs is the right idea at the right place.
Contact details:
The Nook Cafe
A, 164 Maginhawa, Diliman,
Quezon City, 1101 Metro Manila
+63 915 974 3660
https://www.facebook.com/TheNookCafe