A classic fishing village, Ham Ninh
If you have a chance to visit Phu Quoc Island – one of the most beautiful islands in Vietnam, the fishing villages are the best options you should not miss. Ham Ninh is one of them which all visitors love to be there when coming there. It is located on the east coast of the island, behind the mountain, facing the immense sea. In the Ham Ninh fishing village you can see primitive life with bamboo and thatched walls. No one know when this fishing village was founded but residents come here to live for fishing a long time ago and Ham Ninh is a quiet and safe place for them all these years. Life is still poor but the resident live there for many generations.
The Ham Ninh sea just a few hundred yards away is still shallow. That is the reason why fisherman are having a long foot Whart in here. In the early morning or the afternoon, you can see the beautiful Dawn, Sunset or even full moon night. Besides that, a lot of children come here for playing or selling starfish with cheap prices (about 1 USD/ Starfish). You can buy some for some décor if you love that, or they will give you one as a gift – very cute and tricky. People in here are friendly, simple as their life. Moreover, the best thing you will never forget in here is the seafood which is very cheap and fresh. The best place you can enjoy a great meal is a small floating house moving on a wooden raft. You can choose living fresh seafood such as oysters, urchins, kinds of fish, crabs, squid…and then the seller will cook them as your require (grilled, steamed or mixed with salad…). On holidays, you might need to wait a while because of the crowded diners, but it is way worth it. One of the most favorite visitor dishes is Crab which has just been steamed and seasoned with salt, pepper and lemon which gives a delicious taste.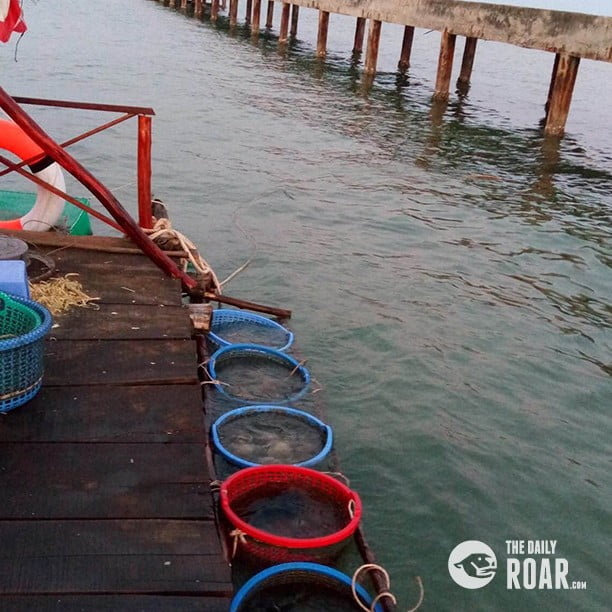 Time passes, but the landscape in Ham Ninh fishing village still retains with its wild beauty. The lifestyle of the people also has not changed in all these years. Life there is without the city life full of worries and noise. The Ham Ninh fishing village has always remained calm, steadiness in the rustic, idyllic, harmony of man with nature.
How to get there: You may rent a motorbike to get there (it is about 12 km from the center of Phu Quoc, it is easy to ask for directions).
/// Written by Bùi Thị Tiên Đức, Vietnam
Save