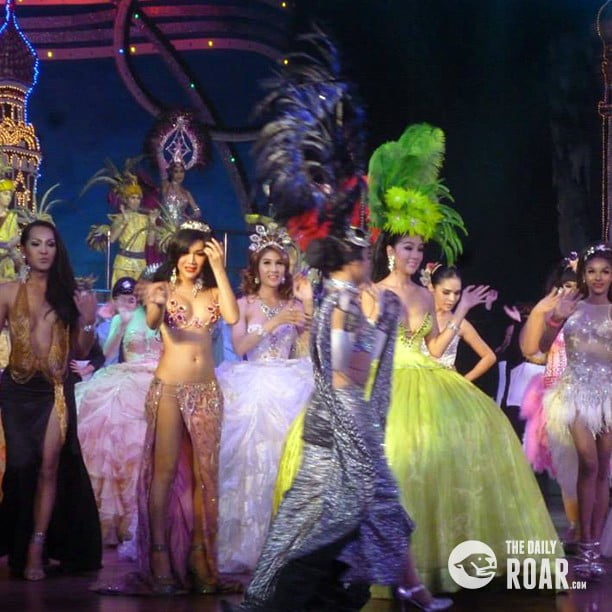 What Pattaya is most famous for
Known for being Thailand's wild child, Pattaya even calls itself the City of Sin! Famous for its energetic and naughty night scene, with go-go bars, massage parlours, strip clubs, adult shows, and nightclubs aplenty, if you're looking for something a bit different to do in Pattaya come night time why not visit one of the wonderful ladyboy shows?
Thailand is known for its large numbers of ladyboys, known in Thai as kathoey. Whilst the terms may seem quite derogatory when used outside of the country, there are no negative connotations with them inside of the Land of Smiles. Ladyboys are people who were born as men, but now live as women. Some choose to simply dress, appear, and act as females, whilst others have had full reconstructive surgeries to become women.
Whilst ladyboys can, and do, work in many occupations, some appear in glitzy and glamerous shows, such as the ones in Pattaya. There are two major ladyboy shows to choose from: Alcazar and Tiffany's. Each offers an evening of fun entertainment that is largely suitable for the whole family. Remember as watching that every single person that appears on the stage was born as a male – you're sure to be blown away!
Alcazar Cabaret in Pattaya

Running since 1981, Alcazar Cabaret is one of the most famous cabaret shows in the whole of the country. Shows are held in a large and impressive theatre, which has seating space for up to around 1,200 people. The state-of-the-art AV technology and stunning sets at Alcazar help to really set the mood; dazzling lights and lasers and loud music are just part of the fun. The real draw is the actual performers – it will be difficult to take your eyes away from the stage!
Shows last for around 70 minutes, and follow a set routine. Fabulously glamorously outfits are worn, as well as flawless makeup and towering high heels. Shows try to incorporate a variety of global elements so as to appeal to an international audience and showcase traditional dances and outfits from around SE Asia. You can expect scenes such as "Hello Vietnam", "Flowers of China", "Fabulous Russia", "Persian Dance", and "Four Legendary Regions of Siam Kingdom". Stories are played out through the various acts.
The stage presence of the artistes is amazing, with incredible dance moves to accompany the multi-lingual songs and miming. It really is captivating! Photography is permitted throughout the show, allowing you to capture the beauty and opulence to share with your friends and family and remember for a long time. Tickets cost from 500 THB, with varying pricing levels for different seating areas.
Tiffany's Show in Pattaya

The building of the awesome Tiffany's Show is impressive in itself, resembling a grand ballroom of sorts from the outside. As you enter you'll walk across plush carpets before finding your seat in the large auditorium.
As like Alcazar, performers wear a colourful and extravagant selection of striking costumes and accessories, filling the stage with their presence. The show has been running for more than 40 years, wowing visitors time and time again.
Dances and performances incorporate global elements, with numbers including "The Glory Flower" that depicts a Chinese legend and an enthralling ribbon dance, "Arirang", which brings all the fun and upbeat energy of Korea to the stage, "The Magic Stones" that tells a Thai legend, and "Saigon Girl", which, as the name suggests, transports you to the heart of Vietnam.
The saucy "Be Italian" is enchanting, the romantic "Je Ne Sais Quoi" will give you goose bumps, and "Tiffany's Follies" embodies the whole glamour and splendour of the show. Be transported to historic Russia, enter the world of Bollywood, and more!
Tickets start at 650 THB, with different prices applying to the different seating areas. Photography is not allowed during the show, though you can tip the performers afterwards to take pictures, either alone or with you and your friends.
/// Written by Sarah-Jane Williams, Thailand
Save