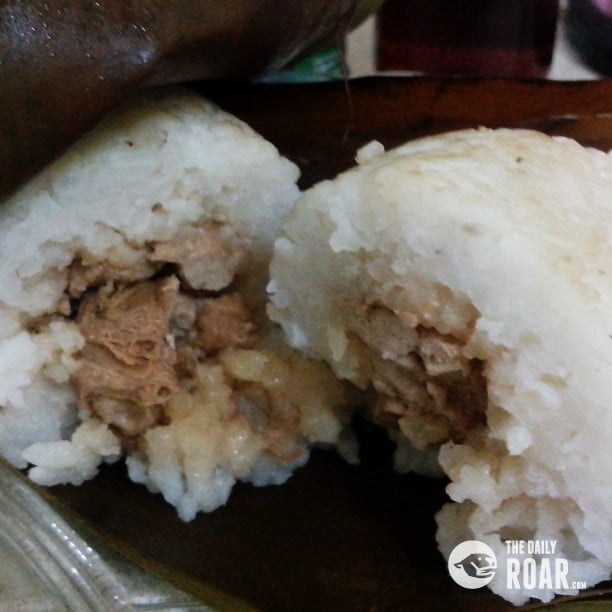 Visit Indonesia means visit a huge variety. You can't imagine how hundreds of tribes could unite to be one nation called Indonesian. Surely, each tribe has its' own culture included food. You might know one major tribe in Indonesia called Javanese, but you might don't know some things that really familiar to its culture, especially food.

If you visit Java Island, especially at Central Java, you will find one familiar food that you can't afford. At a wedding ceremony, family gathering, birthday, even office meetings, this food is always presented in a snack box. This traditional food is called Arem-arem. Arem-arem is a kind of rice cake which contains some contents like tofu, soybean-cake and beef which are already cooked with some special traditional spices.

As you see, Arem-arem is wrapped by some banana leaves and locked by two pieces of thin wooden needle on its two sides. You might ask why the leaves' colors are different as the ones that you see at their trees. The banana leaves turn their colors into dark green as they are steamed for about 30 minutes together with the rice cake inside. The shape is like a small tube with about 8 centimeters in length.

Arem-arem becomes one of the most favorite snacks consumed by Javanese due to some reasons. First, arem-arem is really serving your hunger. When you are hungry but you don't have enough time to eat at your dining table, arem-arem becomes your precise choice to avoid starving. The cooked rice which wraps the seasoned tofu, beef and soybean-cake contain much carbohydrate and really suits those who need much energy. Second, arem-arem is easy to be made. Simply fry some ingredients like chilli, garlic, onion, salt, and pepper together with tofu, soybean-cake and beef. Put those inside the rice which has been cooked with coconut milk and steam them together for about 30 minutes. Experience the delicious arem-arem snack together with a hot tea or coffee.




Lezat! For you who really want to experience Indonesian taste of traditional snack, arem-arem could be found on the nearest traditional market at where you stay. This snack is also really cheap, about IDR 1,500 each. Don't expect to meet this snack at night as the sellers usually sell this snack at morning or afternoon to serve those who need much energy from their food. Unfortunately, this snack couldn't be stored for more than one day.

/// Written by Riesty Wulan, Indonesia