Tangkuban Perahu lies 30 km north of Bandung, Tangkuban Perahu Mountain has long been one of Bandung's favorite landmarks. This dormant volcano offers both natural beauty and local legend that will just impress you at the first sight.

Its main crater, known as Kawah Ratu –literally means the Queen Crater-, is the highest point at 2084m above sea level. You have to go up the roughly paved stony stairs to get to the very rim. Quite exhausting it is, yet the astonishing view from the top and the cool wind breeze will pay off for the effort. However, you'd better put a mask to protect your breath from the strong smell of sulfur fume emitting from the crater.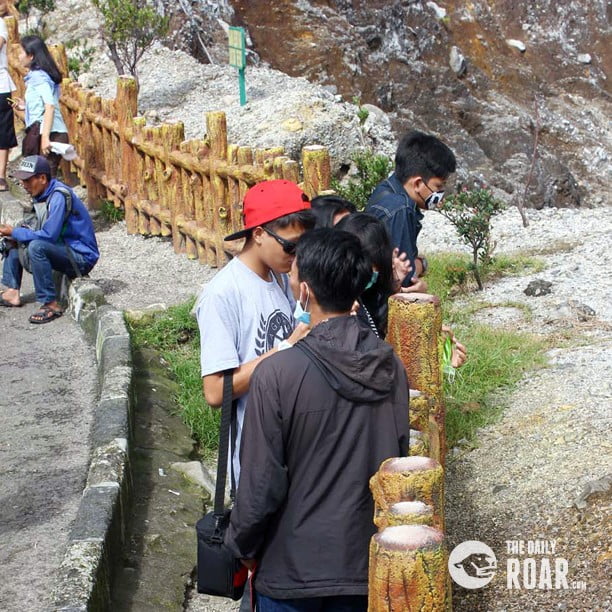 Visitors wearing a mask due to strong sulfur fume

Entering the main gate, you will see many peddlers offering various goods to buy. Starting from masks to shirts, necklaces, hats, sunglasses and other souvenirs, you may have one at a reasonable price. However, don't hesitate to say 'no' when you think you don't want to buy. In addition, you can have a local tourist guide to accompany you exploring around the place. Just make sure you've asked for the service fee before deciding to hire one. It may cost up to IDR500,000 for a guided tour, but you may get a cheaper service if you are a good bargainer.




The stony stairs to the top

If you want to sample local dishes, then a wide range of choices is available nearby. Restaurants and food stalls are available around the entrance gate. You may taste the rather salty, spicy Sundanese culinary or have a cup or two of hot traditional blend coffee. For tea lovers, Bandung is also famous for its tea plantation producing high quality tea perfect for a breezy afternoon at Tangkuban Perahu. All these delicacies are at affordable price.

Further, having a trip Tangkuban Perahu means having a budget trip, for either an individual traveler or a group consisting family and relatives. The admission fee is IDR13,000 for local tourists and IDR50,000 (equal to USD4,5) if you are a foreign tourist. A large parking area is available for you to park your car or motorcycle. You have to pay IDR5000 for your motorcycle and IDR10,000 for a car. However, the rate may vary if you have a travel agent managing your trip itinerary.

Above all, the mist, tea plantation along the way to the site, fresh air and the hospitality of local people will make your trip to Tangkuban Perahu an unforgettable moment. The beauty of the crater and the unique shape of the mountain was actually an upturned boat kicked by Sangkuriang, so the legend says. He fell in love with his own mother, Dayang Sumbi. He was mad, as he failed to finish making the boat in one night.




Another view of the crater

/// Written by Yustinus Surya Aji Praptanto, Indonesia