To find a fantastic gateaway on the weekend sometimes you no need to go abroad. From my city, Jakarta, we booked a flight to go to Belitung Island. It's a small Island in the East Coast of Sumatera. Which actually is a part of the famous Bangka-Belitung Regency. To visit this island, if needed, you can take Malaria pills, near with the beach sometimes they will have mosquitos here and there but in the city it's fine.




We booked a cheap flight and planned to stay in Belitung for 3 days and 2 nights. We departed on Friday from the Soekarno Hatta airport in Jakarta and then arrived in the Tanjung Pandan airport where our adventure begun. A driver with our rental car picked us up at the airport. After that we ate the Belitung authentic noodles with eggs and shrimps as our breakfast before heading to Berahu Cottage, Tanjung Binga, our choice to stay after doing some research in Google. We loved the guest house. It had 2 rooms, a kitchen, a living room, 2 bathrooms and a balcony together with an outdoor swimming pool. Perfect!

After we dropped our bags, we continued the adventure by going to a temple. It was called Dewi Kwan Im (Buddhayana) temple, located in the East of Belitung. The driver told us that this temple is good for those who want to pray to get a husband.

We look around for a while then continue to Punai Beach and Lalang Beach to catch the sunset. Beaches in the East Belitung can be categorized as shore fishing, the view was not that good. We didn't spend too many time there and returned to the hotel to swim a bit before having some revenge by eating lots of seafood. In Belitung, seafood is very fresh and cheap. The crab is so big and we ate all the fresh seafood until our belly was so full we could not even take a little bite anymore.





On Saturday morning we went to Tanjung Kalayang Beach. It was also the harbor for our boat. We did an island hopping to 5 beaches named Langkuas Island, Tanjung Tinggi Island, having lunch in Burung Island, playing around in Babi Kecil Island and Babi Besar Island.





In Langkuas Island, we stopped and went to the White Lighthouse which was already 129 years old. It's one of the Dutch relics in Indonesia and I heard the Lighthouse still works well until now. If you are keen to photography going up to this 60 meters Lighthouse is a must. From above you can see the breathtaking view of Belitung Island in the blue greenish clear water. Even it's tiring to go up the view is priceless and the feeling of being 60 meters above the sea surface gave me a scary thought but was also exciting.




Next to Langkuas Island is Tanjung Tinggi Island which is a rocky beach with some huge granite stones. As what I saw Belitung is an island that has so many granites stones whether you are in the sea or on the land surface there are stones everywhere. Belitung is also famous thanks to its tin resources. If you see it from your plane you can see the beautiful blue lake which used to be the old tin mining.




It's better for you to bring lots of snacks and meals to the boat for your lunch this because there is no restaurant on every island. We found a local house that was able to serve us instant noodles. But unfortunately the portions where not so big. It was not enough for our hungry stomachs but we had to fit in and make ourselves full by sharing the cheap instant coffee together.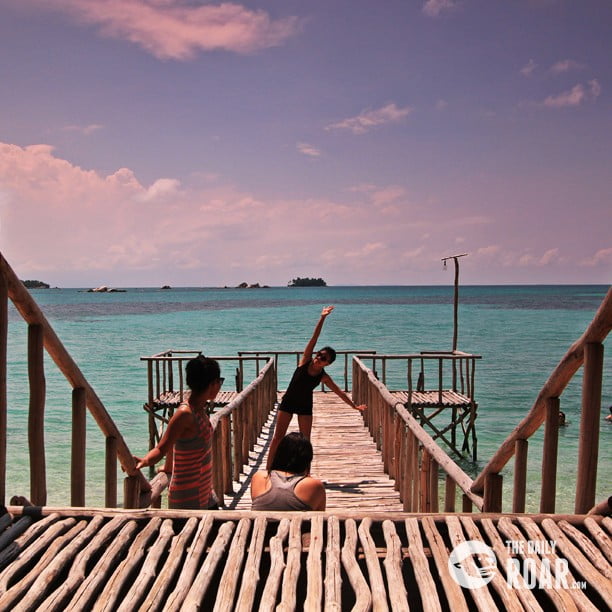 My favourite place is Babi Kecil Island. It is so pretty and we felt like we where the owners of the island. There was no tourist at all except us. We did the snorkeling with the equipment we rent from the boat owner for the total prize of Rp. 35.000/per set. While snorkeling we also found a huge red sea star. It was my first time seeing this animal.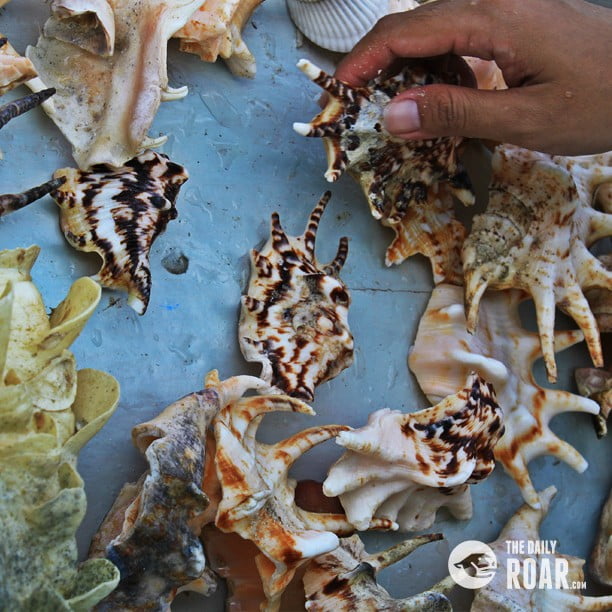 We finished our adventure with relaxing in Tanjung Tinggi. Tanjung Tinggi is an area for filming the Laskar Pelangi movie. An inspiring children movie which actually make Belitung Island famous to be visited after the movie was released in local cinemas. We catched the sunset there, unfortunately the clouds where a bit gloomy so we did not get a clear sunset. But still it was beautiful.




In the next morning we went to Tanjung Tinggi for one last time and went around with the bicycle. It was so much fun and easy to do. To finish our journey we took a peek to the blue lake of an old tin mining. The lake is on our way to the airport so we just did that on our route back. The trip we had was so much fun. I can say personally that Belitung has become one of my favorite places to visit in Indonesia. You will never regret coming to this place trust me.




/// Written by Dea Sihotang, Indonesia