The tiny city-state of Singapore isn't exactly known for its beautiful natural landscapes. Singapore is certainly not the first place which comes to mind when you think of breathtaking sunsets or picturesque villages but you will be very much surprised at the spaces of bliss, serenity and beauty you can find in its gardens.
Singapore might be a tiny country but its government and citizens are committed to making sure that there are green spaces left for everyone to enjoy. Although these gardens do not rank high on people's list of must-see places in Singapore, these hidden gems are truly worth a visit if you are tired of the usual concrete skyscrapers. These gardens are popular places for locals who want to have picnics and for people who just want to relax and unwind.

Chinese and Japanese Gardens

Commonly known as Jurong Gardens, the Chinese and Japanese Gardens are located in a park in Jurong East, Singapore. It was built in 1974 on an artificial island in the Jurong Lake and the two gardens are connected by a bridge called the Bridge of Double Beauty.

The Chinese Garden is designed to excite the senses while the Japanese Garden is designed to give people inner peace and a sense of calm. The design of the latter is from Japan's Muromachi period. The Turtle & Tortoise Museum is located in the gardens and there are also other animals which have made the gardens their home, including the monitor lizards which can usually be seen near the ponds.





The bridge connecting the Chinese and Japanese Gardens




The Japanese Gardens

Singapore Botanic Gardens

Once an overgrown plantation, the Singapore Botanic Garden was turned into a park under the supervision of Laurence Niven. The garden is open from 5 in the morning until midnight and has 74 hectares divided into different areas; the National Orchid Garden, Ginger Garden, Rainforest, Evolution Garden, Jacob Ballas' Children's Garden and botany Center and Tanglin Gate. All the gardens have free admission except for the National Orchid Garden.

The National Orchid Garden has more than a thousand species of orchids and occupies three hectares of space. The Ginger Garden was officially opened in 2003 and is located just next to Orchid Garden. The Rainforest is older than the garden itself and occupies 6 hectares. The Jacob Ballas' Children's Garden was named after Jacob Ballas, the garden's main donor, and cost SGD $7 million to build. In the Evolution Garden, visitors can witness the evolutionary story of plant life on Earth. Lastly, the Botany Centre and Tanglin Gate houses the herbarium, workshop classrooms and orchid breeding centers.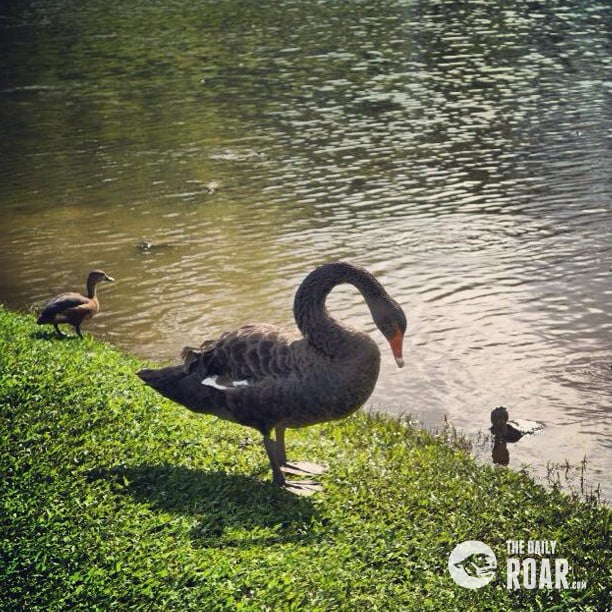 Goose frolicking about near the pond




The gazebo where music was played in the 1930s