White water rafting
Have you been wanting to go on an adventure that releases adrenaline from your body? You should definitely try the famous Cagayan de Oro's White Water Rafting!
Cagayan de Oro is located in Mindanao, the southern part of the Philippines.
How to Get There?
Laguindingan International Airport is located in Misamis Oriental that serves the cities of Cagayan de Oro and Iligan. Currently, there are two airline companies that fly from Manila to Cagayan de Oro (Cebu Pacific Air and Philippine Airlines).
From Laguindingan International Airport
This airport is approximately 38kms away from the main city of Cagayan de Oro. Consequently, transportation is scheduled and pricey. Fortunately, there are now several transportation services that you can choose from that are located right outside the airport. The fare ranges from Php 100 to 200.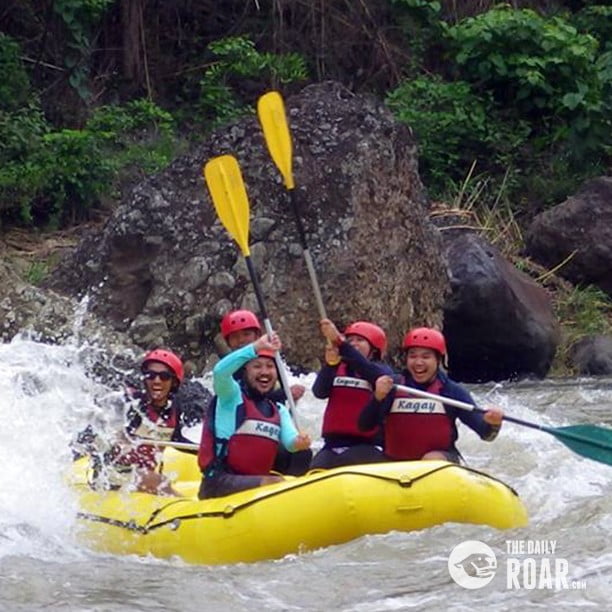 Who to Contact for the White Water Rafting Adventure?
There are several White Water Rafting operators in Cagayan de Oro. Below are the most popular ones:
Kagay White Water Rafting
Address: Corrales Avenue, Corner Rivera St., Cagayan de Oro City, Misamis Oriental, Philippines.
Phone: (088) 852 – 1021; Mobile: +639177122442, +639177122323 +639223886200
Email: dankaamino23@gmail.com
Great White Shark Tours
Address: Upper Carmen, Cagayan de Oro City, Misamis Oriental, Philippines
Phone: (088) 851-7856
Email: cdoraftingandzipline@gmail.com
CDO Bugsay River Rafting
Address: San Agustin-Velez Streets, Cagayan de Oro City, Misamis Oriental, Philippines
Phone: (088) 850 – 1580; Mobile: +63 – 917-3-BUGSAY (284729)
Email: cdoraftingandzipline@gmail.com
Their adventure packages start from Php 1,200 for the basic rapids
We got the services of Kagay White Water Rafting. I personally can say that we felt safe as we battled those rapids. Needless to say, their guides are humorous
Tip: For the months of July to December, water levels are higher. Therefore rapids are more challenging.
Is Rafting Dangerous?
As with other adrenaline – pumping sports, there are certain risks involved. That's why you should only entrust your safety to the professionals. Also, the risk mainly contributes to the excitement and this is why people love this sport. Also, everyone is fully – equipped with a Personal Floating Device and a hard helmet.
Can Non – Swimmers Do This Activity?
Yes, you definitely can! It is not a problem if you cannot swim. The rafting operators will provide you with sturdy personal floating devices.
What to Wear?
Preferably, wear light material clothing that will double as swimwear. In our case, we wore rash guards and swimming shorts.
The best thing about rafting in Cagayan de Oro is the river. The river is generally calm but the minute you're nearing a rapid, it will highly energize you and bring you into an adventure that you'll never forget.
Now, what are you waiting for? Book a trip to Cagayan de Oro, Philippines now!
Save