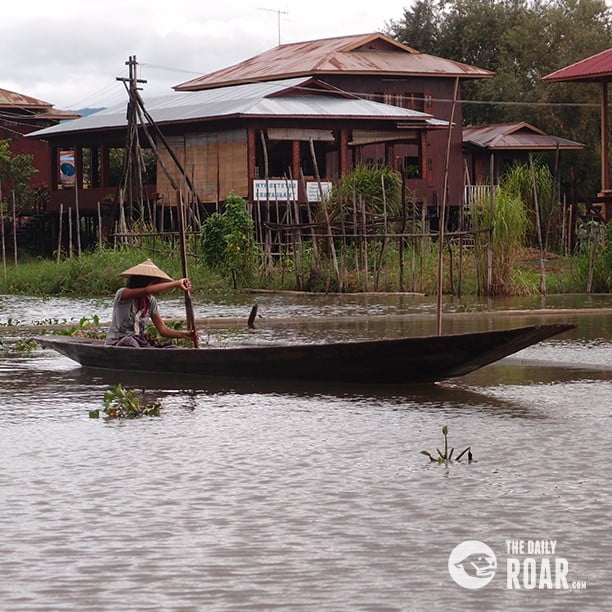 Inle Lake is a freshwater lake in the Nyaungshwe town of Taunggyi district Shan State in Myanmar (Burma), and is one of the country's must-see destinations. Here are some of the things that await visitors, as well as some tips that would help you make the most out of your trip.
Transportation
If you coming from Yangon and Mandalay, you will land at the Heho Airport, which is about 30km away from the lake. This is the fastest and most convenient way to reach the lake (Yangon is 660km away). From the airport, be prepared to spend about 25000 kyats (around US$25), which sometimes won't allow you to bargain. To save on some cash, you can share a ride with other tourists and split the fare. You can also walk to the nearby highway and hail from there—there's a chance that prices will drop if you don't get it in front of the airport.
Accommodation
Since Inle lake is slowly becoming a popular tourist destination, more and more hotels and guesthouses are opening every year. You can either stay at hotels on stilts—a major tourist attraction—or around town.
Staying in the stilt accommodations could get expensive, as you'll mostly be restricted to hotel food, and would have to shell out about 10,000 kyats to take a boat to and from town. You, however, would be able to see the sunrise and sunset while you're on the lake—you'll see the fishermen begin and end their day, or simply marvel at the serene lake.
Activities
The best time to visit is September and October, the months for the Hpaung Daw U Festival (a celebration that lasts for three weeks) and the Thadingyut festival of lights. If you won't be able to catch these, there are still other activities in store, such as:
Marionette puppet show by Aung, which will delight you with traditional Burmese music and marionettes – show times are around 7pm and 8:30pm.
Red Mountain Winery, where you can do wine tasting and have local and Western food.
Hpaung Daw U Pagoda, which is located in Ywama, that has five small golden Buddha images that have been covered by gold leaves by worshippers.
The Five Day Market, where different ethnicities of Shan State sell their products—from fruits and vegetables to local handicrafts.
Food
Make sure that you try out some Burmese and Shan State specialties while you're here. Because of tourism, restaurants in Inle Lake has started serving Western food, so you don't have to worry if you suddenly crave something like pancakes, but see to it that you check out local delicacies as well. Here are restaurants that you can check out:
Ann's Restaurant (Myan Ni Gone Village, Nha Phay Kyaung) – Serves Burmese Inthar food, as well as some Chinese specialties.
Bamboo Hut – (War Daw Village, Nyaung Shwe Township) – This one's a well-recommended restaurant that uses fresh ingredients, serving vegetable dishes and curries. Try their veggie tempura and pork.tofu curries.
Live Dim Sum House (43 Yone Gyi St, Nyaungshwe) – If you're in the mood for some dim sum, this one's a must-try. Thry their crispy duck dumplings and gyoza.
Lin Htett Myanmar Traditional Food (Nyaungshwe, Inle) – As the name suggests, this place serves traditional and authentic Burmese cuisine. Don't miss their pennywort salad and curries.
/// Written by Lia Tizon