Although not a new place, Phu Hang Nak in Suphanburi Province has only fairly recently started being promoted as an attraction. Local people are trying to raise interest in, and awareness of, the area in an attempt to prevent developments on the land. As a result, if you visit, you are likely to be able to enjoy the place in relative peace and quiet, without many other visitors around. It is located in U Thong District.

It is promoted as a stone park, and the mountain is covered with interesting natural rock formations.
A knowledgeable guide walks around with individuals or groups pointing out all the things of interest.They show you the different rock formations that resemble creatures and objects which, although may be easy to miss on your own, once they are pointed out the resemblances are often pretty striking! There is, for example, a stone that looks like a heart, one that looks like a turtle, and a natural pattern that is sure to make you think of a crocodile.
The guide also points out all the different plants and flowers, letting you go at your own pace to enjoy the natural beauty all around. It is interesting to see where trees have grown around the rocks, in a splendid visual display of natural battles for space! At one point you approach what looks like a dead end … until you get closer and realize that there is a narrow path between the high rocks. The views from the mountain are lovely, and you can see the fields and countryside stretching for many kilometres all around you.

There are some small interesting shrines on the track that leads up the mountain to the stone park, and if you go early enough there are also some caves and nice walks close to hand. There are a few small places to get food and drinks on the road before you start heading up the mountain. Make sure you take water with you, as there are no facilities to get a drink once you are up there.


The guide services are free, although tips are appreciated. Other attractions in Suphanburi include old temples, a national park, a 100-year-old market, which is called Sam Chuck, a buffalo farm, and Bung Chawak lake, with its great aquarium, small zoo, waterside restaurants, tree house accommodation, and gardens … and more!

In central Thailand, Suphanburi is often overlooked by travellers who are dashing from south to north via Bangkok, or vice versa, but if you have the time it makes a terrific break from the crowds and offers a brilliant chance to glimpse a slice of rural Thailand. If you do visit Suphanburi, Phu Hang Nak is strongly recommended!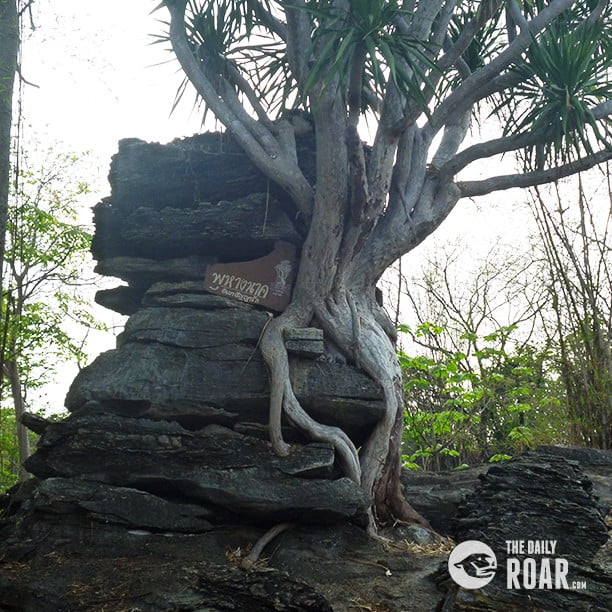 /// Written by Sarah-Jane Williams, Thailand