If you visit Makassar, South Sulawesi, Indonesia, let me tell you one hidden gem that you may not find in the "10 Places You Have To See In Makassar" search from the internet. It is called Rammang-Rammang village, located in Maros regency.

How to get there :

We arrived in Sultan Hasanuddin International Airport, Makassar. We heard before there is a free shuttle to bring us outside from the airport to the main street, but it wasn't existing anymore since the last Ied-Fitry. There is a public bus from the airport to bring us to the bus terminal. We paid IDR 20.000,-/person. From the bus terminal, you can take a Pete-Pete (a public car) to Bosowa Gate, and pay around IDR 10.000/person. Bosowa is the famous cement manufacture in Makassar, just tell the Pete-Pete's driver to drop you there.

From Bosowa gate, you need to walk around 15 minutes. It was a terrible hot day. So I suggest you to bring a hat, umbrella or if necessary, use the sun block. I was Glad that a friend had already arranged a call and made sure Daeng Beta (Daeng is mean Sir/Bapak in Sulawesi) was already there waiting for us. He brought us to his small canoe. The canoe only fit for 3-5 person including him. Actually, the idea of visiting Rammang-Rammang came from a local friend, and we haven't had any idea how it looks like, but it turned up to be so beautiful!




A terrible hot day in Maros city




Daeng Beta and his canoe

We crossed the river. It's a mangroove river. Around us was the beautiful view of ancient rocks. Slowly we continued the journey. I was trying my best not to make any movement, since it wasn't funny at all if we are drowning in the river, and the canoe was so tiny so I was afraid it will easily flip over.




The view of Rammang-Rammang River




The view of Rammang-Rammang River

I wasn't expected anything when we finally stop and need to go out from the canoe. Now, we were heading to Daeng Beta's house. His family already waited for us with a friendly smile on their face. Indonesians love to smile indeed! And the view surrounding his house was pretty amazing! I felt like in Ha Long Bay, with such huge stones surrounding us. The only different was we were stepping on the surface and in the middle of a dry rice field, and not in the sea as in Ha Long Bay, but the stones are pretty similar, don't you think? I also love how the peaceful atmosphere was in the house.




The view of Rammang-Rammang Village




The house of Daeng Beta's Family

Later on, the daughter of Daeng Beta also brought us to a cave, which was pretty cool! Why cool? Because there is a proof of ancient humans in the cave's wall. We can see a mark of small hand palm. Not so clear but clearly it's a hand palm. Smaller than normal person palm's nowadays. Not only that, the fact that the area previously was a sea also made it so cool. I can see many worn and old shells. That explains why the stones look so similar with the ones in Vietnam, Ha Long Bay also in the sea (until now).




An ancient hand palm mark in the cave's wall




With the grandchildren of Daeng Beta

We needed to go back to the Makassar city before it turned dark because we needed to cross the river again. The shine of the sun that setted down was so pretty, with an added gold color to the stones it made it look more amazing. It was indeed a beautiful place and also a pretty day for us.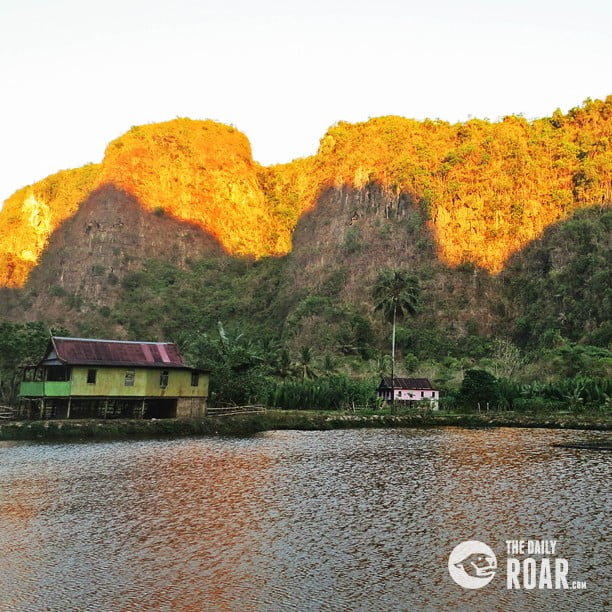 The shine of the sun brings a gold color to the stones




Sunset in the river

Cheers,
Dea Sihotang

/// Written by Dea Sihotang, Indonesia