Yesterday I went to Sempu Island. My friend told me that Sempu Island is one of the most beautiful places, so I go there to proof it. I go with 7 other people by car. Sempu Island located in Sendang Biru, South Malang. If we want to go there, first we had to go to Malang city. From Malang city, we are heading to Kepanjen to Dampit and then we go to Sumbermanjing Wetan. From Sumbermanjing Wetan, we go to Sendang Biru beach. From Sendang Biru, we can just enjoy Sendang Biru beach, or we can go to Sempu Island.

We go at 5 am from Surabaya to avoid traffic. After 2 hour, we arrived to Malang City and another 3-4 hours trip to arrive in Sendang Biru Beach.So, it is like 7 hour trip by car to get there. We arrive in Sendang Biru at 12 pm. We had to pay IDR 5000/person in entrance area and IDR 10.000 for parking lot.

Sendang Biru is a harbor for fishermen. So, when we arrive there, we could see several fishermen and a place for selling fresh fish.




If we want to go to Sempu Island from Sendang Biru, we had to fill the administration form and pay for IDR 35000. While my friend does the administration thing (which take 30 minutes because a lot of community or group had the same idea like us, tracking at Sempu Island), we enjoy the scenery. Most of people who come to Sendang Biru come with their family. But for those who want to enjoy Sempu Island, most of them are youth like us.

My friend told us that we if we want to go to Sempu Island, we had to go with a guide because the tracking line is challenging. It's not like main road that had straight and smooth road. It's a tracking line with trees and mud everywhere because of rain 3 days before. So it is kinda slippery road.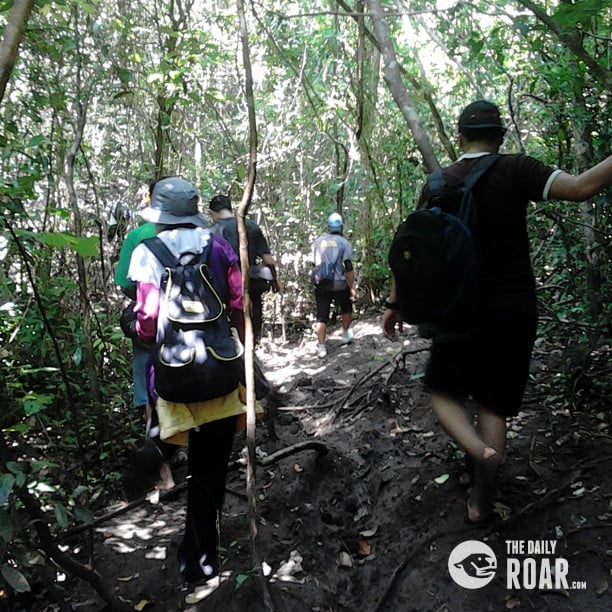 After fulfilling all the administration form, we rent a boat to carry us to Sempu Island. We had to pay IDR 100.000 for the boat and another IDR 100.000 to pay the tour guide. We had to crossing Sendang Biru to teluk Semut (teluk means "bay" in English). Our tour guide told us that we had to go back before 5 pm; otherwise we had to pay extra cost (IDR 50.000) for rent the boat. We arrive in Semut Bay at 12.45pm. In Semut Bay, we change our slipper with tracking shoes or for some other people, they use socks for avoiding mud in our foot.

As I wrote before, the tracking line itself is so challenging especially for a new tracker like me. We had to go inside the forest, climbing and go down on a slippery and muddy tracking line. Along our journey, we talk about some visitor that didn't care about environment. Most of them throw their trash like candy wrapper, mineral water can, tissue etc while they walk. We give an idea to our tour guide, how if the visitors are not allowed to go back to Sendang Biru unless they bring their trash during the camp with them so they can throw it to trash can at Sendang Biru Beach. He said that a few month ago, the tracking line are dirtier than this, so he consider that the latest visitor are more responsible than before.

After 2,5 hours journey, with few 2 minutes rest, we arrive to Segara Anakan. Segara anakan is like hidden paradise with white sand and blue water. We go to seafront and see South Ocean. In Segara Anakan, we saw lots of youth and certain company camp there. Some of them are playing water and another one is trying to make a tent. They make a good preparation, tent, and fresh fish also with another camping tool. But I saw 1 or 2 visitors forgot one important thing, trash can or at least plastic to keep their trash while they enjoy the beach.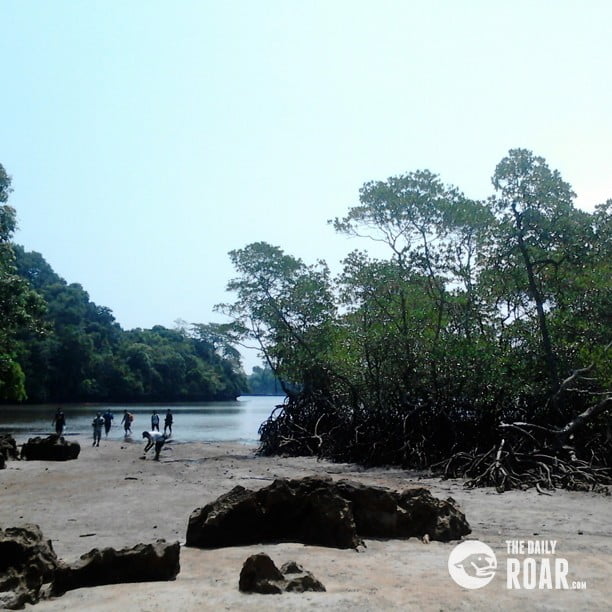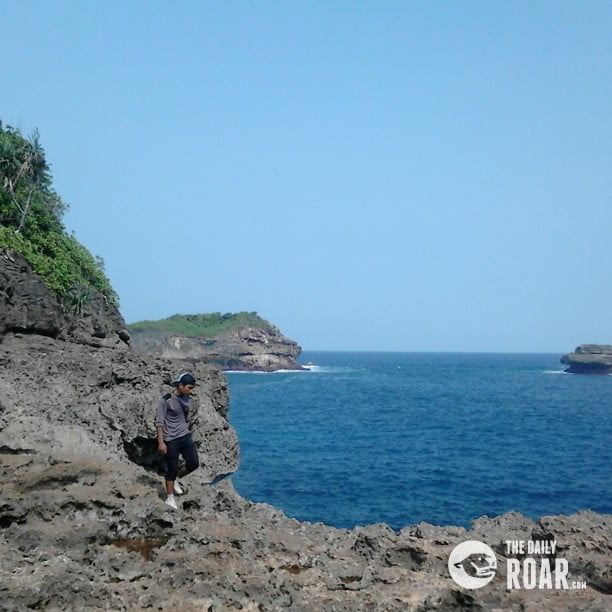 We only take 15 minutes to enjoy Segara Anakan because we had to go back to Semut Bay before 5 pm. Its only take 1,5 hour for us to go back because at this time, we didn't have any break. During our way back to Sendang Biru, we saw several people had just heading to Segara Anakan, apparently they also want to make a camp. It is 4 or 5 clock and the road it self kinda dark because the tree cover the sun. Fortunately, they have a guide, so they will not get lost.

For those who like tracking or traveling, I suggest you to visit this place. It is very worthed. I suggest you go before dark. You also had to remember for keeping your trash and throw it to the trash can. Keep the environment clean.

/// Written by Shanti Yanuarini, Indonesia