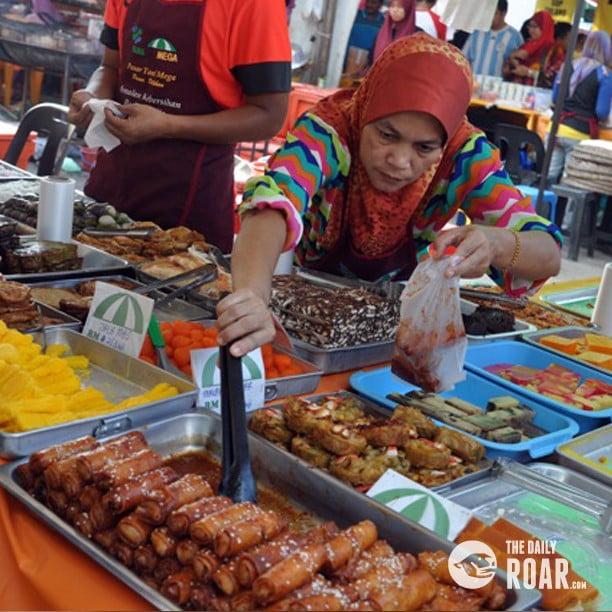 Ramadhan is a holy month for all Muslims. During this special month of the Hijri calendar, Muslims from all over the world will observe fasting during the day. Although the Muslims are not to eat and drink from dusk to dawn, it is uniquely apparent that Ramadhan in Malaysia is the time where the variety of gastronomical experience are being showcased; be it for the local as well as to the eyes of anybody traveling to the country.

In the old days, the culture of exchanging food for breakfasting is common in the villages and among neighbours. However, as Malaysians are getting to worked up with business and commitments, this custom seems to be disappearing and could only be experienced in the kampungs. Ramadhan itself has significant influence to the culture of the people of Malaysia. It is the time where you can see everyone, regardless of the faiths and races, starts to get all excited about food and shopping!!!

Breakfasting buffet is common in the city. So common, that family, friends and colleagues are often seen to schedule breakfasting sessions outside. As Malaysians are proud of their dining out culture, it is no surprise to see almost all hotels and restaurants trying so hard to offer breakfasting specials to their customers. These offers are not only meant for the fasting Muslims, they are for everyone to experience.
For those who prefers eating at home but do not have time to prepare the meal, there are so many bazaars all around each city. Similar to the night market concept, Ramadhan bazaars are only in operation for those 30 days of fasting days. Better, this is the only time when you can find all kinds of special food, desserts and drinks. Cakes, desserts, mixes of drinks such as air tebu, air kelapa, sirap bandung, soya cincau, etc. as well as sweet & savoury kind of delicacies such as murtabak, roti goreng, kuih-muih and so much more can be found in one place (i.e. bazaar Ramadhan). In some places, bazaar ramadhan is called PARAM (short form for PAsar RAMadhan).




Also unique during Ramadhan is the availability of the night bazaar selling all things that are mainly for the preparation of the Eid celebration that will follow immediately after Ramadhan ends. Traditional and modern female, male and children clothes such as baju kurung, baju melayu, baju kebaya, tudung, songkok, kopiah, shoes, pins and so much more items can be found at these night bazaars. Similar like the late afternoon bazaar Ramadhan, these night bazaars are also in operation for one month. These night bazaars are alternatives to the department stores; which also happens to be having seasonal sales offer. In Kuala Lumpur, one of the significant and famous night bazaars is located at the Jalan Tuanku Abdul Rahman (also known as Jalan TAR). This bazaar however operates 24 hours for 30 days of the whole Ramadhan.




It is a celebration for many Malaysians during Ramadhan. If any foreign travelers happened to be in the country during this holy month, instead of having concerns for not being able to experience the fullest of the country, why not go out and explore more during the evening and night.

With less than a week left before Eid celebration arrives, I would like to wish all Muslim readers Eid Mubarak, or Selamat Hari Raya Aidilfitri (in Malaysian's style). See you all in my next travel story.




/// Written by Makiko Saba, Malaysia