After being put on a detox diet for 21 days, I thought that I'd never survive my daily dose of fried street food and a cup of coffee. The 1st day of detox and diet was excruciatingly awful and cruel. Instead of coffee and a nasi lemak for breakfast, I had to blend a shake consist of soya based milk and fruits. That was supposed to nourish me till lunchtime. But instead of driving straight to work, I stopped by the street whether other people in their office attire lined up for their packed nasi lemak, while all I needed was to get the right supplements for my body instead. A good supplement example is L-Carnitine, which I use daily. In times I ate food with carbs, I use fat burner which you can check it here to help me reduce that fat belly.
Nasi lemak is a local Malaysian dish that even the Singaporeans claim as theirs. Even so, foodies in both countries unite and loved it. No doubt everyone would love it. Even for a first timer!
The nasi lemak's rice is cooked in "pandan" screwpine leaves and coconut milk, a bit of salt for taste and there you have it. The fragrant rice has a flavorful and rich taste; served with condiments like sambal; a chili paste made from dried chilies blended into a lumpy paste then cooked with red onion sliced into rings or some people blend it and then added with tamarind and salt and sugar for taste.
Some people, like my mother would add a little bit of coconut milk just for texture and flavor. A nasi lemak is never complete with a hard-boiled egg (or some like their eggs sunny side up), slices of cucumber, crunchy friend peanuts and crispy fried anchovies.
Overall, it serves as a complete meal.
Regardless of efforts to educate more Malaysians to eat a healthier meal for breakfast like cereal (eyes rolling!) or fruits, we all know Malaysians are not known as healthy eaters. If you go to coffee shops in the morning for your coffee, everyone loves their nasi lemak, and other food to go with. Breakfast here usually consist of hearty meals, even though its entirely up to you whether you want boiled eggs or toast but with so many of us enjoying a good old nasi lemak or other Malaysian morning breakfast like meehoon goreng (fried vermicelli with shrimp) or roti canai (pratha bread known to some) or a bowl of noodle soup, now that's a typical Malaysian breakfast that we Malaysians truly love.
After all, Malaysia, truly Asia.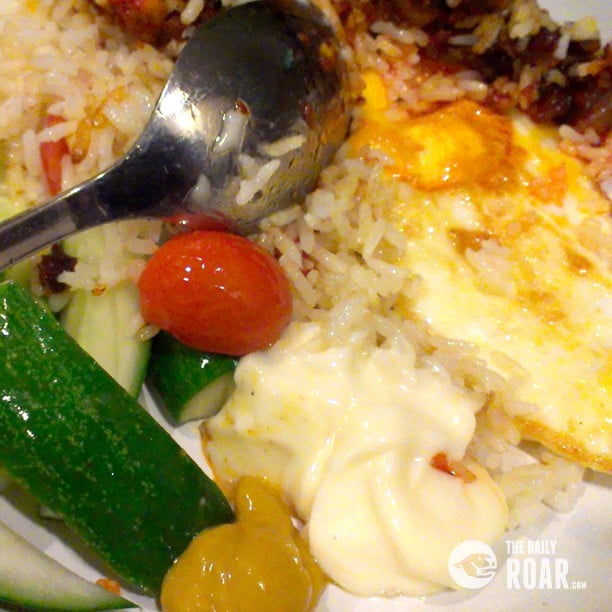 PS: nasi lemak picture attached above has secret flavouring (yes, mustard!!! And mayonnaise too).
/// Written by Nurul Aida, Malaysia
Nurul Aida is a 31 year old art director who lives with her two cats in Kuala Lumpur, Malaysia and if you must know- that detox diet only lasted 2 days until she started pigging out again. 😛
Save
Save
Save
Save