Every place in Indonesia has it's own culture, history, beauty and also local food. Talking about food, there is a small town in West Java which is ready to be hunted by food hunters. Some people spend a day to visit this town just to taste it's local food. This small town is named Cirebon.
Also well-known as Shrimp Town, Cirebon has a lot of tasty local food. Let's start with Empal Asem and Empal Gentong.
Empal Asem and Empal Gentong is both made from beef but Empal Gentong is using coconut milk and Empal Asem is using clear broth. The taste of Empal Gentong is savory whilst Empal Asem is sour which is made of young starfruit. Add some chilli powder in your Empal Gentong or sambal in your Empal Asem to get spiciness without reducing the deliciousness. If you want to taste these local foods, just come to Empal Gentong Haji Apud or Empal Asem Amarta which are located in Jalan Plered, Cirebon.
Still hungry? Drive your car to Jalan Pagongan. There is Nasi Lengko H. Barno. Nasi Lengko is rice with tempe, tofu, bean sprouts, pickled cucumber. Nasi Lengko is the best if you eat it with young lamb satay. The tender and juicyness is well-blend with Nasi Lengko.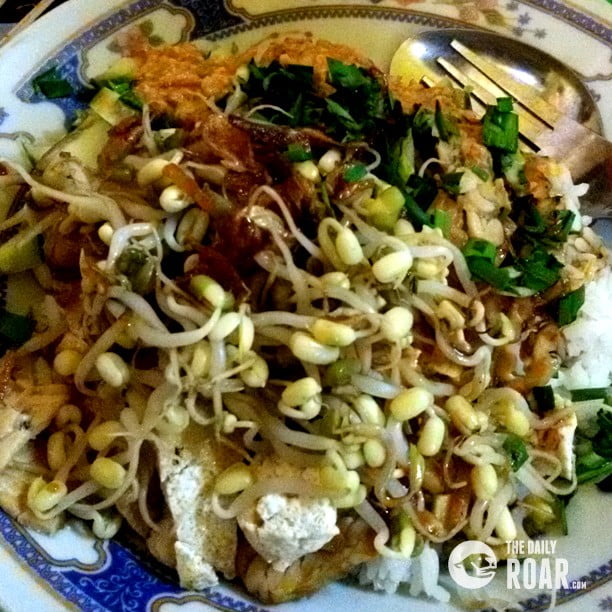 Cirebon also has sweet dessert named Kue Tapel. This cake only can be found in Cirebon. Just walk for 2 minutes from Nasi Lengko H. Barno's store to find this cake. Kue Tapel are crepes filled with caramel and banana. Kue tapel Mba Lena is well-known there and if you want to taste it, come before 1 pm.
Snack time is time to Tahu Gejrot. Tahu Gejrot is made from tofu which adding brown sugar sauce with onion and cayenne pepper. Uniqely, Tahu Gejrot serves in wooden plate and using toothpicks as replacement to spoon or fork. Tahu Gejrot can be found in Pasar Kanoman near to Sinta Manisan's store.
Still around Pasar Kanoman, you can found Sate Kalong which made from buffalo meat. The taste of it satay is unique. You can feel smoke in the meat but at the same time you can taste the sweetness. If you want to taste this unique food, just come at night and found wooden cart at Jalan Lemahwungkuk.
Continuing the culinary night in Cirebon, noodles can be an options to fill the stomach after unique taste from Sate Kalong. Mie Koclok Panjunan is the best option. Located at Jalan Pekarungan, Cirebon, the store opens at night. Actually, it is a house which changed being a Mie Koclok's store. Mie Koclok is noodles which served with white savory broth, chicken and hard boiled egg. You can eat Mie Koclok with or without lontong.
Actually, you can taste all the local food in Cirebon because they have schedule, when it should be open or close. Interesting? Just come to Shrimp Town with your friend or family and go home with happy heart.
/// Written by Dhini Oktavianti, Indonesia