Whenever Ipoh is mentioned, the first food that comes to every Malaysians' mind would be Bean Sprouts Chicken Rice or Koay Teow. In fact, Lou Wong is the most popular place for "nga choy kai" in Ipoh. Local tourists and even tourists from the overseas would come to Ipoh just to have a taste of this famous Ipoh specialty. My search for the best Hainan's-style chicken rice in Malaysia has come to an end with my taste of Lou Wong Bean Sprout Chicken Rice (老黄芽菜鸡沙河粉) at the Ipoh New Town a few weeks back.
Ipoh is the place for Chinese street foods
Ipoh is primarily a Chinese city with population of almost 1.7 million people which lies halfway between Malaysia's two leading cities of Kuala Lumpur and Penang. However, in terms of food rating, I'd rank Ipoh above KL but just below Penang for its delicious local Chinese street foods.
Among Ipoh's best-known local delicacy is the chicken rice with poached chicken that's seasoned lightly with very good quality soy sauce. A common side-dish to this chicken meal will be Ipoh's famous crunchy beansprouts. Locals call this meal "Ngah Choy Kai" (芽菜雞). The rice was ultra-fragrant and tastier than any other versions of chicken rice I'd had in Kuala Lumpur, Penang, Johor Bahru, Malacca and many of the Hainanese chicken rice spots in Singapore itself.
On the contrary, please don't expect exceptional service here. Customers will often need to wait for their tables and wave frantically just so to get any staffs' attention. However, fret not because the food is served fast – within minutes. Lou Wong does some of the best blanched bean sprouts in Ipoh. The combination of sesame oil, chicken oil, soy sauce and shallot oil all pitched together with crunchy and plum beansprout aka "taugeh" is really delicious.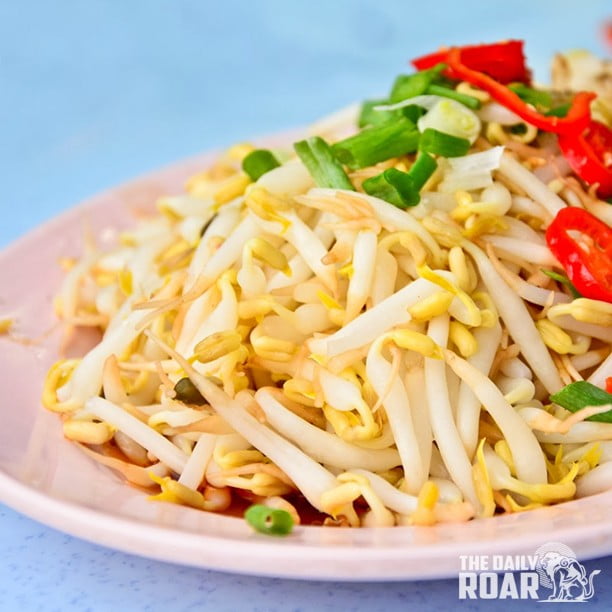 The free-range chicken used was full of flavor but a bit chewy for my taste. Nonetheless, locals in Ipoh seemed to prefer this. I don't know about being the best, but Lou Wong Chicken Rice is definitely the most popular in Ipoh. You won't believe the exaggerating crowd eating here, people was standing around waiting for tables!