It is the time for you to leave the comfort of air-conditioned malls or the sophisticated taste of the upscale restaurant. It is the time for you to scream your heart out and have fun when you ride the tides. It is the time for you to enjoy the nature. You might need a three hour car ride from Surabaya to Malang then Probolinggo ,but its totally worth the wait. After applying some sunscreen, put on your rafting equipment, and get some safety explanations after that you are ready to ride the waves!




Pekalen River itself is divided into three parts of rafting tracks. Upper Pekalen has a 12km trip, Middle Pekalen has a 7km trip, and Lower Pekalen has a 10km trip. Whichever track you choose, you will see a beautiful scenery along the way. When you meet a waterfall, usually your guide will give a maneuver so you will end up under the waterfall to feel how fresh the water is. When you row of to the calmer part of the river, your guide will offer you to swim around. My personal favorite is when you go under a big cave where a huge group of bats are resting upside down. Don't forget to close your mouth when you look up, unless you want to taste some accidental guano.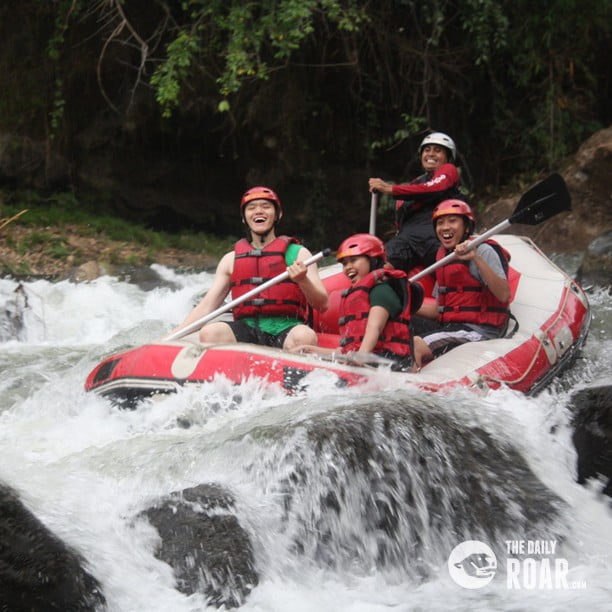 Too bad you can't take a camera while you go rafting, except when you have a waterproof and shock-resistant camera due to the extreme nature you will face. Of course you don't want to worry about your camera getting wet or smashed while you are raft.

After the exhilarating adventure, the rafting agent usually will serve you some local cuisine choices.




These are my favorite:

– Nasi jagung. Local staple, a blend of steam rice and steam corn flakes.
– Urap-urap. Boiled vegetables usually a combination of long beans, mung bean sprout, and cabbage mixed with spiced grated coconut.
– Wader. Small fresh water fish that fried to crisp.
– Sambal terasi. Indonesian hot and spicy condiment that made from shrimp paste, tomatoes, garlic, shallot, and lime. Be careful with this one.
– Jemblem. Local snack made from grated cassava and coconut that filled with melted brown sugar.
– Degan. Coconut water with grated young coconut. Good for rehydration after tiring activity.
– Wedang jahe. Hot beverage of ginger and palm sugar. Great to warm up a cold body after rafting.

So are you ready for an adventurous weekend?

/// Written by Desthi Amalia Nur, Indonesia