Yes, you heard it right. There is an actual airport graveyard in Bangkok. It's really weird that I didn't find this place by myself but I heard about it through a friend in the Netherlands.
Get some cool shorts at the Airplane Graveyard Bangkok
In Bangkok there is a big airport graveyard you can visit. It's located in Bang Kapi and you can just find it on google maps by searching 'airplane graveyard Bangkok'.
The place contains a few airplane wrecks on a large, dry field and it is right next to the road. You might not dare to go inside as there is a wooden fence around it. But don't worry about that.
About 2-3 Thai families live there and they made the place their own. You can just go inside and they will ask you for an 'entrance fee'. This is 200 baht per person. Don't argue with them about the price. You should realize that these people need that money to survive. It's not a touristic place as not many people know about it. But it is totally worth it!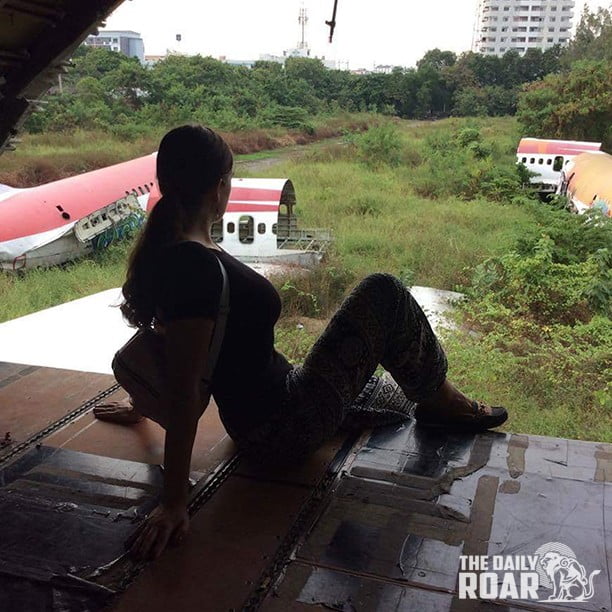 You can go inside the airplane wrecks, climb on them and take amazing pictures. There are about 4-5 wrecks and you can see literally every part of the plane. We saw the cockpit, the wings, the toilets and the aircraft hold. I totally recommend this place. It is an amazing for photographers as it has this mysterious vibe that will give you goosebumps. My little sister, who loves photography and has a strong sense for art, just loved it.
Just be careful where you put your feet as some parts might be a bit dangerous. They can be unbalanced or too thin so you can fall.
Now, how do you get there?
The best way is to take the river taxi. It is a local boat and a very cheap way to get through places, a bit further from the center of Bangkok.
If you are in the center of Bangkok you should take the boat from Panfa Leelard Pier. You have to take this river taxi until the last stop and make a transfer. The second boat will lay (literally) in front of you and you should also take this boat until the last stop. It is best to hurry as it leaves shortly after your first boat arrives. The last stop is called 'Wat Sriboonreung ', use this name when you buy your tickets on the boat.
When you get off at Wat Sriboonreung Pier, you just have to walk about 10 minutes. You'll pass a shopping mall and a school. The airplane graveyard is literally next to the road, so you won't miss it.
Now you know what is is and how to get there, so make sure to pay a visit to this wonderful piece of Thailand.