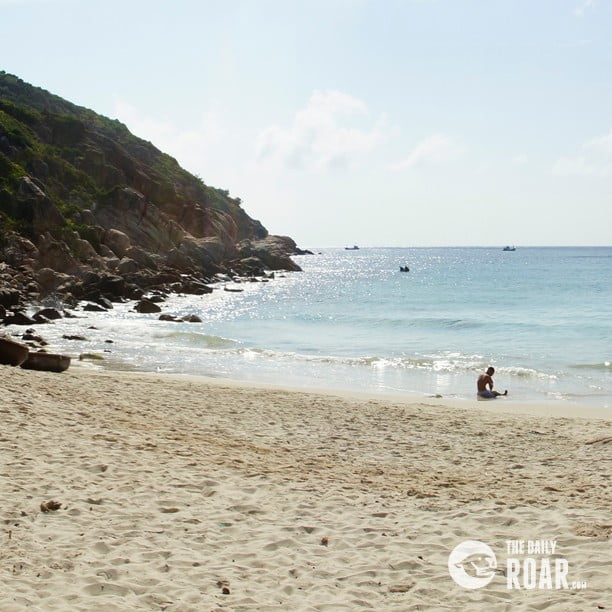 Binh Ba is a small island located south of Cam Ranh peninsula – 60km from Nha Trang City, Khanh Hoa province. Binh Ba is relatively new to the people in tours and travel since Cam Ranh is not a popular touristy destination compared to Nha Trang or Da Nang, but the beauty of untouched white sandy beaches and coral reefs are attracting more and more curious explorers from all over the country.
From Ba Ngoi Wharf (or Da Bac Wharf) of Cam Ranh, you can take a boat to the island for around 1 hour, at 10 am. Your departure time can be delayed for 30 minutes due to ID & passport check procedure of local authority in preventing forbidden intruders crossing the border.
During your journey on the boat, you can view the nature beauty of the Cam Ranh scenic bay with stone-shaped mountains and pure blue water.

As being an isolated island itself, there are no regular facilities for tourists such as hotels, spas or restaurants. You'd better pack your own food, tent and other camping stuffs if you plan to stay for a few days here. Another option is to ask the locals to stay in their house.
From the house of the one of the locals here, we took a long walk to the Bai Nha Cu beach, which is famous for its colorful coral reefs, various kinds of fishes and pearly blue water.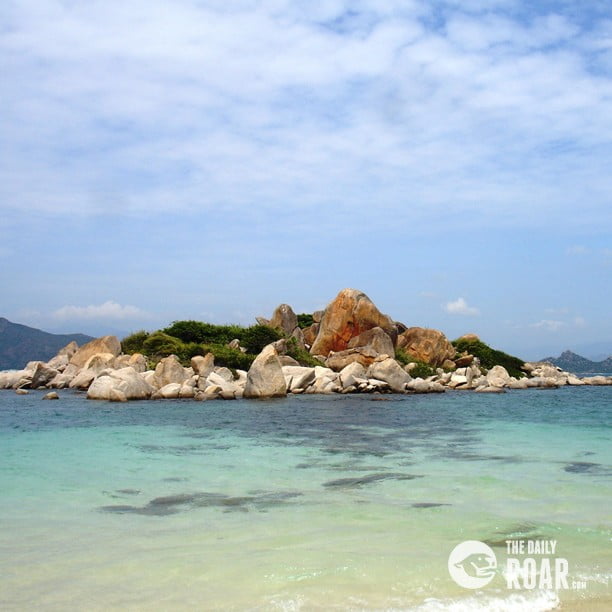 Bai Nha Cu beach

Followed the guidance of local fishermen, I climbed carefully along the slippery stone path that leads to the top of the "small island" in the middle of the beach which located an old military base and enjoyed the sunset views.





Binh Ba is also called "The island of Lobsters", as raising lobsters is one of the main source of earning the living here. Lobsters, as well as other kinds of seafood, are relatively cheap, fresh and delicious.




Enjoying cheap grilled lobsters for dinner at Bai Nom beach

In the next morning we woke up early to see the sunrise at Bai Chuong beach, located 1km from the wharf. Everyone was silent, with their cameras and iphones ready on their hands, to capture the marvelous moment when the sun slowly rose up from the sea.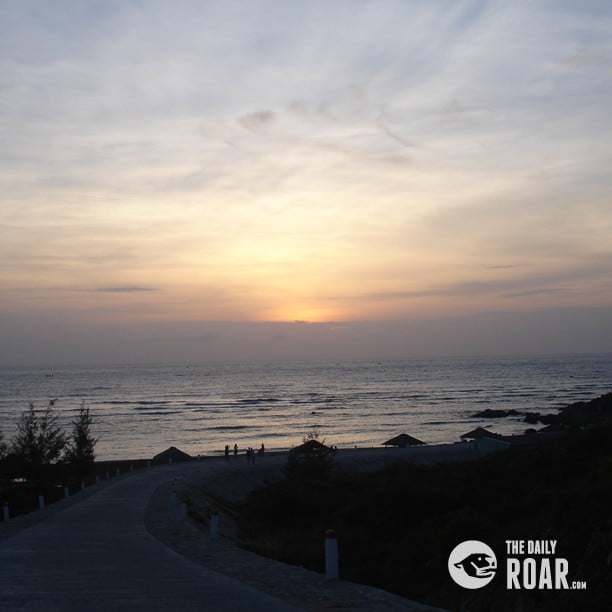 Bai Chuong beach

The little cute dog we saw on our way back from Bai Chuong beach. Dogs are popular home-raised animals here. They are excellent swimmers and rock climbers!




After the extremely cheap breakfast at the local market, we headed to Bai Nom beach once again to have a swim. This is one of the most beautiful beaches of the island, with incredibly white sand and solid rocks standing tall at the two sides. There were no people except our group, the sun and those far away fishing boats on the sea.




Living a simple life by peaceful beaches and enjoying lobsters, who could ask for more?


/// Written by Nguyễn Phương Thư, Vietnam