From the name of the restaurant itself, one will have an idea that the restaurant will be serving revolutionary Filipino food. The acronym KKK is very significant to the Philippines because it is the legendary movement that sought freedom for the country. The acronym in the restaurant KKK Pinoy Food Revolution on the other hand stands for "Kainan sa Kalye Kanluran" because their first branch was built in the West (Kanluran) Avenue.
True authentic Filipino ambiance at KKK Pinoy Food
From the moment I step into the restaurant, I can literally feel the Filipino ambiance with their traditionally Pinoy decor. Popular Filipino landmarks, historical figures and public figures are designed all over the place. I can't help but roam my eyes around the restaurant; everything is very nostalgic from classic Filipino characters from comics like Captain Barbell and Darna to legendary public figures like Nora Aunor and Manny Pacquiao as well as famous Filipino landmarks like the Mayon Volcano. Even the music at the restaurant is pure Filipino classic. The servers and the staffs are also very hospitable and welcoming; I like how they welcomed us with warm smiles.
Their menu is full of popular Filipino dishes that it's hard to choose what we want to eat. We started the meal with a free appetizer from them while we're waiting for the foods, delicious chips (Chicharon) with an equally delicious vinegar dip. So far, they have one of the most delicious vinegar dips I've ever tasted. The chips are equally delicious too; it's both crunchy and tasty. It's nice that they have free appetizers while the diners are waiting for the foods. This attitude itself is very Filipino as Filipinos are known for preparing snacks for guests while waiting for the meals to be cooked.
Their Baked Tahong was served next, which is very, very delicious. With the price of P190.00, the dish is worth it especially with the generous serving. I love how creamy it is; the sour sauce and the saltiness of the mussel is the perfect combination. It is the perfect way to start the meal.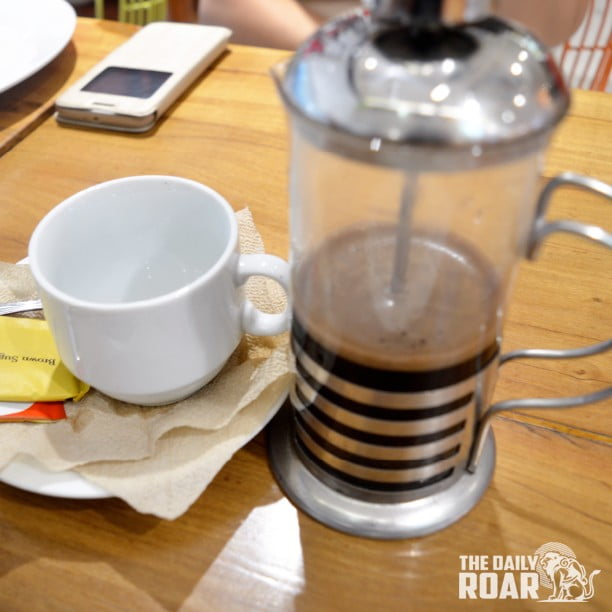 We chose their brewed coffee, Melon shake, and Green Mango shake for our drinks. Their brewed coffee is definitely for those who are fans of strong coffee. It is smoky and bitter in taste which is quite similar to the taste of the famous Filipino coffee, Kapeng Barako. The Melon shake which is made from fresh Melon is a must-try, the sweetness is just right. Their Green Mango shake is made from fresh green mango, another must-try. Both their fruit shakes tastes really good, it tastes fresh and I like how they did not alter the fresh taste by adding lots of sugar in it.
Their Sizzling Bulalo which was served in a sizzling plate is my most recommended. It is priced at P390.00 and may be a little bit pricey but it's good for two people so I think it's worth it. To be honest though, its taste will be worth every penny. It is very delicious; its meat is soft and it's very tasty. It is a really good twist to the classic Filipino Bulalo dish. Their Bistek Tagalog is another delicious meal but at P350.00, it is only enough for one person which I think is a bit pricey for me. There's little-to-no sauce but the Bistek Tagalog's sauce is what I like the most; I like how it's not too salty to the taste. The meat on the other hand is surprisingly tender and soft for a Bistek Tagalog dish, another thing that I like about it.
We also ordered their Pancit Bihon Guisado, a classic Pinoy merienda which was served in a little metal pan, kawali in Pilipino. It has a generous serving, good for two persons which at P160.00 is worth the price. It is very tasty and it's not dry which is what I like most since some Pancit Bihon dish tends to dry immediately. For dessert, we ordered their Bibingka (P75.00), which did not disappoint either with its soft and sweet taste. I love the contrast between the sweet Bibingka and the salted egg. I also like how their rice was served in a tiny wooden bucket which adds up to the Pinoy vibe of the restaurant.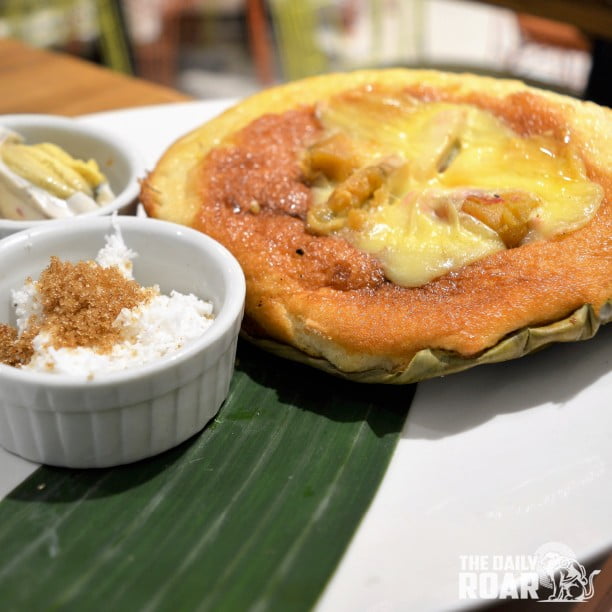 All in all, we definitely had a revolutionary Filipino food experience at KKK. Is it possible to feel being Filipino even more? Because this restaurant definitely made me feel it and made me love it even more. The prices of the foods are affordable, some of the foods might be a little expensive than the rest but it's all worth it because the meals are all delicious. It's been a nice eating experience at KKK and I would totally recommend for everyone to try it. For those who wants to taste Filipino food for the first time and for those who just want a nostalgic Pinoy food experience, this restaurant is definitely worth a try.
/// Written by Shane Pearl Balbin