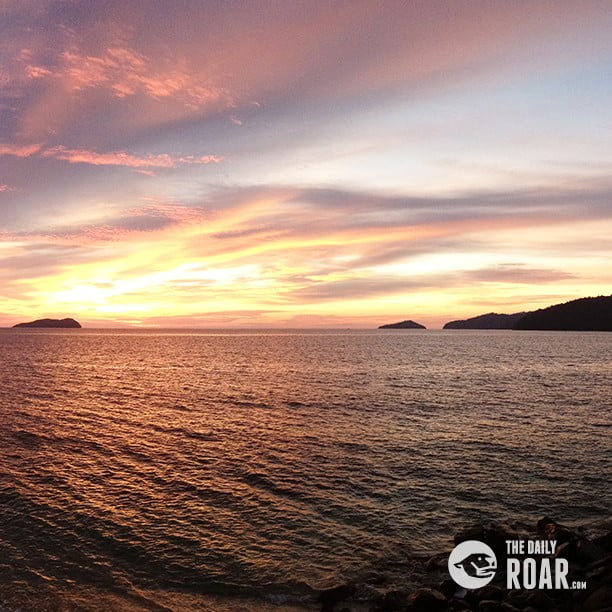 The vibrant city of Kota Kinabalu, or more fondly known as "KK" among the locals, transforms into a surreal twilight zone surrounding you with an array of beautiful and changing colours in the evening. However, with only about 10 minutes of this phenomenal view before the sun disappears, it is crucial to be at the right place and at the right time to get the most out of it.
Sutera Harbour
Sutera Harbour is a resort, yacht club, golf and country club all rolled into one. Although most tourists tend to stay in the tourist resort of Magellan, the best spot to see the sunset is at the yacht club. The yacht club is members only but anyone can get to Magellan Resort and take a nice stroll to the yacht club.
There is another fantastic but less known spot to see sunset here. From the main entrance of Sutera Harbour, head straight at the roundabout, pass Magellan's carpark until you get to a place on the roadside with cars parked next to the beach. This is a somewhat "secret" spot where not many tourists know about.
Best way to get there from the city centre: Uber (about $1 – $2)
Sky Blu Bar
Smack in the city centre is a rooftop bar above Grandis Hotel (right next to Suria Sabah Shopping Mall) on the 13th floor. Prepare to be wowed by the breathtaking panoramic view the moment you step into the bar. It can be a bit crowded during sunset time so make sure you arrive a bit early, like at 5 pm when happy hour starts, to get the best seats. If you prefer non-alcoholic drinks, order a whole coconut for just around $2 and enjoy its refreshing sweet juice while you wait for the sun to set.
Best way to get there from the city centre: walk (less than 10 minutes)
Tanjung Aru First Beach
One of the most popular hangout spots for locals and tourists alike, this public beach offers an unobstructed sunset view. When the sea is calm, you can catch the reflection of the sky on the waters which makes for a magnificent view. If you are feeling peckish, you can grab a snack or drink at the food court on the beach. However, this beach is now under new management and word has it that the food court will be demolished to make way for a new establishment.
Best way to get there from the city centre: Uber (about $1.50 – $3)
The sun starts to set around 6 pm. Whether you will get to see a gorgeous sunset highly depends on the weather. If it rains or is too cloudy, you will not get a glimpse of the sun. On a clear day, the dazzling colours in the sky that is so typical of KK's sunsets will be absent. However, your chances are good, especially during the summer months of the northern hemisphere.
/// Written by Seen Chew, Malaysia