Enjoy the ultimate local experience at Pangkal Pinang
Apart from famously known as the largest producer of tin in Indonesia, Bangka Belitung Island has plenty of destinations that are worth to visit for. Hence, why not to take a stop at Pangkal Pinang, the capital of Bangka Belitung, for catching a glimpse of local experience at there.
Dominated by Malay and Chinese people who originally immigrated from Guangdong province of China, Pangkal Pinang is a multicultural city, where the people are living in harmony.   Because of its diversity, the local cultures in Pangkal Pinang are one of a kind.   Along with its beautiful natures and long coastlines, there is no doubt that this town has a lot of things to offer. Therefore, here are some tips to try while you are in Pangkal Pinang.
Eating the Local Foods of Pangkal Pinang

The food scenes in Pangkal Pinang are heavily influenced by Asian style.   This can be seen in almost every street where lots of food stalls can be found selling Asian cuisines. One of those dishes that is well known for having strong flavors is the pork noodle.   It consisted of homemade egg noodles, top with seasoned minced pork and served with a chicken broth soup. The soup itself is usually added with Fukien (fishcake in wrapped tofu), thew fu kok (tofu with minced fish filling ), and some boiled soya beans for extra crunch.
Another dish that is a must try is the seafood. Since Pangkal Pinang is a coastal town, the seafood in here is freshly caught from the sea. The grilled mackerel fish with terasi ( shrimp paste ) sauce gives you an extra boost due to its sweet and sour taste. Lempa or spicy pineapple soup with stingray fish is perfect to have during the rainy season. For the dessert, have an es kacang merah ( shaved ice with red-bean ), and some martabak manis ( a sweet thick pancake topped with various toppings) to close the day.
Playing in the Beaches
When going around in Pangkal Pinang, there are a numerous number of beaches that are essential to pay a visit. Pasir Padi beach is only 10 minutes away by car from the town center. The strategic location of this beach has attracted a lot of visitors, making it as the most popular beach in Pangkal Pinang.   With 2 kilometers' length of coastline, riding a bicycle in here is a great way to start exploring.
After visiting Pasir Padi, go away even further to discover more beaches with pristine waters, white sands, and calm waves.   Located 30 kilometers from Pasir Padi beach, Tanjung Pesona is a private beach without too many crowds. It was easily known from the big rocks of granites that surrounding the beach area.   There are also water sports attractions and resorts available for those who wants to stay a little bit longer.
Temple Touring
Pangkal Pinang has strong Chinese heritage, which affected the existence of many temples as prayer places for Taoism and Buddhism believers.Take a visit to The Kwan Tie Miauw temple, one of the oldest temple in Pangkal Pinang. Estimated to be built in 1841, the temple is often used to hold a ritual ceremony called as pot ngin bun, where its purpose is to prevent upcoming troubles and sickness in life.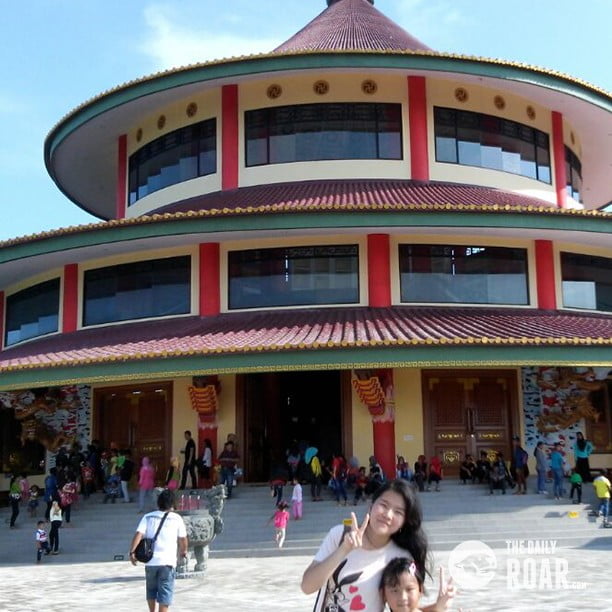 The colorful decorations and interesting chinese-influenced ornaments have made Kwan Tie Miauw temple become a great photogenic spot. Meanwhile, Puri Tri Agung pagoda is the largest temple near Pangkal Pinang town. Located at the top of the cliff adjacent to the Tikus beach, this temple gives an amazing view towards to the South China Sea.
Save