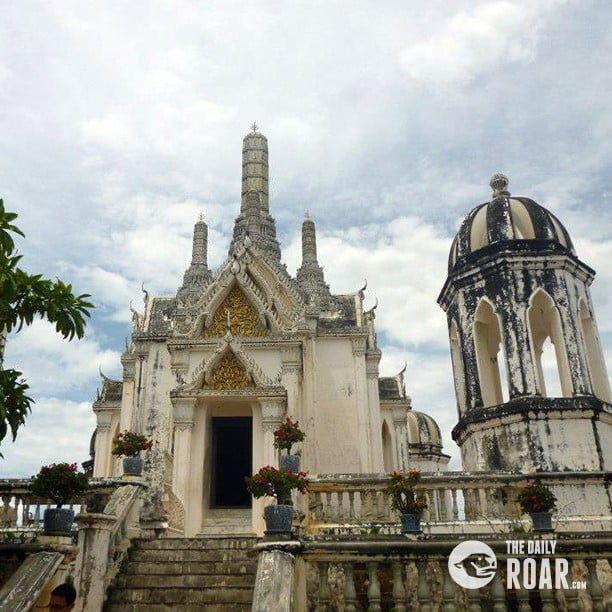 Phetchaburi the place for architecture and wildlife
Located in Thailand's province of Phetchaburi, Phra Nakhon Khiri Historical Park is an interesting hill-top area with attractive architecture and wildlife. Easy to reach from the town centre, the complex sits up a hill called Khao Wang (Palace Hill). Plan to spend a good couple of hours exploring this lovely site.
You can either walk up the fairly steep hill or take a funicular up the hillside for 50 THB for a return journey. Admission to the historical park is 150 THB.
History of Phra Nakhon Khiri Historical Park in Phetchaburi

The beautiful buildings date back to the mid 1800s, with the site having been built under the orders of King Mongkut. Designed as a summer retreat from the hustle and bustle of the Thai capital of Bangkok, it was a favourite spot with Thai royalty. The king especially liked to spend time here studying the stars and sky. It is no longer used as a royal palace, and is instead open to members of the public to explore and enjoy the peaceful and regal air.
Terrific Views
The elevated position, up a 92-metre-high hill, allows you to admire sweeping views over the town and surrounding countryside areas. You can spot local landmarks in the distance, as well as being able to soak up great vistas of the various buildings throughout the historical park. The complex is spread over three neighbouring hills, with well maintained pathways leading you around the various places of interest.
Wildlife Galore
Wild macaque monkeys call the area home, lining the walkways and swinging through the trees. Vendors sell fruit and other items that you can buy to feed to the eagerly awaiting monkeys. Do be warned, however, that they aren't discerning when it comes to what they will take from you! If you have a bottle of water or are walking around with snacks in your hand, don't be surprised if a macaque appears from seemingly nowhere and tries to make a grab for your consumables. Do also make sure that loose items, such as cameras, hats, and sunglasses are secured, or you may find that the monkeys run away with those also! A variety of birds, insects, and small lizards are amongst the areas other inhabitants.
Diverse Architecture
You'll notice a range of architectural styles as you stroll through the site, with elements from traditional Thai, European, and Chinese designs. There are several shrines and pagodas where Buddhists leave offerings, pray, and make merit. Make sure to visit the temple of Wat Phra Kaeo, modeled after its namesake in the capital.
The royal residence halls are grand and ornate, creating many beautiful photo opportunities. Some are open to the public, and you can step inside and admire the interior splendour. You can see dazzling royal objects, including furnishings, and varied exhibitions relating to the Thai monarchy, Thai life, and Buddhism. Photography is not allowed inside the main museum. It's also interesting to meander through the shaded courtyards, complete with interesting statues and floral displays, and discover the numerous nooks and crannies around the site.
Because of its royal heritage, a dress code is in place to visit Phra Nakhon Khiri Historical Park in Phetchaburi. Visitors must ensure that their shoulders and knees are covered, with no see-through or ripped clothing.
/// written by Sarah-Jane Williams, Thailand
Save