1. Introduction
1.1. Indonesia – Superlative diversity and embracing culture shock
With over 17,000 islands and over 700 unique languages being spoken, Indonesia is one of the last destinations where travelers can have an authentic off-grid travel experience. Indonesia is diverse in every possible aspect: Geographically, it has hundreds of volcanoes, thousands of waterfalls and white sand beaches. It is home to over 300 distinctive ethnic groups, unique indigenous tribes, as well as all major religions. Islam is the dominant religion here. In fact, Indonesia has the most significant Muslim population all over the world. In terms of nature, Indonesia is on the list of the world's 18 most megadiverse country, and for you divers out there, you'll be glad to know that it makes up the majority of what is known as the coral triangle.
Travelling Indonesia can at times be a bit of a hassle, and if you want to have unique adventures, you will have to sacrifice some comfort at some point during your trip. Although due to the diversity mentioned above, it is hard to generalize Indonesians, most of them are friendly, welcoming and will be genuinely excited to see a foreigner. In some places, you may have encounters kids, that have never seen a westerner before, in their entire life!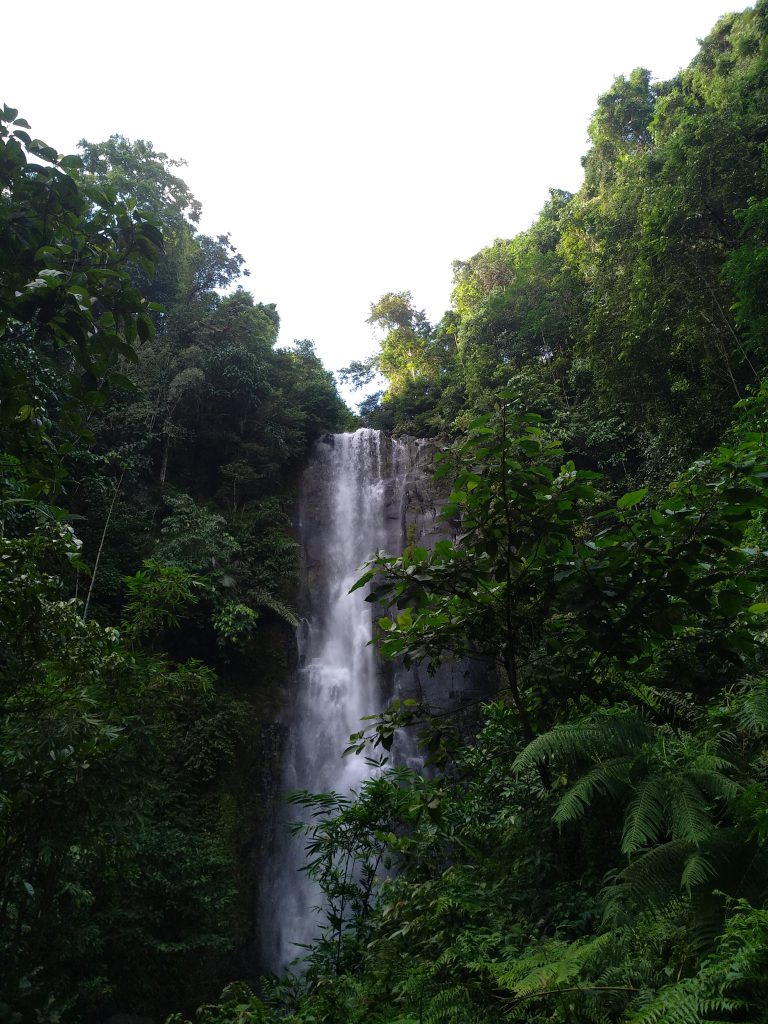 1.2. Embracing the culture shock
As a western tourist, the culture shock in Indonesia is enormous and can be overwhelming for some. Culture shock is usually thought of negatively, as something that decimates a pleasant travel experience. Causing nervousness, anxiety, confusion and a feeling of alienation. However, once you embrace culture shock, it has a lot of positive effects on your mood. It's hard to imagine unless you experienced it before, but it gives you a sense of excitement, curiosity, and euphoria. In a place, where you would have otherwise felt alienated, you suddenly feel home. The magic of culture shock can be compared to going jogging, your knees will hurt the first time you do it, but eventually, you will catch that feeling of euphoria and become addicted. If you get culture shocked or just generally anxious after arriving in a new place, remember that this is normal and goes away with time, maybe within a few hours, perhaps within a few days. If you have experienced enough culture shock to embrace it, you will have a culture shock once you return to your home country after a couple of months!
1.3. Java – Indonesia's ethnical melting pot
Java is one of the most populated regions in all of Asia. Even though it is one of the cheapest to travel within Indonesia, people from all corners of Indonesia often come to work here. Java is known as the place where you can make money. It dominates the nation, both politically and economically. This makes Java an ethnical melting pot like no other in Indonesia.
Java was the colonial heart during the Dutch occupation. Perhaps the only real benefit of the colonialization was the infrastructure created during this time, most of it is still being used to this day. Specifically, the train network is surprisingly sophisticated.
While it doesn't boast as much dense rainforest as its neighboring islands, it still has a lot to offer for travelers looking to reconnect with nature. Java's central spine is shaped by hundreds of volcanoes, many of which are very active. The fertile slopes beneath nourish an often lush-green landscape dotted with rice fields and countless small villages. Hiking Gunung Ijen to see a fierce looking peak illuminated by blue fire, watching the sun rise over the biggest Buddhist temple in the world, or riding a quad bike along a secluded beach. Every type of traveler will make unforgettable memories on this mystical island.
2. Preparation to go to Java is vital – read this!
2.1. Getting in – Visa and Visa Extensions
While the visa situation is likely won't hinder your travel plans. It is rather unnecessarily complicated and out of date compared to Malaysia or Thailand. If you keep your trip to Indonesia under 30 days, the immigration and visa will be much less of a hassle. No matter, which kind of visa type you choose to get, always have a flight ticket ready, as a proof of onward travel. If you don't know when you're gonna leave Indonesia and want to keep it spontaneous, an inexpensive solution would be to buy a fully refundable ticket, which can be canceled after you are through immigration/extended your visa. While western looking people mostly don't get checked for proof of onward travel, it is not advisable to try and enter without.
Visa-free entry
Generally, you can stay in Indonesia up to 30 days of Visa free.  If you are planning to just visit Java 30 days should be plentiful to gain an in-depth insight into this island. Be advised, that if you enter visa-free, you won't be able to perform a visa extension. So if you want to stay longer in Indonesia, you will have to pay a 20usd penalty per day of overstay or do a visa run (mentioned below)
Visa on arrival
The visa on arrival grants you access for 30 days, just like the visa-free entry. However, with this visa, you will be able to extend it for another 30 days. It costs 35 USD or the equivalent in other languages, and you will find a Visa on Arrival booth before going through immigration.
Visa extension
Performing a Visa extension is a bit of a hassle and more complicated than it really should be. You need to visit an immigration office 3 times to get your visa done. You should bring copies of your return ticket, pass photos and copies of your passport. All immigration offices have a strict dress policy. To enter the building, you must wear long pants, proper shoes (no flip flops or sandals) and a long shirt. The immigration officers can be incompetent and very unhelpful at times so you may want to think about saving yourself some hassle by hiring a visa agent to help you with the process.
Visa run
Indonesia doesn't have a limit as to how many times you can leave and enter the country in a given time. So if your stay is coming to an end, but you still feel like exploring this magical nation, consider doing a visa run (leaving and re-entering the country). Usually, these runs are performed, by flying to Kuala Lumpur or Singapur. Sometimes even, by taking a bus from Kupang to Dili, East Timor and back.
2.2. Getting Around
2.2.1. Taxi Apps – GoJek & Grab
Grab, and Gojek are the most convenient ways to travel around major cities in Indonesia. While Indonesians taxis outside of Bali usually don't overcharge tourists, this is a great way to ensure you pay the local price for transportation. They also have promos and lower rates for those who use their online payment facilities such as GrabPay for Grab and GoPay for GoJek. You can even choose their car-pooling option, where you and other passengers can share a ride and split the bill. Although Grab and Gojek are banned from the airport, you can still order a Grab or Gojek once you have arrived, and meet them outside the airport gate.
While driving in major cities in Indonesia, you will find many green helmet Grab/Gojek drivers wearing green jackets dominating the roads. The rate they charge is incredibly cheap. You can get a 30-minute ride in an air-conditioned car through an entire city for as little as 15,000 IDR (about one US-Dollar). If you're on an even tighter budget, you can opt for sitting on the back of a bike instead. This might be a great idea if you are planning to rent a scooter and want to get a feel for the roads first. Both, Grab & Gojek have a package delivery service where you can hire drivers to pick up your laundry and deliver it to your hotel lobby or send parcels to your friend's house as a surprise. They also have a service where you can pay bills and top up your SIM card's balance.
While Grab keeps it simple with its service, Gojek offers many more services such as
GoMassage: home spa and massage service

GoClean: house-cleaning service

GoGlam: Spa services

GoAuto: vehicle maintenance service
Usually, you shouldn't have any communication issues using these apps. However, ordering Grab/Gojek can be a little tricky, especially when you don't speak any Bahasa and the drivers don't speak English well. Here are some phrases drivers often use:
Common Message

Translation

Common Reply

Translation

Sesuai aplikasi ya?

Is the information on the app correct?

Iya Tks

Tidak

Yes, thanks!

No

Ditunggu

Please wait.

Ok

Ok

Posisi dimana

Where is your current location?

Di depan xyz

In front of xyz
Also, keep in mind, you will need an internet connection and or local phone number, in case the drivers calls you. Luckily, Grab has an in-app instant translator that makes it easier for you to communicate with drivers.
2.2.2. Renting Scooters
That's a great Idea you have there! Exploring Indonesia by scooter ("Motor") is perhaps the most immersive and adventurous type of transport next to hitchhiking. It is low budget, high adrenaline and bound to euphoria, unlike anything else.
Planning the Trip
When to go by scooter?
If you want to plan a road trip, there's a chance you feel overwhelmed about where to start. Since you are planning a trip to Java, you should already have a general idea, about what excites you.
Here are a few scenarios, that would make a road trip by motorbike even more viable:
Your road trip can be a roundtrip
It is nearly impossible to find a one-way scooter rental in Indonesia. And riding back the way you came from is never, as much fun. You could find another tourist to drive it back for you, but that could cause you legal trouble.
The area you explore doesn't have taxi apps like Gojek:
If Gojek isn't available in a certain (Like in Ubud or Canggu), it can be harder to get around. Taking minibusses ("Mikrolets") and hitchhiking is less convenient than Gojek, while private drivers or taxis are generally significantly expensive for multi-day trips. (Unless you're in a big group.)
The planned trip has windy, bumpy roads or lots of traffic:
Scooters will allow you to get around faster under these conditions,…if you're a sensible, experienced driver!
How to research local conditions:
Road and Traffic Conditions:
While Java generally has much better roads than the rest of the archipelago, it is essential you research, the conditions well, because you need to know whether you think your scooter skills are good enough for the challenges ahead. For remote destinations, like an empty beach, I suggest looking up reviews of the beach and look for keywords, like "Road" or "Condition." Some risk factors of road conditions: wild animals, sandy spots, potholes, sharp turns, steepness.  For cities, I suggest hiring a Scooter-Taxi (Ojek) and take a short ride through town on the back seat to see if you would actually like to drive here yourself.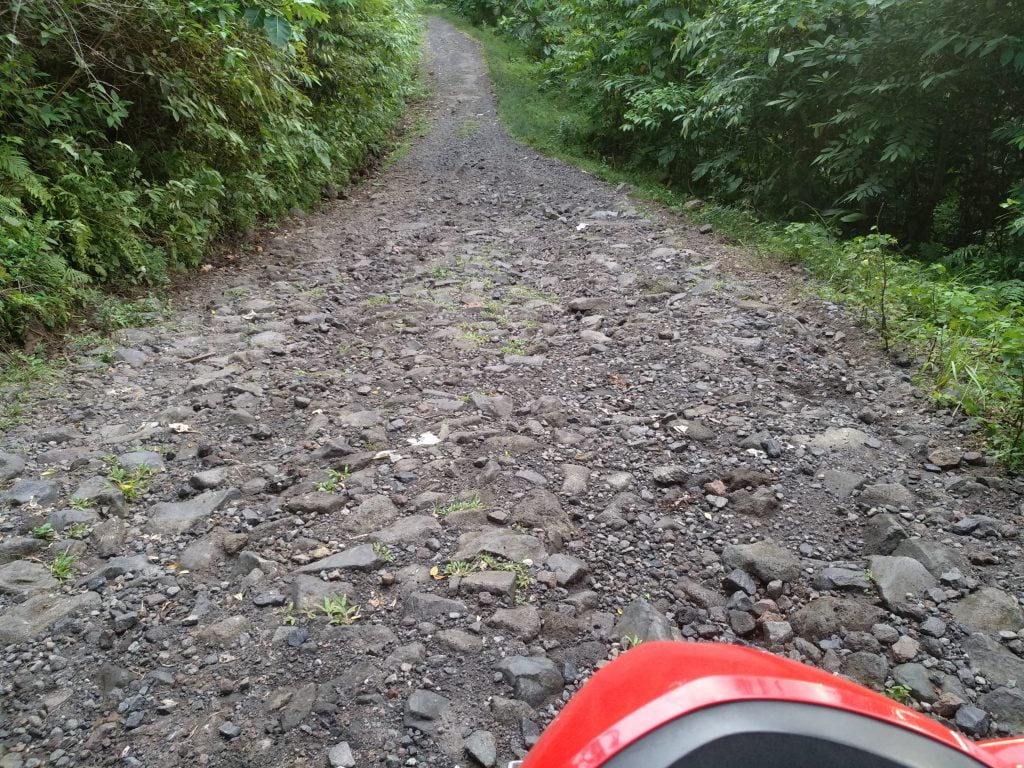 Crime & Safety Concerns:
Wherever you plan to make a trip, ask a few locals before you go. They can give you useful tips to make your trip more enjoyable and also safer. Ask them, if there's a risk of "begal" in a certain area. And if you plan to ride a scooter at night, ask them whether that's safe too. "Begal" is an assault robbery on a motorist. While this happens very rarely, you can take this easy precaution and listen to local's advice.
Finding a place to store excess luggage:
Before you start a trip, find a way to deal with your luggage. If you are embarking on a roundtrip. You can easily find a place to store excess luggage beforehand. Pretty much every hotel will keep luggage for you. If this is not an option, many airports have a luggage storage service in the arrival hall.
2.2.3. Java's surprisingly sophisticated train network
Java was a major colony of the vicious Dutch East India Company. Which was the biggest company of all times, with an approximate value of 7.9 trillion US-Dollars! That's more than the combined worth of the world's 20 biggest companies today! (e.g., Apple, Google, Microsoft, Amazon, Netflix, McDonald's, Facebook, Alibaba, etc.) If there is one major positive takeaway from Dutch colonialization, it has to be the construction of the massive railroad network.
Unfortunately, it has been rather poorly maintained, and the ticketing process and scheduling are still unorganized. Nevertheless, you can journeys in executive classes (lean back chairs, air condition, and WiFi) very cheaply. Buying tickets from stalls at the train station has a first come, first serve basis. If you don't come prepared, you might end up waiting hours to get a seat. Besides, you will have a significant language barrier, if you don't speak basic Bahasa. It is advisable to book your train ticket online. One of the best Indonesian booking platforms, particularly for transportation, such as buses, trains or flights is Tiket.com. Alternatively, try Traveloka.
2.2.4. Domestic Flights
Indonesia's domestic air travel is notoriously bad. While there have been numerous accidents in the past years, your biggest concern is delays. Even though the flight network is very sophisticated, you will most likely have to rely on low-cost carriers when venturing into off-grid destinations. That being said, flights between Javanese cities are significantly cheaper than other flights covering a similar distance.
Here's a brief breakdown of the major airlines:
| | | |
| --- | --- | --- |
| Airline | Type of Airline | Remarks |
| Garuda Indonesia | Government-owned Carrier of Indonesia | More reliable than other options here, usually more expensive, flight network is somewhat limited to major destinations |
| Citilink | Low-cost carrier subsidiary of the Garuda Indonesia Group | Not as reliable as Garuda, but generally more organized, than any of the airlines below |
| Lion Air | Low-cost carrier | The largest domestic airline in Indonesia, with a major network to all corners of the archipelago. Notoriously bad in terms of delays and safety |
| Batik Air | Low-cost carrier subsidiary of Lion Air | Same as Lion Air |
| Wings Air | Short haul subsidiary of Lion Air | Same as Lion Air |
| Sriwijaya Air | Largest medium service domestic carrier | While it boasts medium service quality, it is equally bad as Lion Air in terms of delays |
| NAM Air | Sriwijaya's short-haul subsidiary, also medium service | Same as Sriwijaya Air |
| Indonesia Air Asia | Malaysia's low-cost carrier in Indonesia | Known for delays and a much worse safety record, than the original Air Asia. |
2.2.5. How to find a private driver
Generally, if you are venturing through remote areas more than an hour away from major cities, you will most likely have trouble finding a gojek, grab or taxis. In the case, that you do not feel comfortable on the scooter, or cannot find a scooter rental nearby, you will have two transportation options left:
Bemo
A bemo is a minibus (usually painted orange, light blue, or yellow) and operates like a minibus. They can be found driving in cities, as well as semi-remote areas. You will most likely have communication issues if you don't speak Bahasa Indonesia or Javanese so this might not be the ideal option.
Private driver
Renting a car to drive yourself is entirely non-existent in Indonesia. When you rent a car, it comes with a driver. This is an excellent option if you are traveling in a larger group, which can cut travel expenses immensely. To find a car rental company, a simple search on google maps for rental car or sewa mobil. Another alternative and often cheaper option is to ask a GoJek or Grab driver if he wants to make a particular trip to the outskirts of the city. The latter is usually the cheaper option, although the GoJek may not be familiar with areas beyond the city limits.
With rental car companies, you usually negotiate a price, that includes a driver for 8 hours.
These usually cost around: 500-600k per day. Hiring a GoJek or Grab, will often end up being a bit cheaper unless the drivers are in high demand at that moment, which jacks up the price.
Whatever option you pick, be sure to set straight the following parameters during negotiations to avoid conflicts during your trip:
Duration of the trip

How much will you pay, if the duration is longer

Approximate itinerary

Toll fee

Fuel

Driver's lunch
2.3. Where to stay?
2.3.1. Useful booking apps
When Booking.com accommodation, Agoda and booking.com are the dominant players in the Indonesian market. Agoda seems to have slightly better deals and more listings. However, it is crucial to know, that Agoda usually doesn't include the 21% Service Tax when listing you the price. This will become apparent later in the booking process.
If you're on a tight budget, you may contact hotels you find on Agoda or Booking.com and contact them directly. Quote them the price you found on the booking platforms and ask what their price would be if you'd book with them directly in cash.
2.3.2. Syariah hotspots & Syariah hotels
If you see a hotel or homestay labeled as Shariah or Syariah, be aware that this can mean trouble, if you plan on staying there as an unmarried couple or not having a marriage license. You will usually be asked to present a marriage license upon check-in if you are sleeping in the same room. (even if it's twin beds)
Don't be afraid of areas with a lot of Syariah homestays dotted on the map. These areas are generally safe, and people will still be as friendly and curious as anywhere else. However, if you ever plan on traveling to Sumatra as an unmarried couple, it is highly suggested you steer clear of Aceh. Which enforces shariah law through whiplashes.
2.4. Traffic Safety
While the roads on Java are generally much better than elsewhere in Indonesia, the roads can still become unpredictably bad. Especially paths to remote beaches or waterfalls will take a toll on your bike and nerves. Even though Indonesia is notorious for its terrible road safety statistics, Indonesian generally drive much more carefully, than other South East Asian countries.
2.5. Travel Essentials
2.5.1. Most useful Apps
| | |
| --- | --- |
| AirBnB | Accommodation |
| Agoda | Accommodation |
| Booking | Accommodation |
| GoJek | Taxi |
| Grab | Taxi |
| Google Maps (download your area) | Navigation |
| Google Translator (download English, Javanese, Bahasa Indonesia) | Translation |
| Tiket.com | Transportation & Accomodation |
2.5.2. Things to pack when you go to Java
Mosquito Spray

Local SIM Card

Embassy Contact Info

Passport

International Drivers License

WhatsApp (Virtually all business use WhatsApp)
3. Essential Travel Vocabulary in Indonesia
| | |
| --- | --- |
| Selamat Pagi | Good morning |
| Selamat Siang | Good noon |
| Selamat Sore | Good afternoon |
| Selamat Mala | Good evening |
| Terima kasih | Thank you |
| Berapa? | How much? |
| Aku dari Europa | I am from Europe |
| Iya | Yes |
| Nggak / Tidak | No |
| Nama kamu siapa? | What's your name? |
| Apa kabar? | How are you? |
| Baik | Good / I'm good |
4. Exploring Java
4.1. East Java
East Java consists of the eastern third of the island. Its capital, Surabaya is surprisingly modern. The southern and central regions of East Java are less developed. Fortunately, this also means there is a lot of unspoiled nature at your fingertips. It is the best region for adventurers, such as divers, surfers, and hikers.
Some Unique Attractions:
Tumpak Sewu Waterfall – A magnificent 120-meter high waterfall surrounded with lush green scenery and snakeskin fruit plantations.
Ijen Crater – A crater, that is infamous for its blue fire, which can only be seen at 2-3 am in the morning.
King Kong Sunrise Point – The best spot to view the Bromo Caldera and Mount Semeru. It is named King Kong, because of a protruding cliff resembling the face of a monkey.
Red Island – A beautiful beach south of Banyuwangi, near Bali. Named after a hill with distinctive red colored soil. Very popular with surfers.
4.2. Central Java
Central Java is often described as the origin and heart of Javanese culture. Is capital Semarang is quite uneventful and lacks some major tourist attractions, however, it is a relatively clean city, without any traffic issues.
Some Unique Attractions:
Dieng Plateau – A volcanic plateau with a refreshingly cool climate. Great if you like hiking and dipping into hot springs. Accommodation is somewhat limited, and almost all homestays are shariah only.
Rawa Pening – A beautiful lake, where you can take a private boat out for 100k IDR. An excellent stopping point, when you travel from Semarang to Jogjakarta or Solo.
Umbul Sidomutki – A cold spring pool with a stunning view. The road is very rough but worth it.
Karimunjawa – A small island group north of Semarang. Great for snorkeling an relaxing in nature.

Other Specific Interests: Ikat, Gamelan, Batik, Handmade Furniture, Hiking, Nature, etc.
4.3. West Java
West Java
West Java is probably the most densely populated area in Indonesia. Being only 2 hours away from Jakarta, it's capital city Bandung might not be the prettiest. But the countryside of West Java offers more nature such as lush green Mountain, tea plantation and dense forests. 
Some unique attractions:
White Crater – a volcanic crater lake located in South Bandung. Great to enjoy nature and photography. Don't forget to bring a jacket if you go in the morning because the weather is rather cold and a face mask as the sulfur smell can be powerful. 
Cukang Taneuh – A canyon located in Pangandaran. You need to ride a wooden boat down to the river. It's great for swimming, snorkeling, body rafting, and photography. 
Rainbow Garden – A garden with over 100 different species of edible flowers, located in Lembang Floating Market.
Other specific interests: Traditional music, theme park, traditional, camping, etc. 
4.4. Sultanate of Yogyakarta
As the center of Javanese arts and culture, Jogjakarta is a city rich in history with customs that have existed since centuries ago, independently led by a sultan, unlike other Indonesia cities. Known for its historical and cultural landmarks, Jogjakarta also has beautiful natures. 
Some unique attractions:
Timang Beach – One of the most stunning white sand beaches to visit around Gunung Kidul regency. There's a small island in the middle called Panjang Island, which is lobster habitat and you can go there by gondola. Great place to relax, enjoy the view and eat tasty, reasonably priced local food. 
Merapi Lava Tour – An off-road adventure on the foothill of Merapi Volcano by Jeep. You can see the aftereffect of the eruption, enjoy the beautiful landscapes, visit the abandoned village, and explore the underground bunker. You need to book a tour for this. 
Borobudur Temple – Is the most significant Buddha temple in the world. The best time to visit will be early in the morning so you can experience the sunrise or during the dusk to experience the sunset.
Malioboro Street – The main street in the heart of Jogja that's packed with shops and street vendors selling clothes, souvenirs, and food at affordable prices.
Other specific interests: batik fashion, museums, palaces, street food, hiking
4.5. Jakarta
Jakarta has been the capital of Indonesia for the best seven decades. It is truly a megacity. It boasts 170 malls and the greater Jakarta area is home to 30 million people. The city is notorious for its epic traffic jams and bad air quality. It has fascinating museums and a more sophisticated nightlife than other Javanese cities. If you're a nature lover and not a city person, steer clear!
Some unique attractions:
Thousands Island – A small island not so far from Jakarta. You can go there by boat from Muara Angke Harbor or Marina Ancol Harbor. Great if you like swimming, snorkeling, diving, island hopping, etc. 
Sky Rink – An ice skating rink located in the Taman Anggrek Mall on the 3rd floor. The entrance is 85000 for weekdays, and you will get free skating shoes. Don't worry if you can't skate, they also provide a coach who will gladly teach you.
Taman Mini Indonesia Indah – A cultural recreation park located in East Jakarta. You will find models of a traditional house, costumes, and traditions of each province in Indonesia. Also great for kids.
Indonesian Bank Museum – An interactive museum, with a lot of in-depth information about colonial times and the Dutch East India Company. The entrance fee is only 5k IDR!
Other specific interest: music festival, museums, traditional market, etc.