Wondering where to travel next? Ever heard about the Bohol Island in the Philippine? No? Keep reading if you want to know more about the exotic travel destination in Asia.
Bohol Island in the Philippines is one of the most exotic and beautiful places to visit in South East Asia. The island is surrounded by 75 small islands and is the tenth largest island of the Philippine archipelago.
The enchanting island has a lot to offer you throughout your travel. Listed below are some of the best among Bohol attractions- White sand beaches, Chocolate hills, tarsiers, and man-made forest.
Panglao Island – Alona Beach
Alona beach in Panglao Island is the most famous travel destination in Bohol. Panglao is connected to Bohol Island by a bridge, and the traveling between the two islands is quite convenient. Majority of the tourists stay there. The alone beach has white sand, crystal clear water, giant starfishes and a breathtaking scene of the sunset. Many full-service beach and dive resorts reside there. Dive tours to Balicasag and Pamilacan Islands, famous dive spots, can also be arranged.
Bohol Tarsiers
Philippine Tarsier Sanctuary is an approximately 134-hectare land that has been reserved as a safe area for Tarsiers. Bohol Tarsier are about 4 to 5 inches and are considered as the world's smallest primates. Its size is no longer than a man's hand and weighs only about 113 to 142 grams. They have big eyes and can rotate their heads to almost 180 degrees. The primate belongs to the more primitive sub-order Prosimii or prosimian that dates back 45 million years. They are really shy animals with nocturnal habits. They spend most of the day sleeping in hidden places.
The Chocolate Hills of Bohol Island
The Chocolate Hills Complex in Carmen is 55 km from Tagbilaran City and is one of the most famous tourist attraction of Bohol. Chocolate Hills are more than 1,268 cone-shaped hills spreading out on a natural open plateau, looking like mystic mounds. It is a very strange geological formation that has baffled a lot of geologists. The hills cover an area of 50 square kilometers or more and vary in size from 30 meters to 120 meters in height. The biggest hill has been developed into a resort with accommodations, restaurant and gift shop. 213 steps lead to the top where an observation deck is built and the view there is simply exquisite. Chocolate Hills are easily accessible from Carmen city with a tricycle or a scooter.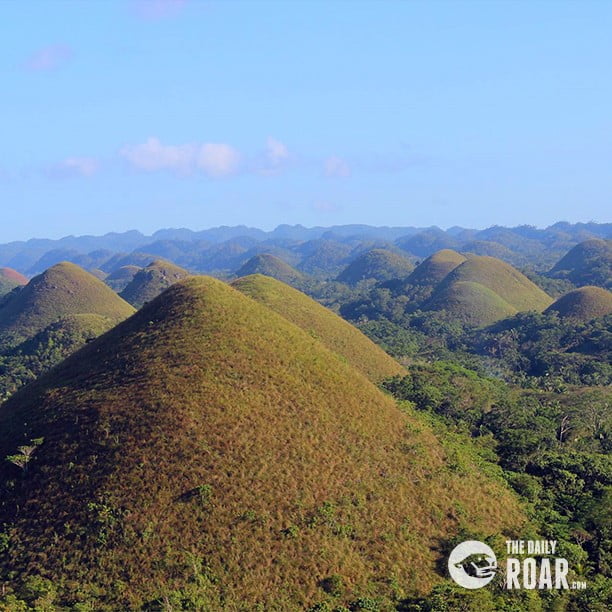 Man-Made Forest
The Bilar Man-Made Forest is also a popular attraction on Bohol Island in the Philippines. The beautiful forest is proof that men and nature can work together. The dense forest stretches up to 2 kilometers between the Loboc and Bilar towns. In 1947 the government started a project of reforestation. Together with the community, red and white mahogany trees were planted in 19,410 hectares of land, putting an end to the deforestation process that was happening in the Loboc watershed. The man-made forest is thick and has a wide variety of green foliage, different species of trees and giant ferns lining the road.
Bohol Island in the Philippines sounds wonderful, doesn't it? Feel free to suggest Philippine's more popular tourist destinations in the comment section below.