When we try to create a picture of Jakarta, it will not be far from the image of bustling, traffic-clogged, smog-filled metropolis. That is true for the city, six days a week. Yet for a few precious hours every Sunday, the heart of Jakarta will turn into a pedestrian friendly open spaces. The Car Free Day, as the event is called, close the main thoroughfare to the city for motorized traffic, 5 to 12 in the morning.
Car free hours in the heart of Jakarta
The even is held on the main street on the city: Thamrin street , from the Independence Square and Monas monument to Hotel Indonesia roundabout (Bundaran HI), and Sudirman street, from above place to Senayan Stadium. On normal day the streets are Jakarta's most important central business district. Hundreds of thousand people commute and works daily on the two streets. But for this weekend event, the streets will be filled by people who jog along, walk their dogs or simply gawk at the numerous street vendors, huskers, and the occasional local celebrities who are shooting TV shows or doing promotion concerts.
For a full experience, pick up your walking shoes and start from Monas Monument down south along Thamrin streets. If the weather is hot grab a cold coconut water or one of many traditional iced drinks. At Sarinah department store, there are usually some concert by local singers on the parking lot. If you feel hungry, there are street food sellers on the way to and at Hotel Indonesia fountain. There is a police station at both Monas and Hotel Indonesia fountain if you encounter any problems. If you still have some power left on your feet, you can further proceed south to Senayan stadium.
Careful with the merchandise sellers though, as the goods' quality vary greatly, but you can rest assured that these stuffs are, indeed, either Chinese knockoff or factory surplus. The food are better, homemade meal comprise most of the stuffs sold.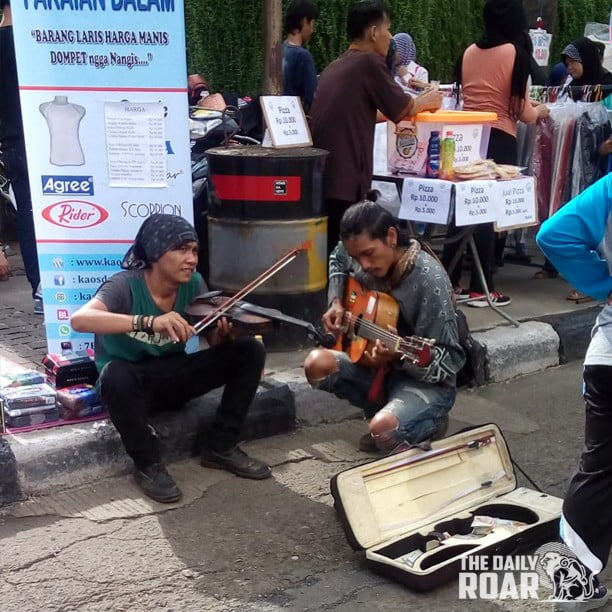 There are quite some attractions across the streets. Street huskers playing anything from rebana (Arabian tambourine) to violin can be seen during the event, sometimes side by side. And almost weekly, different groups of activists will be demonstrating their concern for animal right or agitating both for whatever hot issues are in Indonesian politics.
Various street foods are on the menu, with street vendors selling food in the walkway and around Hotel Indonesia fountain. In fact you can consider the event as a mile-long culinary festival. Everything from Jakarta's traditional dish of Ketoprak (steamed rice cake with veggies and peanut sauce), kebab, Chinese noodle and dim sum, and cuisine of Indonesia's other ethnic groups.
All of those sights might not really what the planner of the event have in mind when they proposed the event. Still, people come to accept the noise and clamor as the inseparable flavor of the event.
It is quite easy to get into the Car Free Day, even if riding is strictly prohibited there. Corridor 1 of Transjakarta Busway system pass directly across both Thamrin and Sudriman streets, giving ready access to the event. For the more adventurous, Jakarta's ever reliable motorcycle taxi, or ojek, can be used to go to the event from nearby road, although you must drop and walk once you near the main streets.
The Thamrin and Sudirman streets are conveniently the location of major hotels in Jakarta, such as Hotel Indonesia, Mandarin Oriental, Sari Pan Pacific, Amaris Hotel, and Pullman Jakarta. Professionals who stay in these place for business purpose should put the Car Free Day on their itineraries.