If you're thinking of going to a beach that is amazingly calm and beautiful, consider Ora Beach. This beach is located in a remote area at south coast of Seram Island, which is part of The Mollucas Islands in east Indonesia. The spread of white sand on the beach isn't spacious, but the water is crystal clear you can see little fishes swimming around. Waves are minimal and if you're a fan of snorkeling, you won't be disappointed. Coral reefs will be seen right from where you sit on your cottage's bench. But it's best to take a longboat and go further to the sea and find a shallow seafloor.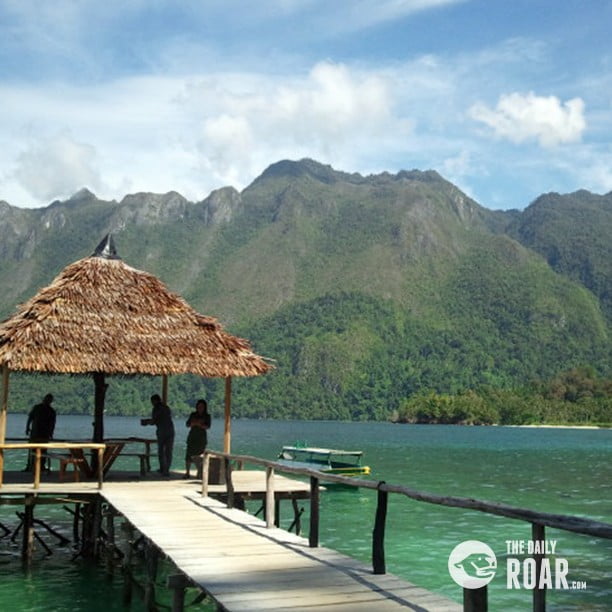 The views over the mountainous land are also relaxing. The dense tropical forest near Ora beach is like a heaven for hikers and trekkers. On the side of the road to Sawai beach (near Ora beach), there is this 'Seram Animal Resque Center' where you can see bird species in cages, in which some are endemic to Seram.
You don't have to worry about accommodation. You can stay in a cottage (Ora resort) like the ones shown in the first photograph for about $100-$150 a night. But if you're tight on budget, you can always pick a cheaper one at Sawai resort just behind the hill for only $30 a day including meals. Sawai resort also offer a trip package using a small single-engined wooden longboat to the Ora beach, snorkeling spots, and a visit to an uninhabited island where you can enjoy the blue ocean view while having a lunch. And if you're lucky, you can experience the exotic taste of durians at night. Besides Ora and Sawai resort, there's actually one more resort called 'Rumah Olat', but I don't have much information on it.
Reaching Ora beach from Jakarta will take a minimum of 10 hours trip. First, you take a direct flight from Jakarta to Ambon for 3.5 hours. Then you have to rent a car to Tulehu harbor which will take about an hour. A speedboat (only available at 9:00 and 16:00) will take you to Amahai harbor at Seram island in less than 2 hours. From there, you will have to continue the journey by car for 2-3 hours to Saleman or Saka village. Lastly, from that village you can rent a wooden boat that will take you to Ora or Sawai resort in less than an hour.
Some people say that the best time to visit Ora beach is between January and April. So, get ready to dig in one of Indonesia's precious treasure.
Writer: Febry