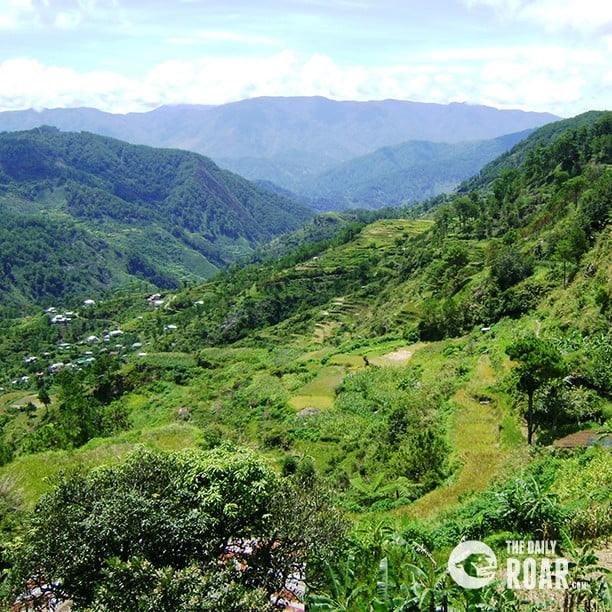 Passing through the old towns of Benguet and Mt. Province going to Sagada, it was such a long but amazing trip. As my heart was filled with anxiety due to the condition of the road and the type of the bus (very old) that we where taking, it was also filled with excitement because of so much awaiting discoveries for our personal amusement, education, and reflection. We left Baguio City at almost lunch time and we reached Sagada at around 5PM, almost dark in the evening. The journey took us six hours for 143 kilometers. along the road, I saw a lot of beautiful scenery; the highest mountains, cliffs, and trees I ever saw in my whole life. If you're from Manila, the distance to Sagada is around 431 kilometers and it will take 13 hours to get there because there is no direct trip possible. So if you're coming from there, you either need to get the Baguio route or the Banaue route.
For Baguio route, you need to take a bus from Cubao. Companies such as Victory Liner, Dagupan Bus, Saulog Bus, and Genesis Bus are some of the options you'll have. And for the Banaue route, you can find buses at Fajardo Street and Lacson Avenue in Sampaloc Manila such as the Dangwa Transit or the Ohayami Bus. The trip to Baguio is seven hours and cost around 450 Php. From Baguio you can take a bus to Sagada for 250 Php- 350 Php. If you want to get the Banaue route, you will be needing 400 Php for fare and from there, the trip to Sagada cost 220 Php.
When we got to Sagada, the first thing we did was to find a place suitable for our budget. Of course, in Sagada there are many transient rooms but for a cheap price you should look for the right locals that can show you where they are located. The one we found was really very cheap and it was comfortable and cozy enough for us. They charged two hundred per person for an overnight stay and because it was cheaper for us, we paid for a three-day stay.
The next day, we prepared our food very early and talked to the locals about how to find the right tour guide for Sumaguing cave. They recommended the local tourism association so that we can be sure about everything we will be paying. So after negotiating and paying 500 Php, we started hiking for Sumaguing cave and along the way, we saw the Sugong hanging coffins as well.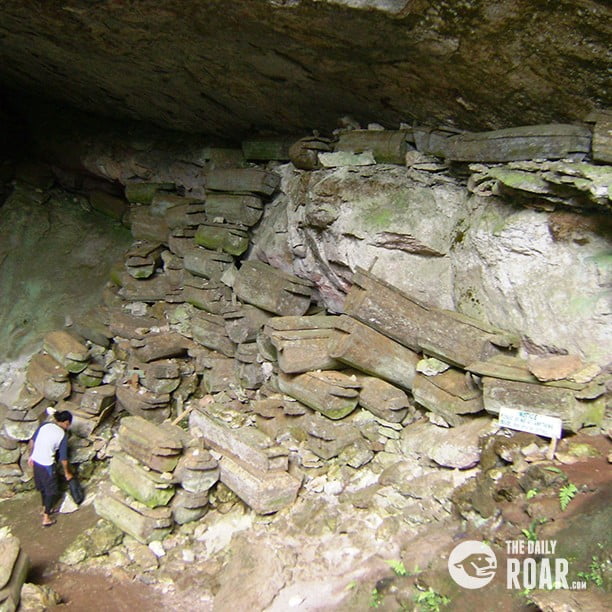 The Sugong hanging coffins
Sumaguing or "the big cave" is one of the most frequently visited sites in the area, especially for the tourists who like spelunking. The cave was said to be used by soldiers of World War II during the Japanese invasion and its beautiful and challenging passages will take you to total enchantment. Spelunking is not easy, so everyone should be prepared enough to do it. Inside, the way to get to the spots is really challenging and you need to rely heavily on the guide for the right passage and for the lighting. To be sure, you can also bring your own flashlight and be sure that it could last a couple of hours.
So we enjoyed a lot inside. We took a swim in the cold underground water of the cave amidst the beautiful formations of stalagmites and stalactites and sometimes, we also laughed to the names and explanations the locals have given to these formations. The stories they constantly tell to the visitors about this cave are sometimes very funny, but the important thing is you experienced the place. With its large chambers, trekking down its passages was surely an experience you will love to remember until you die.
Inside the biggest cave in Sagada… Sumaguing!
Going back to the hotel from Sumaguing Cave
The next place we visited was the Bomod-ok waterfalls. Located in the northern part of Sagada, this spot is also worth the effort. You can hire a van for a back and forth trip for only 600 Php and this will be cheaper if you ride together with ten people. Another option is to hitch a ride; there are few vehicles that will surely offer you free ride but you need to be early and you need to be patient for this. When you get to the jump-off point, hiking for an hour is a must but will surely complete your experience.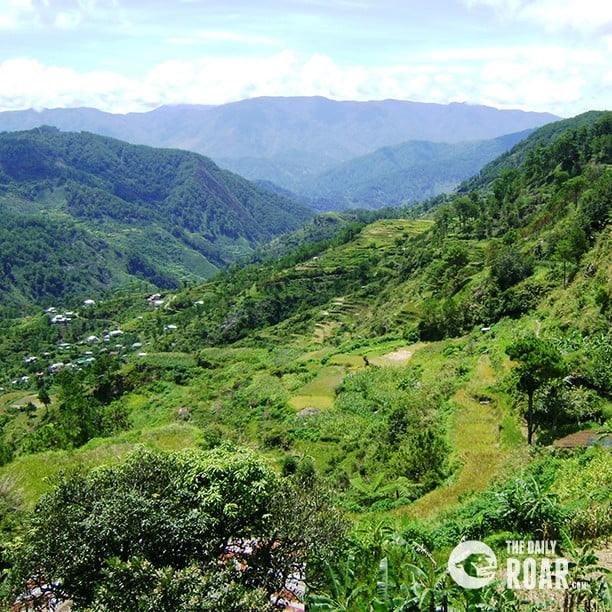 A view from the road, before trekking down to Bomod-ok falls
Trekking down and up in the midst of huge Sagada rice terraces, watching the long and old trees, and seeing the people and the natural beauty of the place is a priceless experience; not to mention the fascination and the thrill of crossing the hanging bridge and other challenging trails. When you get to the waterfalls, do not hesitate to dive in but be sure not to stay too long as it is dangerous for hypothermia. The guide is available for 100 Php, but not necessary as you can reach the place easily if you have a good sense of direction.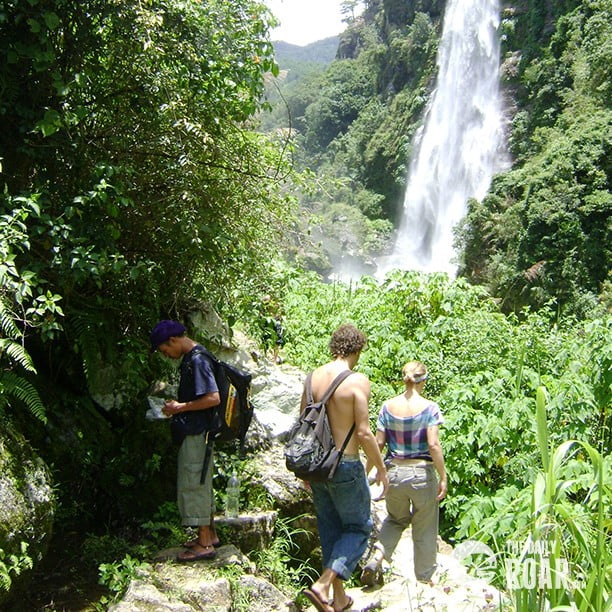 Bomod-ok waterfalls
At dinner time, we tried the food at the Yogurt House. It is also very famous in Sagada and they offer lots of great dishes. They have vegetarian pasta, tuna, pancakes, strawberry jams, yogurt, and various foods that you can eat with rice. Oftentimes,this small but cozy café is full of diners so better choose the right time to dine so you can enjoy more of the place.
The St. Mary Episcopal Church
Our next trekking was on the Echo Valley trails. Hiking on these tracks is totally remarkable as you can take a good look at the tall pine trees and hills. It will also lead you to the town cemetery, the St. Mary Episcopal church and to the several hanging coffin site. There is also the hidden burial site and if you have extra money and love rock climbing, you can also do that for 400 Php. Just ask the locals for this and you will not be disappointed.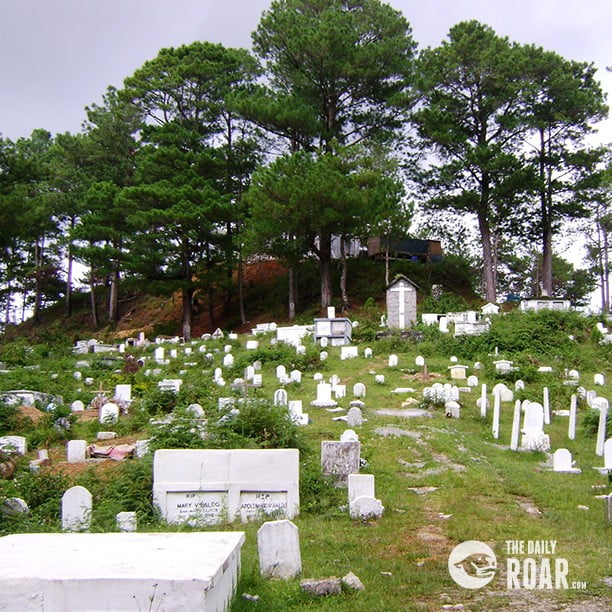 If you are planning to visit Sagada in December, you can also take part in the Sagada Bonfire Festival initiated by the Sagada Genuine Guides Association (SAGGAS Inc.) for a payment of 250 Php. This happens every last week of December and this includes transportation, food, and drinks during the festivity that is composed of indigenous music, folk games, lots of locals, and tribal dancing. The celebration highlights the traditional lifestyle of the Igorots (tribe of Sagada) before the Spanish and American colonization.
Other good places to hike and check out are: the beautiful sights of Kapay-aw rice terraces where you can do zip-lining, magnificent Aguid rice terraces, Mt. Ampacao, Ganduyan Museum, Marlboro Country and Blue Hills, Lake Danum, and Pongas Falls. If you try to walk around the town, you will find more nice spots and stuff along the way. You can look for cool souvenirs, weaved products, good delicacies, and local food that will surely satisfy your appetite. For this, you don't want a guide, especially if you are trying to save money for other destinations in your travel. Just talk to the locals, make friends with them and for sure they will help you with your concerns.
/// Written by Freeda Lyf, The Philippines