Lopburi is a former capital city, located in central Thailand. It is on the northern train line, and can also be reached by bus and minivan from Bangkok within just a couple of hours. It makes for a great stop off point for a few days if you are travelling through or around Central Thailand.
There is a good selection of places to sleep and eat, but it doesn't really have a night scene as such. There are two main parts to the town, and you will find most attractions within the Old Town. This is also where the railway station is located. The bus station is in the newer part of town.
Lopburi is perhaps most well-known for its hundreds of macaques that run around the Old Town. They are mainly in the area around Phra Prang Sam Yot, an ancient Khmer style temple with three stupas and a seated Buddha image. You can wander through the grassy grounds, surrounded by loads of the cheeky monkeys, and although there isn't so much to see inside the temple itself, it is a novel experience being humans behind bars looking out at the wild creatures! Bats live inside the temple and there is a small shrine.
If you are around at the end of November, don't miss the yearly Monkey Feast! Held on the last Sunday of November each year, it is certainly an unusual tea party! As well as huge monkey statues and a large tower that is crammed with every kind of soft monkey toy you could imagine and topped with fruit, you'll also be able to watch as the excitable monkeys chomp away at a monkey buffet! Fresh fruit and vegetables are laid out nicely, only to be trashed by the eager macaques.
Another great attraction near the end of the year is the sunflowers – huge areas are just covered in yellow! The mountain backdrops make for some excellent pictures. They usually bloom between November and January, although farmers rotate, so you may have to drive around for a while in search of the relevant fields.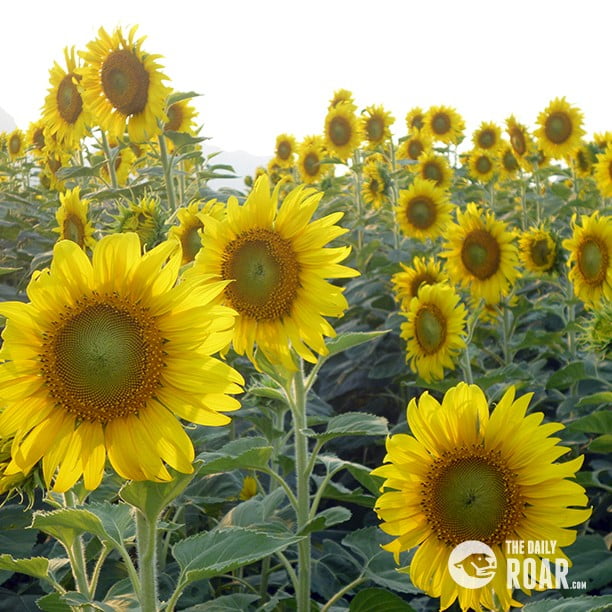 All year round there are other impressive ruined temples and shrines to admire as well as an informative museum. Ang Sub Lek is a dazzling lake a short ride out of the heart of town, and there are several restaurants on rafts over the water's edge where you can enjoy a delicious meal with great views. A lakeside resort offers slides, inflatable toys, and peddle boats for some watery fun, and there is an ATV track nearby.
There are plenty of reasons to add Lopburi to your Thailand travel plans!
/// Written by Sarah-Jane Williams, Thailand