If you're a fan of the strange and unusual, Nong Khai's Sala Keoku certainly won't disappoint! Located in northern Thailand near to the Mekong River and the border with Laos, there is a similar park over the river close to Laos's capital city of Vientiane. The park in Laos is more visited than the one in Thailand, and you can really get a feeling of having been somewhere that not many visitors see.
Both parks were created by the same man – Thai-born Bunleua Sulilat. He created the park in Laos first, followed by the one in Thailand. Sometimes labelled as an eccentric spiritual devotee, Sulilat definitely had a vibrant imagination! Indeed, there were also some locals who thought that he was completely insane!
There are numerous bizarre statues that show different sides of Buddhism and Hinduism as well as many different animist elements and things from the "old ways". They include mythical creatures, deities, and depictions of situations that could apply to real life. Of particular interest is the small circular garden where you can follow the life journey of a couple from their young courting days to their old age. You must enter this area through a large mouth! There are many other interesting statues inside here too.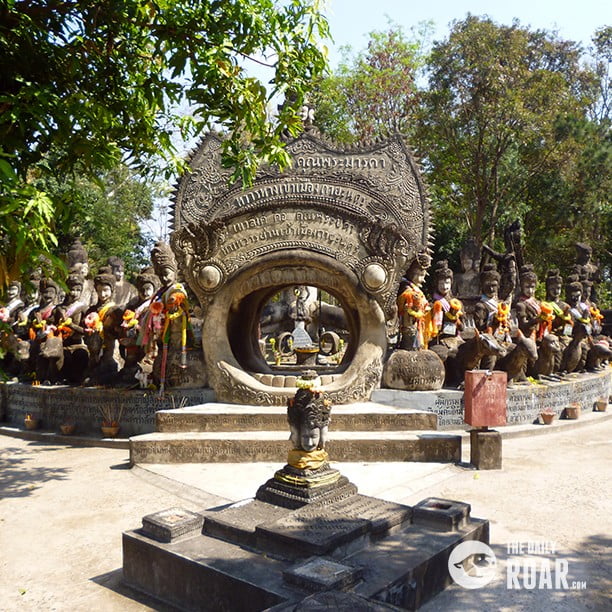 Gaze at enormous figures with many arms, see a large elephant being pursued by a pack of angry dogs (some riding a scooter, some drinking, and others playing games!), stare up at an enormous naga statue, look with a mixture of awe, fascination, and perhaps revulsion at the large Buddha statue with many skulls adorning his head … and more!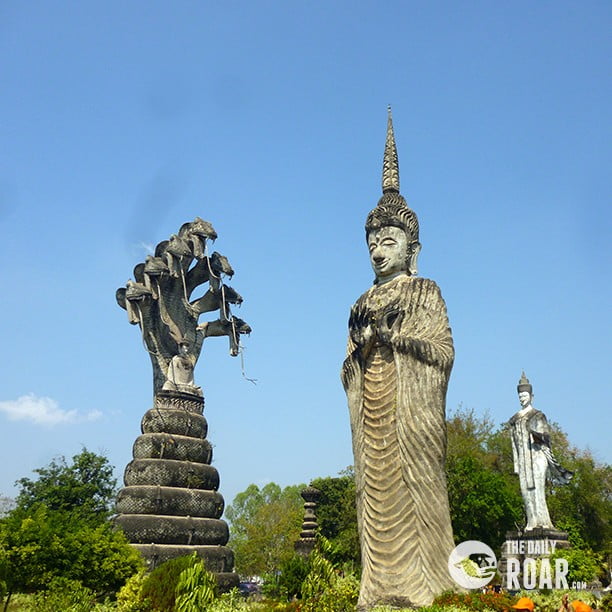 There is a temple onsite where the remains of the Sulilat are kept. There are also lots more statues and pictures inside the temple, as well as shrines to the curious designer. As a sacred place, visitors aare reminded to dress conservatively and act respectfully when going inside the temple.
All statues were made from donated concrete and unskilled voluntary workers helped Sulilat to make his visions and dreams become a reality.
Even if you have visited many temples and seen numerous religious and spiritual statues on your travels, this place is certainly something different to the norm! Don't miss it when in Nong Khai!
Just a few kilometres outside of the heart of Nong Khai, it is well sign-posted and easy to get to. There is a large parking area as well as refreshment stands, public toilets, and a small market that sells a variety of souvenirs, t-shirts, and other goods.
Sala Keoku is open from 7am to 6pm.
 /// Written by Sarah-Jane Williams, Thailand