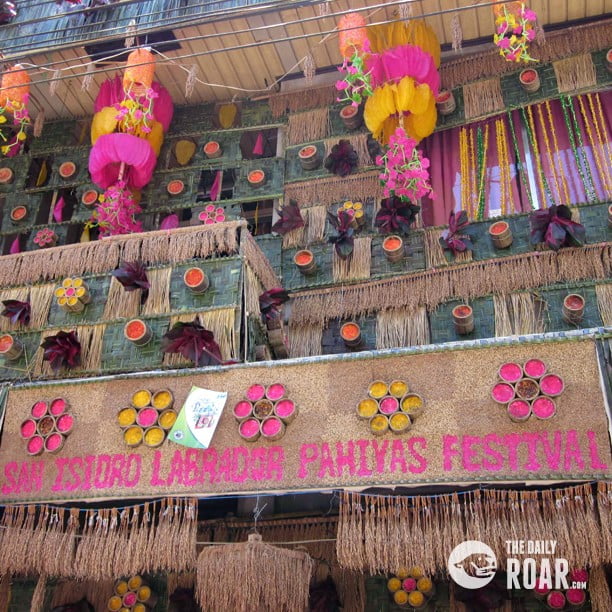 Everyone laughing, smiling, taking pictures. Houses decked from floor to roof with local produce and various flora. Homeowners welcoming complete strangers into their houses, serving them food and drinks and everything they can. Sidewalk vendors barking out prices for goods from tiki masks to live rats. Tourists munching down food in the middle of the road.

It's all this and more when the residents of the quaint province of Lucban, Quezon prepare for their most anticipated festival of the year. The Pahiyas Festival in all its grandeur is held in honor of San Isidro Labrador, the patron saint of farmers. As thanksgiving for a bountiful harvest, the people of the town adorn their houses every 15th of May with elaborate designs made from vegetables, fruits, flowers, and local handicrafts.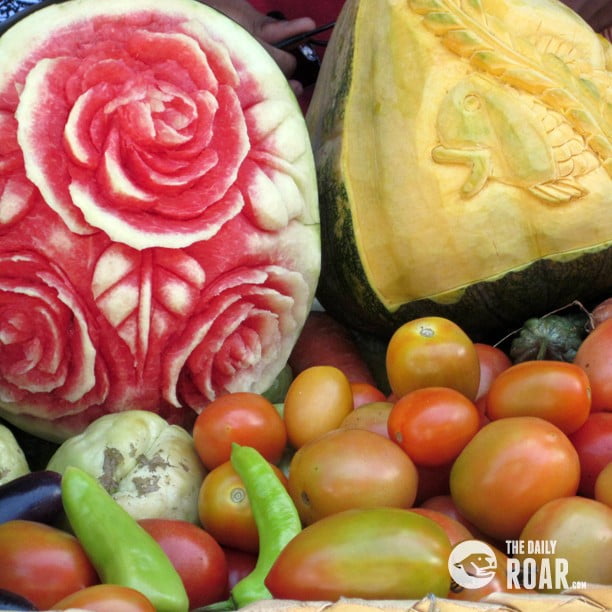 A grand display with bursts of color and vibrant hues that mesmerize every visitor, the Pahiyas Festival experience usually begins with a long line of cars stranded towards the entrance to the town. Out-of-towners, both Filipinos and foreigners alike, usually forsake their cars and opt to just walk the long way into the town. The banderitas and the rice wafer kipings overhead cast merry shadows down on the road. With the excitement buzzing electricity in the atmosphere, any person will certainly feel like celebrating with the locals.
There's just too much happiness in the air.




Upon arrival at the town, the festivities usually start with a celebration of the Holy Eucharist in the town church, followed by parades of various floats and bands and street dancers, a judging of the house design competition, until the celebrations end with a fireworks display as a fitting ending to a perfect night. In town, every person on the street is happy to help. Here, it's all about welcome. Ask anyone to take your picture and they'd be more than willing to do so.

Eventually, if you allow yourself to get carried away by the crowd, the experience becomes more satisfying than trying to control where to go. To your left might march a band, to your right a parade of carabaos and horses and their decorated floats. As the crowd turns, you may find yourself thrust into a trail of beautiful maidens in flowered gowns, and then as a local celebrity appears, applause erupts. At the nearby trade fair, music booms from the overhead speakers and you'll be amazed at all the unique souvenirs and exotic goods.

At the heart of the town, the church provides a welcome respite from the busy hustle and bustle of the festivities.

Remarkably noticeable is the small pond to the side, quiet and peaceful and a breath of fresh air. The sound of the water trickling from its bamboo ornaments is enough to make anyone want to pray. A few kids are usually throwing in coins, trying to see if they can get them into the bamboo shoots labeled "Hope", "Peace" and "Prosperity".




After refreshing your soul with spirituality, it's always a good idea to feast on the local specialty called the Pancit Habhab at the Koffee Klatch. This particular dish is made of soft dry noodles mixed generously with vegetables and meat all with the secret flavor that only locals can provide you with. What's most memorable about it is that it's eaten entirely without utensils—the noodles are served on a banana leaf and you simply have to spoil yourself and indulge by slurping up the noodles to your heart's content. Truly a one-of-a-kind experience!

By mid-afternoon, it's best to finally make it to the highlight of the whole festival—the competition of houses. One look at each painstaking decoration of each house, and surely anyone's jaw will drop to the floor. The houses are filled with so much color along with vivacious fruits and various flowers. Each one is trying to outdo the other because the highlight of the whole festival is the décor competition, and the annual judging just keeps getting more intense. Everything is just pulsating with life. In the flurry of shades and colors, you might find that you will get lost in the bliss and never want to leave.
At the end of the day, all you can do is join in on the festivities and try your hardest to have each memory of the celebration etched forever in your mind and heart. The theme song for the festival that plays overhead rings true and stays with you all the way home. It's just as the song says: Tara na sa Lucban, sa Pahiyas ng bayan. "Treasure of the nation" indeed.

How To Get There:

Given the notorious traffic situation in Metro Manila, it takes around 5 hours to get to Lucban, Quezon. From Manila, one can take the public transportation route aboard a public bus to Lucena. You can find these buses along the terminals at Buendia-Taft, Pasay-EDSA, and EDSA-Kamuning. Once at the Lucena Grand Central Terminal, you can take a 40-minute jeepney ride to Lucban.

If you're fortunate enough to be driving your own private car, take the South Luzon Expressway (SLEX) and exit through Calamba. Pass by all nearby towns such as Los Banos and Pagsanjan all the way to Luisiana until you reach Lucban.

/// Written by Catherine Ng Dellosa, The Philippines