Ju Bao Lou Cafe is a shop in the old section of Georgetown, Penang. The shop is on the corner of Jalan Gurdwara (formerly Brick Kiln Road) and Jalan Noordin. Several blocks away from this shop is Continental Hotel. Opposite Ju Bao Lou Cafe is Gama Supermarket. For lunch, there is only one stall offering rice with duck + soups + a choice of roasted pork or marinated pork wrapped in soya sheets(lor bak).

My mother introduced me to this stall. She lives in Penang and she knows most of the off-the-beat hawker food in Georgetown. She took me to this shop because she likes one of the soups offered there. This soup is called "Chai Boey" in the local Hokkien dialect. It is a soup dish cooked with salted vegetables, dried chillies, dried sour fruit, and her favorite, duck neck and bony ribs. The soup tastes sour, salty, and spicy. My mother likes it like that!

My mom always calls for "Ak Tui" or duck drumstick to eat with her Chai Boey. To complete her meal, she will order a cup of extra strong black coffee or "Kopi O kaw."

This stall is run by a young lady who speaks several languages. If you know Mandarin, Cantonese, or Hokkien, she knows how to get your order ready for you. If you can't speak any of these languages, you can speak in English. Yes, I have seen visitors who come to the stall during lunch hour and she converses in English with them. I think the visitors come from Continental Hotel or anyone looking for a meal.

To operate this food stall, I can see that there are at least four people. One is the meat cutter or chef, the other is the assistant who will scoop the rice, the soup, place the food plates with cucumber for the meat, and prepare the sauces. There are three types of sauces to go with duck or pork. The third is the one who serves and collects the money for the meal. You pay once the food is served. The fourth is the dish washer.

An order comes with a plate of duck + rice + normal soup. Duck is deboned before it is served. If you want to just have pork, place your order. Usually, an order for duck or pork is around Ringgit Malaysia 4.50. If you want to have what my Mom likes, it will cost you RM 7.00. Additional items are charged separately. A cup of black coffee or coffee with condensed milk is RM 1.00. Other shops may charge differently for coffee. You have to just ask how much. It should not cost you more than RM 1.20 for hot coffee or hot tea. Iced coffee or iced tea will cost an additional 20 sen.




Ju Bao Lou Café on the intersection of Jalan Noording and Jalan Gurdwara.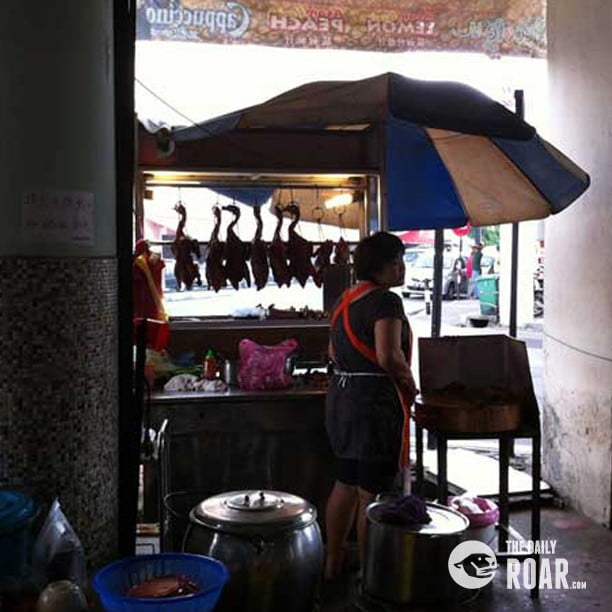 The duck stall with the lady operator.




Ju Bao Lou Café overlooking Gama Supermarket's back entrance.




Ju Bao Lou Café with Continental Hotel (high rise building) in the background.

/// Written by Irene Tan, Malaysia