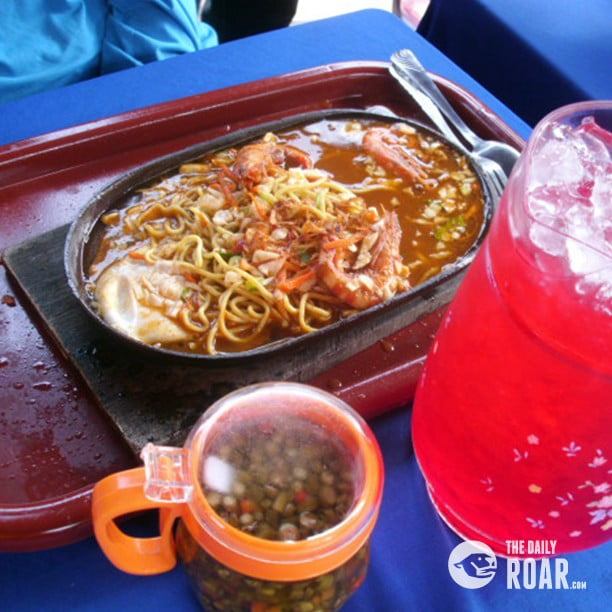 If you ever visited Perak and you never got the chance to taste the famous Mee Udang Berasap Kak Ros also known as "Kak Ros" (Smoky Prawn Noodle), then you are missing out a lot! Situated in Sungai Baru, Mee Udang Berasap Kak Ros is not a place you should miss when you are in Perak.
Mee Udang Berasap Kak Ros have gained much attention over the past few years and has even made it to the local TV stations and newspapers. The place was known for its unique way of serving the traditional prawn noodle. Instead of serving it in bowl like others, Mee Udang Berasap was served in a claypot to keep it hot as just cooked. And before you realized that the heat was gone, your noodle was already finished !
The uniqueness of Mee Udang Berasap is not the only thing that puts this place on the map. Mee Udang Berasap Kak Ros is also known for its reasonable, affordable ; in other word , cheap price. Only for RM 5 , you can get a hot smoky prawn noodle served on your table. Let us sum up for you, you can enjoy the wonderful taste of the noodle with just USD 1.33 in your pocket! Can you believe that? You can also enjoy the 'special' Mee Udang Berasap for only RM7 and RM 9.50. Isn't it affordable?
If you think you can't make it or run out of time, no need to worry! Because Mee Udang Berasap Kak Ros has over 10 fast and efficient workers. They will cook and serve your own 'Mee Udang Berasap' in just a few minutes! Not to mention , the owner is very friendly and know how to please the customer. No need to be awkward or shy, because at Mee Udang Berasap Kak Ros, you will be treated like family!
If you are not the type who eats noodle or seafood, then do not worry as Mee Udang Berasap Kak Ros is offered a lot more than a hot prawn noodle. The menu varies to different type of meals such as Mee Jawa (Javanese Noodle), Steamboat , Char Koe Teow and a lot more mouth-watering dishes.
Experienced Malaysia by ' Rojak '
Like an icing on the cake names "Rojak Paksu" is waiting for you! No need to get your car keys as Rojak Paksu is sold just in front of Mee Udang Berasap Kak Ros. Rojak is a well-known dish favoured by malaysian and also tourists.  Rojak is a traditional fruit and vegetable salad dish. The term 'Rojak' was also known as 'mixed'. Not only it describes the food , it also describes Malaysians in common as we are known for our unity despite the differences in races.
In fact, the story of a 'pakcik' (middle-aged man) selling Rojak for many years was also aired on a famous local documentary. This pakcik will never hesitate to tell you the story about his experienced and wonderful Malaysia.
So what are you waiting for? Pack your bags and visit Malaysia and its hidden beauty.
/// Written by Nurul, Malaysia