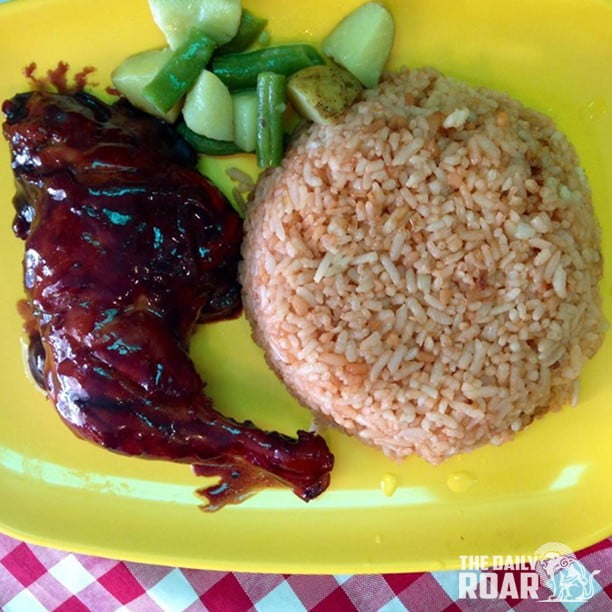 Are you looking for a cozy place where you can watch free movies or music videos with an inexpensive meal price restaurant? Then I think you should try this Urban Chick resto at Sikatuna Village, Makadios Street, Quezon City, Philippines. They serve breakfast, lunch, and dinner so you have the whole day to spend time alone or with friends. The resto has plenty of food on the menu wherein you have various choices of what would you eat.
As I enter the space, I had an impression that it is a good place to chill, with that good movie they're playing on the screen and a very welcoming crew. The place has a simple decoration that would look like a typical yet homely hangout place.
So let's start the food review with beef with mushroom I had for only P95 ($1.88). I am really into foods that have mushrooms on it so I was eager to try the meal. When they served me the food, I think the presentation wasn't that attractive in my opinion but (hey, considering the cheap price, I think it's fine) the taste is good. The beef was tender and the mushroom was properly cooked. For my side dish, I had mashed potato with the price of P60 ($1.18) that I think is kind of lacking in taste. It's not the usual mashed potato you've tried in fast-foods or restaurants that will make you crave to order another one, same review with the mushroom soup. It is not that creamy and it is watery in my opinion but still, the mushroom flavor is there at least.
Now, for the dessert, I had the Oreo pancake for only P65 ($1.28) which I can say that it is actually great because you can savor the chocolate flavor in every slice. You won't get fed up quickly since the chocolate they used is not too sweet. I think it is better to have someone to share it with since the size is huge and it is two pieces. For the beverage, I had the Lemonade, the same price with the pancake and it's good as I can taste the lemon flavor, of course, and it is not that sweet.
Let's talk about the ambiance of the place, which was nice, in my judgment. It was clean and has an inviting appearance although it needs a little bit of improving to make it more charming, maybe with the help of choosing a much better wallpaper, counter design and table and chairs arrangement. People nowadays like to document good restaurants they have been to, so it would be a big help to their business. Overall, it was a good experience. There is a film showing and you can also watch music videos to get you entertained while waiting for the order.
One adorable thing they have there is that instead of ringing the bell to call the waiter, they have this rubber chicken that you have to squeeze so that it'll make a sound of an aching rooster or hornpipe, I don't know what to properly call that funny sound. It was cute and hilarious yet somehow embarrassing every time you have to squeeze it because it was too loud plus the sound it makes.
It may look small on the outside but once inside, the place was kind of spacious than you think. The place was air conditioned so don't worry about the place getting hot. The service crew was nice and attentive. They accommodate the customers well.
Overall, I think the meal was good and reasonable for its price. Every food was served hot and clean, although the presentation wasn't that great. The place may be lacking for some decoration but if you just want to chill with friends in a fresh comfy place setting while eating cheap yet nice foods then this place is definitely recommended.