1.Langkawi Cable Car and the Langkawi Sky Bridge (Pantai Kok, near Burau Bay)
This is an awesome ride on a cable car that has the steepest gradient in the world and taking you to the summit of Mount Mat Cincang over a distance of about 2.1kms. You get breathtaking views of the Andaman sea below along with the scattered islands of Langkawi and the towering peaks. There are two cable car stations with viewing platforms and walking trails. The Skybridge is another engineering marvel. It's a curved suspension bridge high up in the sky that links the cable car top station with a nearby mountain. If you have the spirit of adventure, take the long flight of steps to reach the bridge, walk over it and appreciate the magical creation as you watch the views all around. You will feel you are on top of the world.
2.Pulau Dayang Bunting & Lake of the Pregnant Maiden (Dayang Bunting Island)
There is a wonderful fresh water lake locate at the Dayang Bunting Island which is steeped with legend and surrounded by hills and rainforest in a picturesque setting. The lake is great for swimming and the forests excellent for bird watchers. The island is located offshore in the south of main Langkawi island and can be easily reached by a boat. There are plenty of boat tours operating out of Pantai Tengah that can drop you to this lovely spot.
3.Underwater World (Pantai Cenang)
The 60,000 sq. ft. building houses over 4000 fish and marine creatures and have separate sections for wide range of birds and animals as well. The sections are themed on Tropical Rainforest, Temperate, Sub-Antarctic, Ponds, Corals and so on. There is a 15-meter long tunnel that showcases an array of fish and underwater life in numerous large and small glass tanks that are mostly engraved on the walls. Inside, there are souvenir shops and cafe as well.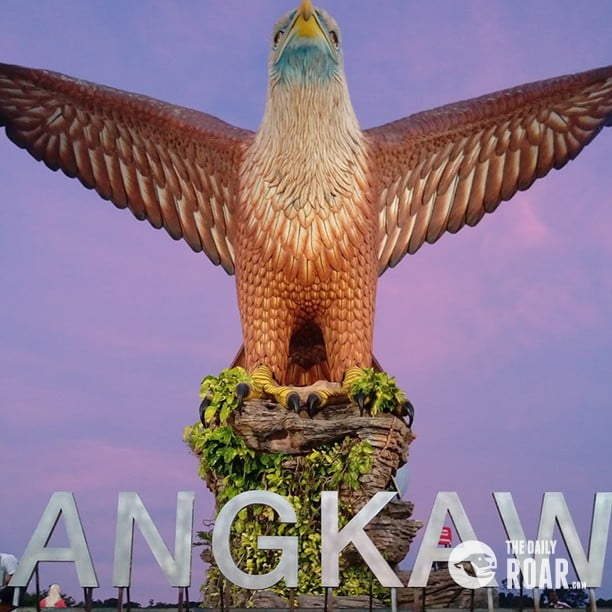 4.Eagle Square – Dataran Lang (Kuah Town, South East Langkawi)
There is a 12-meter high sculpture of a reddish brown eagle at the square and looking into the open bay. The eagle symbolizes origin of Langawi's name and hence such a statue created at Kuah Town close to the jetty (ferry dock). The view of the waters with backdrop of mountains and ferries plying by is really spectacular.
5.Mahsuri's Tomb & Cultural Center (Padang Matsirat, Jalan Makam Mahsuri)
This place has a mausoleum and the tomb of Mahsuri, the legendary folk lady from Langkawi who was falsely accused of adultery by the wife of village chief and was finally sentenced to death. It was her dazzling beauty that led to the jealousy and the false charge. Before her death, Mahsuri cursed the island for seven generations of ill luck which apparently struck the island soon after her death. But fortunately the bad time has now passed. This place, also known as Makam Mahsuri, has evolved as a cultural complex which also has a music theater where folk instruments are played, a large gallery with paintings & models depicting Mahsuri's life story, an audio-video room, a typical Malay house the way it used to be centuries back, souvenir shop, food stalls and more.
Save