Bohol the number one tourist location in The Philippines
The island of Bohol is one of the most popular tourist spots in the country which can be mainly attributed to the Chocolate hills at the town of Carmen. Adding to this popularity is the white sand beaches of Alona beach in Panglao island, and the wide array of activities you can have there from dolphin watching at sunrise to some fire dancing and wild partying in the evening. Sadly, however, these beaches get really crowded, can be quite expensive, and if you're into relaxing by the beach, it's not happening at this place unless you're willing to pay 200 dollars a day for exclusive beach resorts.
But fret not beach-lovers, and those who likes bumming around a quiet beach like me. At the southeastern tip of Bohol island, you can find the sleepy town of Anda. From Tagbilaran airport, ride a tricycle to the Dao terminal and look for any buses or vans heading to Anda. Travel takes 2 to 3 hours and fare ranges from 100 to 120 pesos (2 to 3 dollars). The town has the Quinale public beach which is literally in front of the old Spanish cathedral at the town center. It's not hard to spot the long stretch of powdery white sand and turquoise blue waters.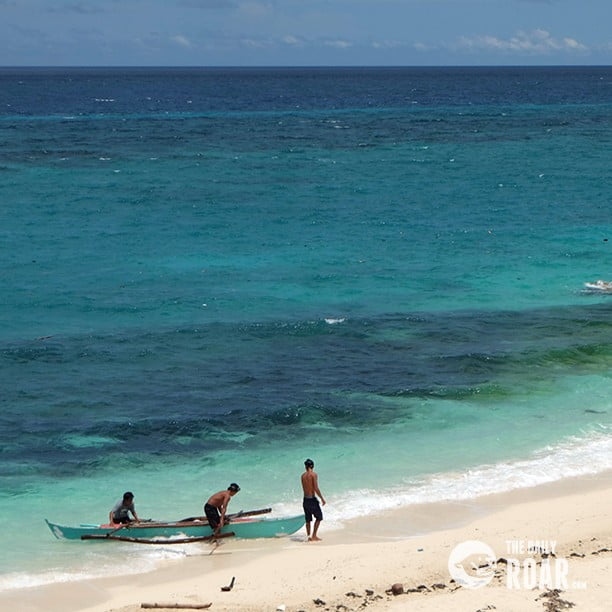 More than the untouched beaches, Anda has snorkeling and diving sites, wind surfing spots, cliff jumping, and a number of cave pools. The biggest cave pools in town include Combento, Cateres, Kaligoon, Tiburako, East Coast and Cabagnow. You can easily spot the local town tourism office near the Spanish cathedral and the beach (yes it's by the beach) on the whereabouts of these activities. The best way to go around town is either by a motorcycle or bicycle which you can rent at the OnePiece Hostel (I'll get back to this hostel later) or hail a tricycle for 400 pesos (8 dollars) to bring you to the cave pools, waterfall, and cliff jumping spots.
Accommodations in Bohol
Accommodation in Bohol is easy as well, you can rent a fan room at Anda lodge hostel at the city center for just 500 pesos (10 dollars) a night, or the well-located OnePiece Hostel, which is about 5 minutes away from the city center, for 400 pesos (8 dollars) a night for a bunkbed. And if you're a cheapskate who still wants it fancy, pitch a tent at the public beach and just use the public toilets (I saw a couple did this for a few days). When it comes to food, you can have a feast even on a budget at the Anda food center near the public market and the cathedral. During my first lunch here I had 4 pieces of steamed crabs for 150 pesos (3 dollars), a whole grilled mackerel for 50 pesos, lato (fresh seaweed) salad for 30 pesos a plate, and fresh ripe mango shake for 25 pesos. I wish I can eat all that seafood every time but I'm too full.
I stayed at the OnePiece Hostel, run by a Filipino-French couple with some Belgian and French cooks. It's a huge two-storey house with lots of hammocks and a lovely beach at the front. One of the famous cliff jumping sites and cave pools are near the hostel. The best part is they organize al fresco dinners on a long table with 15 to 20 people followed by dancing and singing afterward. The place is also a good spot for wind surfing and snorkeling. After bumming on the beach for two days, I spent a whole day hiking to the Anda waterfall, and three cave pools. It was not my first time to swim at cave pools but I was amazed on how accessible these and numerous they are in this town. These are open cave pools and it only takes a careful 5 minutes to swim in the cold, crystal clear pure water.
Anda has that charm and innocence to it. The beaches are untouched in this town, the marine life is a bonus, the sunsets are glorious, a seafood fest is a doable everyday, and the locals are so warm. No wonder why most of the fellow travelers I have met in this town have been here for months. It's the charm of Anda – idyllic, unassuming, and therapeutic to the soul.