Batam, located in the Riau Island, is a province of Indonesia. It is a favourite weekend gateway destination for Singaporeans. For majority of the foreign visitors, one of the most common way to get to there is to fly to Singapore and catch a ferry. From harbourfront ferry terminal, the journey to Batam would take an estimated time of around 45 minutes.
Batam is well known for its cheap shopping and some even say that it is a shopping haven. Goods imported from outside the country will be free of taxes. A common sight which you could see in shopping malls, are replica of products. Although they are replica, they are in good condition and quality. One place which I would recommend for shopping would be Nagoya Shopping Centre, a great place to shop and dine.
Batam is famous for great tourist attractions 
It is a great entertainment place during the night too. But be careful when you are alone at night. It is best not to talk or getting into discussions with the locals as they might ask you for your wallet and stuff. Most importantly, stay alert at all times.
There are many tourist attractions and activities which you can do on the island. The island itself, has many golf courses which are considered one of the best in Indonesia. Activities such as go-karting and paintball are also catered to those whom are adventurous.
Below are photo shots of a favourite tourist attraction, called Barelang Bridge. To head here, one has to travel by taxi. You can stop by the side of the bridge and alight to do some photo shooting of this gorgeous bridge. There are some pushcarts which sells local snacks along the side of the bridge and you could grab a bite if you are hungry. Be warned, there might be "traffic police" who will ask you to pay a small fine in behalf of the taxi driver.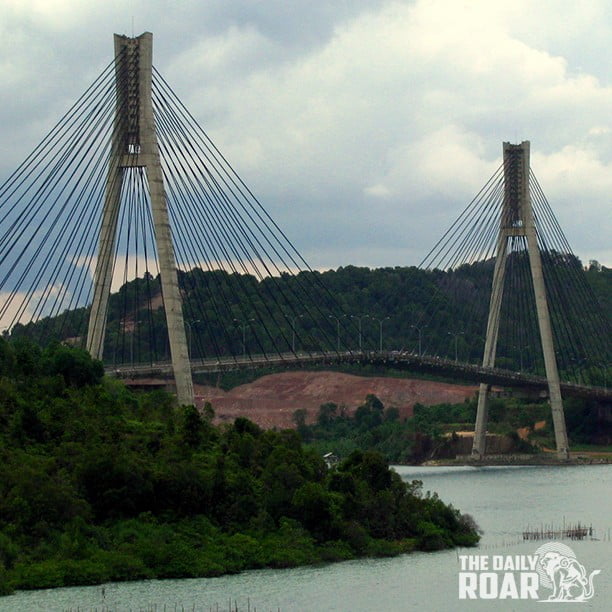 Batam is also famous for its cheap, affordable and delicious food. You can find lots of outdoor food courts which sells local cuisine such as Fried Kway Teow (as seen in picture below) or even sipping on freshly squeezed avocado juice to quench your thirst.
Not to forget, remember to try the mouth-watering seafood in Batam. The seafood in Batam are done in many cooking methods and both locals and tourists do enjoy it especially for their dinner.
If you happened to pay a visit or having your transit in Singapore, do remember to pay a visit to Batam. You would definitely enjoy the great dining and shopping experience.