Broga Hill also known as Bukit Lalang is named after the local species of grass which grows on the hill. It is composed of various flora and fauna especially tall grass, squirrels and birds. Its peak is 400 metres sea level. Broga Hill is quite famous for those who stay in Klang Valley. Well, I believe most of us have seen Broga Hill in Facebook after your friends have visited and uploaded the photos. The most important is Broga Hill is part of Klang Valley's green lung.

Broga Hill is located in Kampung Broga, Semenyih, Hulu Langat District which the hill sits on the border of Selangor and Negeri Sembilan. It takes about 45 minutes journey from Kuala Lumpur. You will find a lot of visitors here mostly during weekend and school holidays. Besides that, there is even a society organize for hiking trip to Broga Hill as one of their society's activity. Basically there are three peaks for Broga Hill and if you want to admire the sunrise just stay at 1st or 2nd peak because at the 3rd peak, the trees and mountain will block the view of the sunrise.




There will be only one way up and down. You will need to climb up the little steep hill, a steps created by humans' footsteps. Just make sure you only use the rope when you need to because usually only one person will hold the rope at one time. It is easy to handle when you go up but it gets real muddy and dirty especially after rain. So be careful and so important to wear the right hiking outfit! 

When you are at the top of the hill, you will never imagine how amazingly the view of sunrise or sunset. Plus, you also can find big rocks and long "Lalang" which is the highlight of Broga Hill and very suitable for nature photography. For those who are a hiking lover will not find Broga Hill as too much of challenge nevertheless it still can offer you the best exercise and work out.
While on your way back, you will see people selling coconut drinks, bird nest drink, T-Shirts and even hiking stick. Hopefully this won't affect the place that much. If you are feeling hungry, you can just head down to the town for breakfast and lunch. 

Well I can conclude that Broga Hill is a good place for new hikers. You should go there for a getaway from hustle and bustle of the city. Experience the nature, relax and enjoy the moment. You'll absolutely love Broga Hill once you reach the top and witness that majestically beautiful sunrise with your own eyes!
Just make sure you are there early and reach there by 4.30 in the morning to be the first few to go up or to avoid human traffic.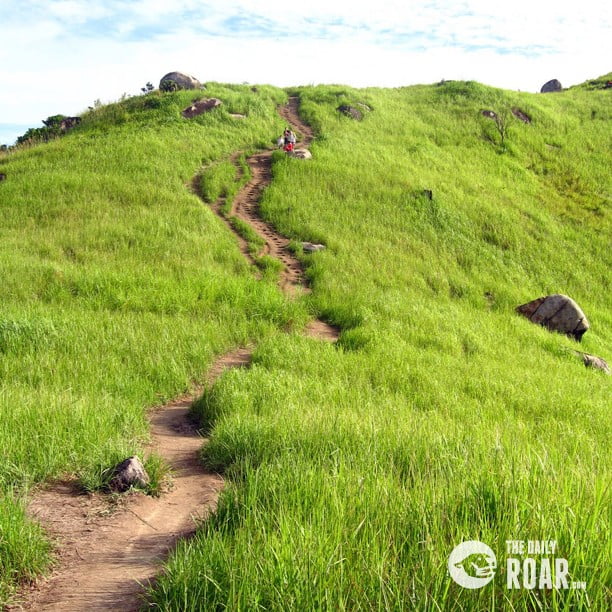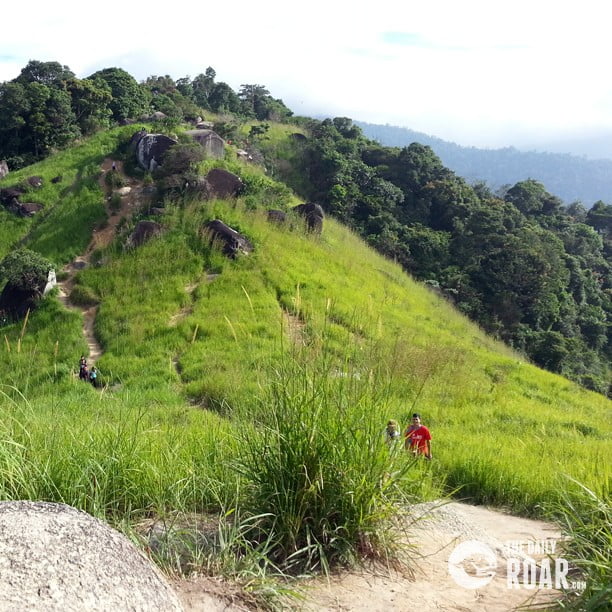 How to get there?

First you have to get into Jalan Semenyih. I have Google the maps to the Broga Hill and there are few options to reach Jalan Semenyih.

1. From Kajang town, go all the way straight until Jalan Semenyih.

2. Go through SKVE and exit to Jalan Semenyih after 2nd toll.

3. Go all the way Kajang Seremban Highway and exit to Jalan Bangi then make a right turn to Jalan Semenyih.

After that, go along Jalan Semenyih until you see a "Broga" signboard. There is a Petronas petrol station right opposite the T-junction. Make a left turn and go straight. On the way, you will find University Nottingham Campus, Malaysia on your left. Go further until you reach a rabbit farm and you will see the entrance to Broga Hill is the oil palm estate opposite the rabbit farm. They charge RM2 for parking inside the estate space. If you prefer not to pay, you can just leave your vehicle beside the road. Happy Hiking!

/// Written by Anisa Aisya Khalil, Malaysia