Next time you are whale-shark watching in Oslob, do yourself a favor and visit Tumalog Falls before you leave. It's only about a fifteen-minute drive from the whale-shark area to the highlands of Oslab- all on a paved road! Of all the majestic natural wonders that Cebu Island has to offer, this is one of, if not the, most beautiful. Looking like something out of a fairytale, Tumalog Falls is a horsetail waterfall, meaning that the water maintains contact with the rock wall much of the way down.
Tumalog Falls and how to get there
Upon arrival, there is a small entrance fee to get to the falls. From there, you can walk down to the falls and back, which takes around 30 minutes round trip, or you can take a habal-habal. The path down is pretty steep, so many people prefer to walk down (the easy part) and then hitch a ride back up. Walking, however, is free!
Once you make it down to the bottom, the first thing you see is a small mirror pool, with the grandeur of the Tumalog Falls behind it. The surprising height of the waterfall and the fact that it is surrounded by trees makes it pretty difficult to get a good picture of the whole scene, so you have to go there yourself to truly experience it!
The color of the water is a beautiful turquoise because of the concentration of lime. While it looks deep, the water is actually relatively shallow. It is only waist or chest high on most people, depending on the amount of recent rainfall, and it's perfectly safe to get in! It's a lovely place to take a nice, albeit cold, dip. Since the water is falling from such a great height, to stand under it makes for a great back massage.
What you should probably bring
As stated earlier, the hike down is steep. For this reason, it is best to wear shoes with good grip, so you don't slip and fall. It is recommended that these shoes are also water safe, since the water under the tumalog falls is very rocky, and also very slippery. Wear a good pair of shoes that are good for water and on land, or just bring some water shoes (with good grip!) for while you're playing around in the water.
As always, you should wear sunscreen. And you should bring snacks. The hike down there and the fun you'll be having is sure to peak your appetite!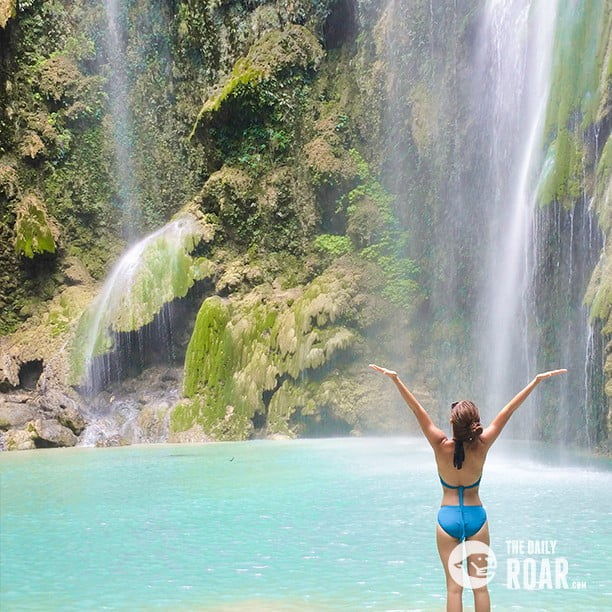 (Image from www.kryzuy.com)
Save
Save
Save
Save