Ever heard about the 'worst' job on earth? Well, neither did we before we set our feet and camped on Mount Ijen, one of the most famous volcano's in East Java.
The wind took Flashpackerindo team to hike on the mountain who is famous for its amazing blue fire. We arrived too early that morning, we can actually hike on the same day, but our mission was to watch the famous blue fire, which you cannot see during the day. So, we agreed with our guide, Pak Mul, for a hike at 1 a.m in the next day. No, we are not kidding you. We did hike at 1 a.m. For the sake of the blue fire, yeah!
Temperatures may reach somewhere between 2-5 degrees celcius in June/July
It was really cold that night. Temperatures may reach somewhere between 2-5 degrees celcius on June and July. So much for being a tropical country! Pak Mul woke us up at 12.30 a.m and we dressed ourselves in warm clothes.
As we stepped out of our tent, a sky full of stars greeted us. It was very beautiful that we even swore we saw some shooting stars (though later Pak Mul told us it was just a light from a plane, but we still made our wishes!). Ajeng even joked that she would hike for as long as 2,5 hours just to be able to enjoy the sea of stars above us. And she really did! For your information, average hiking time to the peak is about 1,5 hours. It may be shorter or longer, depending on each person's speed and endurance.
At 1 a.m sharp, we started our hike to the peak. The first kilometer was quite easy, as the path was still quite ramps with no steep grades. We already reached the first base, when a really steep path appeared in front of us. So, we decided to stop for one minute to catch some breath before starting to walk in the steep path with our mall-designed Converse. Not too easy, since the track was very sandy during the drought we slipped several times!
One thing that Ajeng and Dinda learned from this trip is not to believe Adel when she said the the peak is already visible! She said it to make them keep walking! Well, at least, with every step we made, it got us closer to the peak, and after a tiring 2 hours walk with occasional breaks to enjoy the stars and caught our breathe back, we made it to the peak.
And there, at the peak of Ijen, we saw the mighty blue fire from relatively far distance. The smell of sulfur smoke was already very strong, even from our safe place, and we needed to go down to the crater to see the fire, but for that, we had to share our already-small path with those sulfur miners carrying at least 80 kilograms of sulfur on their shoulders, without anything but 2 small wooden baskets and a long wood to attach those baskets. No safety equipment, not even a mask to reduce the inhalation of lethal sulfur smoke to their lungs.
We decided to go down the crater, to have a closer view of the blue fire. But trust us, we only made it for 10 minutes before we went back up since the smoke from the crater choked us. On our way back, we still saw those miners went down and kept working like nothing happened.
They had to start as early as 1 am and would be finished at 3 pm
Back on our safe place, we asked our guide how much money they earned for such dangerous job, and his answers shocked us. For every kilogram of sulfur they mined, they got comission for as low as IDR 900 – IDR 1000. Approximately, they were able to carry 80 kilograms of sulfur per one trip, and in one day, they were able to make two trips. So, in one day, they earned IDR 160.000 or USD 16. They had to start as early as 1 a.m and would be finished at 3 p.m. Yes, with no safety equipments, with no health insurance, with no additional monthly benefit. What they carried back up is what they had for the day. No wonder, some miners quit mining and decided to guide tourists. "The money is about on the same amount, but being a guide is much less tiring, and it is always good to meet new people," Pak Mul said.
We hiked back down with mixed feelings. Here, in Indonesia, which claimed itself to be one of the biggest economic powers in the world, there were still some guys, doing ultra dangerous job to be able to support their family. Ijen is like 2 sides of a coin, one pretty side and one ugly side. The astonishing natural beauty balanced and walked together with the ugly fate of those sulfur miners.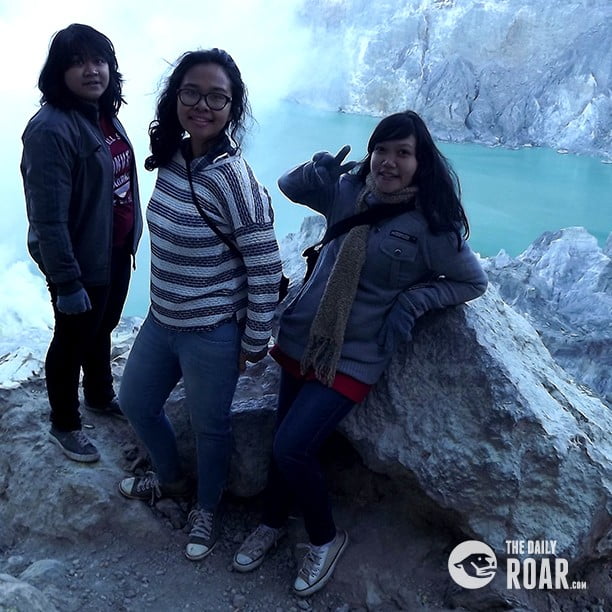 /// Written by Ajeng N, Indonesia