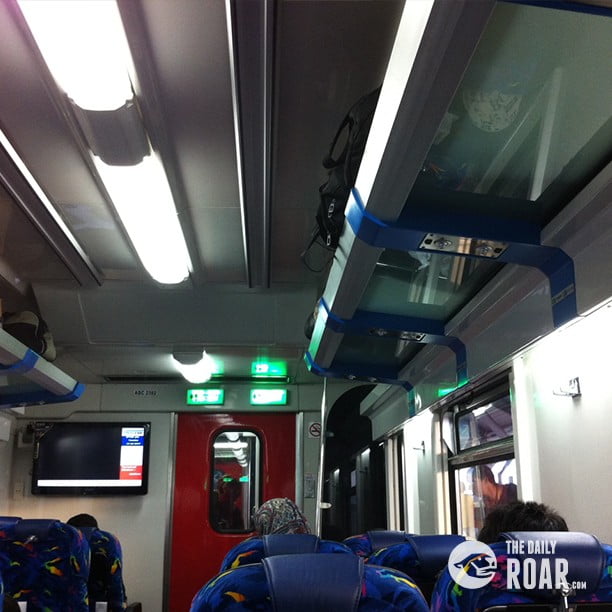 I never send this article to The Daily Roar because I was disappointed with the state of affairs of our Malaysian railway system. As a Malaysian, I had grown up travelling by train to Parit Buntar, Kuala Lumpur, and Singapore because of my father's connection to KTM or Keretapi Tanah Melayu. He was a station master at two small train stations until his "upgrade" to a ticketing clerk at the Penang island KTM office. I was born in Penang and oftentimes, my mother would take us children to visit her parents and relatives by train because dad could get free or discounted tickets.
Recently, during the July 2015 Hari Raya holidays, I was stuck in Kuala Lumpur without a ticket home. I tried the Plusliner bus and it was booked three days ahead. I then tried KTM as a last resort. I was fortunate to book online through eticketing, two KTM tickets and wow, was I amazed at the upgrade to the railway system when I boarded my train to Butterworth.
KTM has a new Electric Train running from the North to the South now. I couldn't get tickets on the new train but I got on the Ekspress Rakyat leaving Kuala Lumpur at 16:05 and arriving Butterworth at 22:30. The carriage was new and we also had the use of power outlets to charge our mobile units. I was so glad because my smartphone needed charging! And the remarkable thing is, we arrived 30 minutes ahead of schedule! Compare that with the article that I wrote on my experience in 2014.
Happy riding on the trains in Malaysia!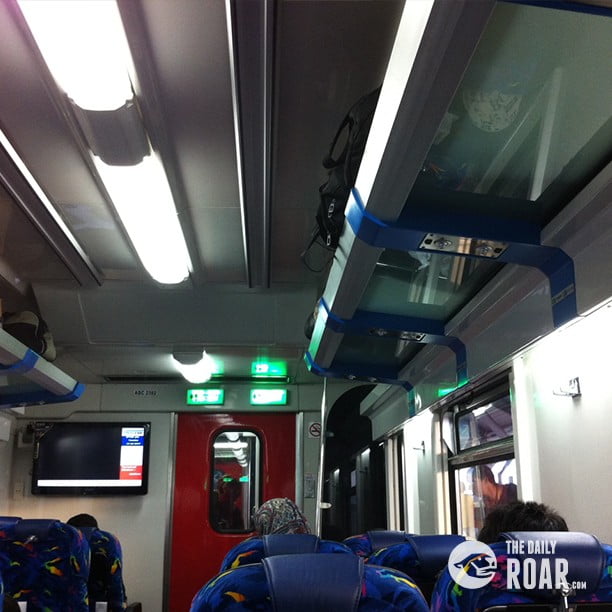 New carriage with working air conditioning, nice seats, and operational door.
Placed just below the seat, a power outlet for you to charge your electronic devices.
Malaysia has a railway system that is operated by Keretapi Tanah Melayu or KTM Berhad. KTM was formerly under the government but it was privatized some years ago. I used to travel by train return Butterworth to Kuala Lumpur when I was young.
Now, as I am much older, I thought back to those days of enjoying the ride on the train. It had speed and I could feel the wind when I stood up near the open windows. Those days, travelling third class meant that we had seats but no air conditioning. I always marveled that the engine could pull so many cars along the winding tracks. The train "rocked and rolled" on its way and I always had to balance myself as I walked along the cars to the canteen. I remembered how delicious the meals were on the train. We could get fried noodles at the canteen car. Those days, I knew it to be the canteen because it was where my parents would take me to ease my boredom of sitting in the seat for long hours. Nowadays, it is called the "buffet" car. We would walk pass cars with sitting passengers to the canteen as the train moved on the rail tracks. I enjoyed crossing the cars because I could see the tracks under the little platform and there was no fear of falling because the platform was well-covered. As I entered into the next car, I see other passengers and their bags and goods that were placed near the entrance / exits. Some brought poultry along and we could hear cock-a-doodle do. We would look at each other and smile or nod. We were all travellers on the train. Nowadays, poultry is not allowed on trains.
I always know when we reached the canteen. I could smell food as well as see tables with seats. And it was air conditioned. The sealed windows were wide and I could see the oil palms and rubber trees as the train travelled. The seats faced across the table and we could seat and eat and watch the scenery. I remember I was old enough to place my order at the counter. As I stood at the counter waiting for my food, I could see into the kitchen where the cook was busy preparing my order. The kitchen was narrow and I could see the wok and the stove. The cook didn't mind the train rocking and rolling as he deftly prepared my dish. My meal was cooked in a short while and I took my plate of noodles to the table. It was a simple dish with noodles and some chicken meat with cabbage but oh, how tasty and delicious it was to me! Other times, I had chicken mushroom soup and fried rice. I loved the canteen car because I could really get good food. Besides good food and camaraderie on the train, my uncle always gave me pocket money to buy a Beano comic to read on the train trip.
Recently, in early August 2014, I travelled by train to and from Butterworth to Kuala Lumpur Sentral. My sister and I wanted to relive those memories. The KTM e-ticketing system was easy to use. I could see the different types of cabins and seat allocations and pricing but I could not choose discounted rates for senior citizens.
My mother was travelling with the party and I knew she was entitled to a senior citizen's discount rate but the e-ticketing portal did not have this feature. However, if I had chosen to purchase the tickets at the KTM ticket counter, I would be given this discount if I provided her identity card details. Well, as the convenience of e-ticketing outweighed the trouble of getting into the car and driving to the railway station, I preferred to purchase online.
We got into Butterworth railway station an hour early at 7.00am and I saw the renovations at the station. There were new buildings and car parks but they were not opened for use as yet. The train arrived and we all boarded the train at 7:50am. The first impression I had was that the train was old. My heart sank a little as I saw the condition. The seat was okay but the food tray was not. My food tray could not be used.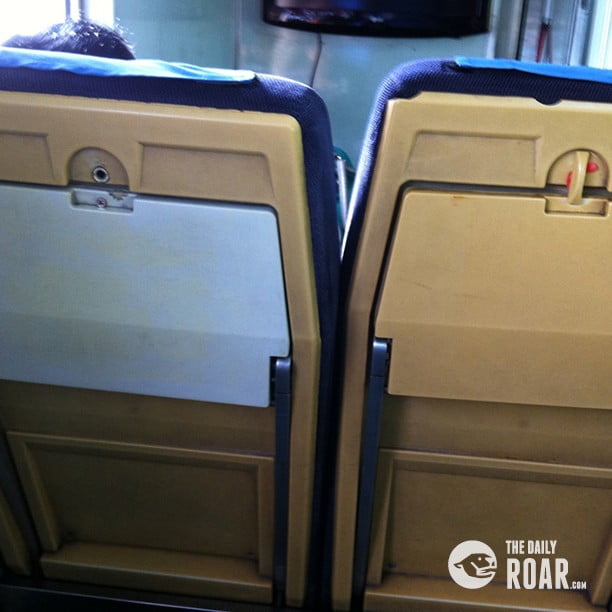 Food tray that could not be used on the left side.
A broken inside-pane window in the passenger car. Notice the missing food tray at the window seat.
A car door that could not be locked. The passenger car looked a little rundown.
I looked for the canteen car but it was not there. This Ekspres Rakyat had only five cars and it was a short train. Sigh. There was a small snack bar where cup noodles, biscuits, snacks, and hot drinks were sold. I was glad that I had packed some food and there was hot tea in my thermos. My sister had also brought biscuits and we could have snacks along the journey. The journey would take at least six hours to Kuala Lumpur Sentral. We settled down and looked forward to our destination. But alas, we encountered engine trouble not once but twice!
We first knew about the problem just after Bukit Mertajam station. The train stopped and the train conductor told us there was engine trouble. We were to wait for a replacement engine from Butterworth. It came after an hour and the passengers in our car cheered when we saw the orange-colored engine pass us by on the next track. We were soon on our journey. As we passed a small town station, the train again stopped. By now, my curiosity got the better of me as the train conductor did not present himself like he did before. We could see train crew walking on the tracks and examining the train. My sister and I got up and walked to one of the open doors of the car and looked out at the train crew on the track. We politely asked one of them, and he replied saying that they have a problem with the engine. Oh, my heart sank even more. We returned to our seats and with nothing to do, finished off our snacks.
A couple of hours later, the train started and we journeyed a short distance and then it stopped again. The train did not have that roar as those days I remembered it to have. It was like there was no power to pull the cars. Then we saw another engine, a blue-colored one replace the orange-colored engine. My sister and I decided to get a cup of hot coffee at the snack bar. As we passed the cars, we saw a couple of train crew members who were watching a gauge at one of the cars. We asked what was happening and one of them told us that they needed a pressure of 5 for the train to get going. We watched the pressure gauge with them and I excitedly said "Five now!" as the needle hovered steadily at 5. The train conductor turned to me and said, "Yes, now we can get going."
The pressure gauge showing 5 (black needle).
And we did. We reached Kuala Lumpur Sentral at 6.00pm. Oh, I do not wish for anyone to have this experience!
I was told by friends that KTM will be upgrading its services to ETS or Electric Train Services in the near future. This could be one reason why the diesel-powered trains are not upgraded. Currently, ETS operates from Ipoh to Kuala Lumpur Sentral. I was told that KTM is planning to extend ETS to Taiping and to other stations in the North in the coming future.
As for our return trip on the night train, from Kuala Lumpur to Butterworth, it was a breeze and not a nightmare. We bought tickets with sleeping berths and the train left and arrived on time.
To travel to Kuala Lumpur Sentral , we boarded the KTM Komuter at Subang Jaya to Kuala Lumpur Sentral and waited for the Senandung Langkawi at Level 2.
Kuala Lumpur Sentral is a hub for Light Rail Transit (LRT), KTM Komuter and trains, and Rapid KL buses. Level 1 hosts KTM Komuter trains; Level 2 hosts KTM ticket counters and platform gate to trains such as Ekspress Rakyat, Senandung Langkawi, ETS. You know when you go to KFC at Level 2 because next to this restaurant is the train platform gate. The train conductors will check your tickets before you can enter the escalator to the train platforms. Finally, Level 3 hosts LRT trains. The Rapid KL buses are located outside the building.
After the conductor checked our tickets, we went to the train platform. There were a number of carriage cars with sleeping berths and we had to walk to find our car. Train tickets show the car number such as L, L1, L2, and so on. As you enter your train car, you need to look for your berth number. In this way, you will sleep on the correct berth and the train conductor will not need to wake you up and show you your correct berth!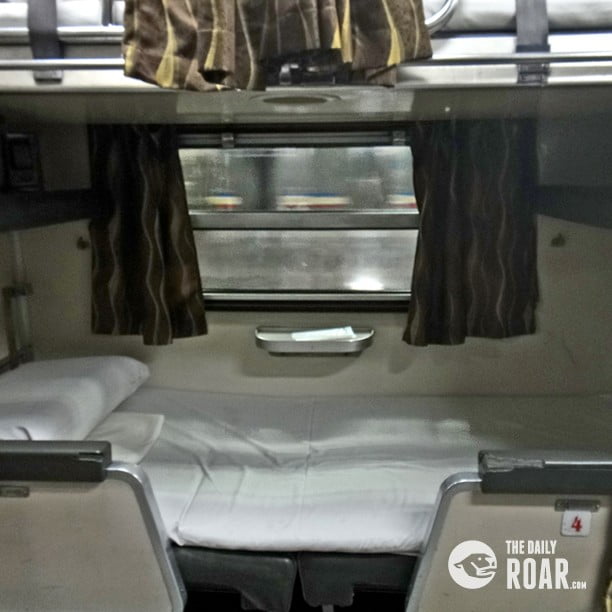 This is an image showing a lower berth. Sleeping berths come with a pillow and an extra bed sheet as a blanket. The car is fully air conditioned. Sometimes, it can get chilly and you may need an extra cardigan or your own blanket. Lower berths cost more than upper berths.
Passengers may keep their luggage on the corridor in the car if they have an upper berth. You may see shoes and slippers on the corridors as well. There is no hard and fast rule on personal belongings. For myself, I respect the items of my fellow travellers and I am sure, other travellers respect mine in return.
It was a long train with many cars and it had a buffet car but I didn't visit it because I had a good dinner at an outlet serving Malacca nyonya food in Subang Jaya. We found our sleeping berths and off we went to sleep, as well as we can, with the rolling and the rocking. I set my alarm to ring at 5.00am because that will be close to the time when the train will arrive in Butterworth. The train conductor will come round and announce "Butterworth! Butterworth!" to wake up passengers. I have not missed my stop but if you do, you just have to get off at the next stop and find your way back!
The Senandung Langkawi will take passengers all the way to Hatyai, Thailand and I am glad that KTM train service was still good. I am sure with the coming upgrades to ETS and train stations; travelling by train will be faster and more convenient in the near future.