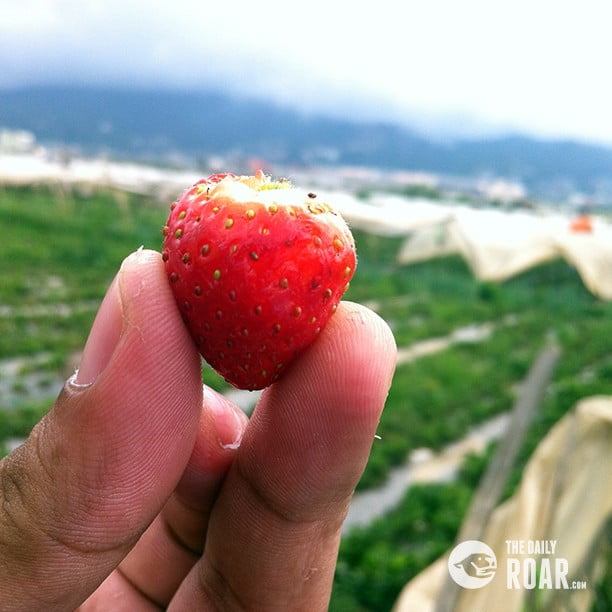 The strawberry farm in Baguio City
One of the main attractions of Baguio City is the Strawberry Farm located in La Trinidad Valley three kilometers from Baguio City proper. In fact, this place is known to be the strawberry capital of the Philippines. The municipality of La Trinidad has a total land area of almost 8,300 hectares consisting mostly of mountains, rivers, and springs. Its floor elevation is 1,300 meters above sea level which explains the cool temperature in the valley, perfect for growing strawberries all year long.
The strawberry-picking "Baguio style"
Every tourist who wishes to enter the strawberry farm needs to register first in the logbook for tracking purposes. If you are planning to pick strawberries, please expect double price compared to public markets. This is also to compensate for the potential damages that amateur pickers can do to the crops. You can bring home strawberries at P350 per box. With these you can surely experience wandering along the farm with little strawberries around you and it is priceless. You can enjoy the feeling of picking fresh crops and tasting them right away. Furthermore, it gives one a new perspective on how farming life is and how simple yet happy the local farmers are. All in all, strawberry picking "Baguio style" is an experience well worth your summer experience with your families and friends. Also read this list of the best things to do in Baguio City by Trip101.
The Strawberry and Vegetable Farms
This farm serves as the agriculture-based of students in Benguet State University. Their products are also displayed in the markets that are guaranteed fresh and freshly-picked. Some of their vegetables are broccoli, pechay and other leafy vegetbles.
The souvenirs
No need to worry about something that you can give as souvenir or product from this place. They have cheaper home-made strawberry jams since local residents sell it in the market. You can buy four small-sized bottles for only P100.00 or three medium-sized bottles for P120.00 or three large-sized bottles for P200.00. You can also buy fresh-picked strawberries. They have also other products like choco mallows, strawberry spread, peanut brittle, choco flakes, ube jam, and other sweets. They also sell shirts and hats that are mostly on buy-one-take-one promo, dream catchers and key chains where you can paint the word "Baguio City."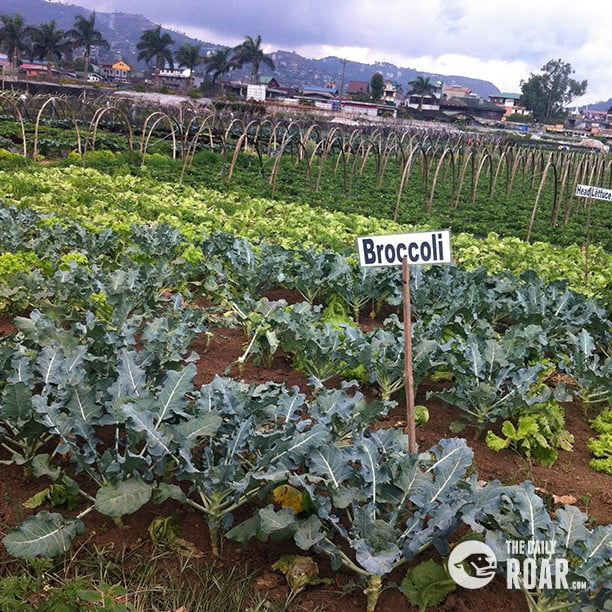 The Sitio Pungayan in the municipality of Tuba or Sitio Lapresa
Although the shooting of the Philippine television drama "Forevermore" is in the municipality of Tuba, it also promotes the pride of Baguio City- the strawberry fruit. In the said television drama, it also shows strawberry picking among the casts and its strawberry hectares. As people starting to admire the place and its fruit, they also want to see in person the simple house and the popular domesticated pig of "Maria Agnes Calay" also known as "Agnes" in the drama. Tourists find a way to visit Sitio La Presa or Sitio Pungayan for real. There is a fee of P20.00 if you want to take photos of the house and the pig.
Tips for better farming and picking
Tip #1: The same with other cities in the world, Baguio also experience traffic jam. You better pack your things up before 7:00 a.m in the morning. The Strawberry Farm opens as early as 6:00 a.m. If you will arrived early, you can enjoy maximum time to pick fresh fruits and witness the dews on the leaves.
Tip #2: B e careful on the walkways especially if they are wet, or else you will slipped away.
Tip #3: It is also good to include a little stem when picking up strawberry to stay it fresh a little more.
Tip #4: It is best to wear comfortable pants for you to move freely and wear flat shoes since the place is muddy.
Tip #5: Fresh-picked fruits cost double about P300.00 compared to fruits sold in the market just about P100.00 per basket. But since we are here to experience picking strawberries, P300.00 is just a number and the fun is worth the experience.
Tip #6: Avoid haggling too much . Tourists are very big help for their tough job to maintain a strawberry farm.
Tip #7:  March and April are the best months to pick up strawberries since it is the hottest and less rainy months. "The flavor is fuller when the sun is up!" the farmers declared.
Tip #8: As much as possible, don't cover the strawberries. Leave them open and avoid soaking them up in their own "sweat" or water. It will spoil them. If you're traveling, keep them in a cool and dry place. When you get home, place them in the fridge right away and avoid soaking them up with water. It's best to place them in containers with holes, if you have.
How to get there
For you to reach the strawberry farms by commuting from Baguio, ride the jeepneys which is "Buyagan" route sign. Its terminal is located just outside Baguio City Hall. The jeepney's route traverses through Baguio, La Trinidad, and Bontoc Road. Drop off the Benguet State University. The entrance to the strawberry farm is already walking distance from the university. These would take you just 30 minutes trip.
If your riding your own car, you can reach the place from Session Road, then you need to turn right to Magsaysay Road and turn left again at the stop light in which Baguio Center Mall in your right. These roads you are taking is still Magsaysay Road and connect you to Baguio City to La Trinidad. You will pass a vehicle flyover until you see the welcome arch of La Trinidad.
/// Written by Sheena Lou Alagao, The Philippines

Save
Save