If you are in Udon Thani province, in the northeast of Thailand, during the cool season, one place not to miss is the Red Lotus Sea. It is known as Talay Bua Daeng Baan in the Thai language. Even though it's not a sea (it is, in fact, a really large lake!), and even though the lotus flowers are not actually red (they're pink!), it is a fantastic place to visit.
During this time the lake is covered in hundreds and hundreds of lotus flowers. The overall effect is really quite spectacular as well as somewhat ethereal. Although you can admire the lake from the edges, you really should take a boat trip out onto the water to really get the full effect and to be able to admire the stunning natural beauty in all its glory.
There are two different types of boat to choose from – a larger boat that can hold around 10 people, or a smaller yet more traditional boat that is suitable for a maximum of four people. Each boat has a canopy cover so that you are protected from the harsh sunlight. Boat rides around the lake last for around an hour and a half and the boat driver will stop in particularly dense patches of lotus flowers so that you really can get some amazing views and photographs.
There is a small island in the lake where you can stop too and hop off to visit the small temple on the island. There are various shrines, statues, and images around the temple and you can also look out across the lake for a different perspective of the floating pink flowers that cover the shimmering surface.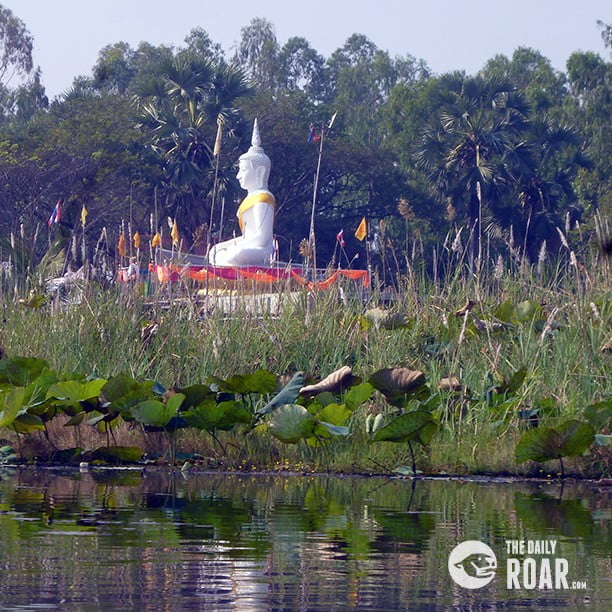 You can catch the boat from Chiang Haeo sub-district, which is in Udon Thani's Kum Pavapi district. It is well sign-posted and car-parking is available. There are a few food and drink vendors near to where you board the boats. A nice idea is to take a few provisions onboard and enjoy a floating picnic! It's a great way to enjoy breakfast. There are also public toilets near to the car park.
The best time of day to take a boat ride is between sunrise and around 11am. This is because the flowers are all open during this time; if you go later on many of the flowers will have closed up in the sun. It's still a nice sight but nowhere near as impressive!
Regarding the time of year, the best months to visit are between November and February. The flowers are not in bloom in the hotter seasons – the lake is still impressive because of its size, but it is really nothing special when compared to other lakes all around the country.
There are several places where you can spend the night just a few kilometres away.
 /// Written by Sarah-Jane Williams, Thailand