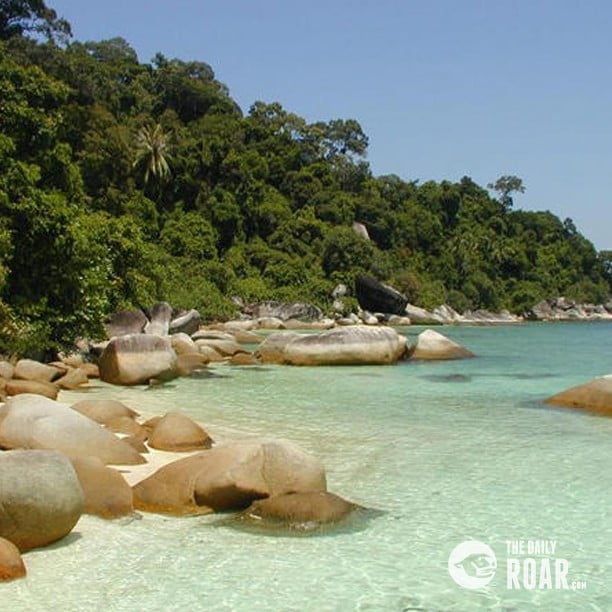 When you say Malaysia, only three things come to mind; the Petronas Twin Towers, Penang (it's always Penang) and a melting pot of culture. What many people don't know is that Malaysia has got plenty of beach spots that are worth a visit. From the duty free spots of Langkawi to the breath taking scenic views of Redang Island, the country is rich in back-to-nature vacation spots. While I've yet to have the opportunity to travel across the country, I've managed to spend a good 4 days on Pulau Besar, Perhentian Island; my personal tropical paradise! Wriggling my toes in warm sand, tasting the salt in the air, watching that…oh how my mind wanders…




Back on track; to get there, you can choose to drive up to the jetty (about 6 hours from Kuala Lumpur) or you can do what I did and fly to Kota Bharu and take a cab to the jetty. From the jetty you'd have to take a boat and you'll be dropped off at the shores of your chalet or resort. Pretty neat, huh? Imagine my surprise when the tides were low and we had to get out in the waters! Thankfully jeans aren't standard beachwear or they would have gotten wet!




Upon arrival, I was knackered from the journey but the view that greeted me combined with the gentle sound of lapping waters and soft, oh-so-very soft sand beneath my feet, took the exhaustion away. Picking from an array of chalets, resorts and a few hotels the weeks before the holiday was trying because there were just so many. But I finally settled on Mama's Chalet, a cosy little place that offers basic amenities at a minimal cost. It's super clean, comfortable and is run by a warm and welcoming family who added to the joys of my holiday.

Known for its sea activities, each chalet on the island have got their own packages for diving, snorkelling, night fishing, and for those who like a little alone time in the waters, kayaking. Since we're without licence or experience to dive, I picked a 4-point snorkelling package and it was truly an experience to remember. The four points included: Turtle Point, Sharks Point, Coral Reef and Turtle Island. As the boat took off into the deep crystal clear waters, I was all set with a grin slapped across my face and a heart pounding with the excitement. At each point, you'd be surrounded by schools of beautiful fishes and the sea bed is covered in corals; many of which have died and lost its colour, unfortunately. The island guide said that many tourists dive down and touch the corals, ruining them from their natural state.




As its name suggest, Turtle Point leaves you with a breath taking view of huge turtles swimming with you and some moving closer towards you so long as no rash movements are made. Sharks point, however, has little baby reef sharks but you'd have to move around to find them. *shudders* The guides told us that they're vegetarian sharks (really?) and don't attack, so we braved ourselves and plunged in the waters. He may have been right because here I am, living the tale!




My favourite spot was Turtle Island; a small plot of untouched land. With clear deep blue waters, soft white sand and a jungle behind it, the island seemed somewhat surreal, like something out of a postcard. Call me naïve, but I've never seen so much beauty from a scene so simple, nor felt so much peace. Not spoilt by buildings, pollution or man-made disturbances, it's a very small nook tucked away in a corner that's left in its original state. It's the perfect spot to soak up some sun, take that standard Instagram picture and be totally and completely relaxed. Ahh, bliss!

At nightfall, the skies are covered with a blanket of stars, a rare sight for a city girl like me. Perhentian Island is a true treat for anyone who needs a getaway, an escape from routines and a break from the city. If you're looking for a fun, club-filled island with parties, drinks and great memories, then pick Perhentian Kecil. But if you want a more family oriented island that's quiet and tranquil, then make Perhentian Besar your choice.