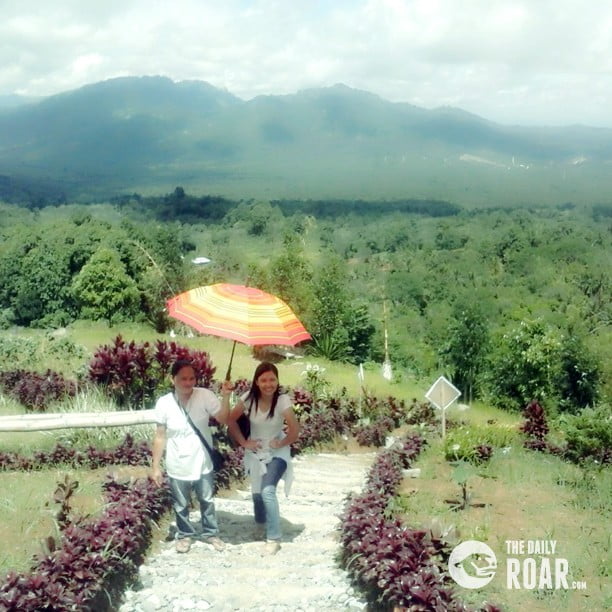 It has been my dream to travel to different places in the neighboring city I live, and hopefully to tour around the world. The best things in my life for now is to see the beauty of my country and the beauty of nature. North Cotabato is not just an ordinary place when it comes to developing its tourism though when compared to well-known places, we can say it is just starting to carve its name, to make a big name.

It was my first time to visit the place though it is not so far from the city I live. I had just a chance to enjoy the place since I visited a friend who had newly decided to settle there. I thought he would only tour me to market or just to see the farm in province area and it would still be interesting to me though.

Riding a bus from Davao City is very convenient to a person like me who doesn't own a car and for tourists who wish to visit the place.You can also have the public van for P150/head, aircon, at the terminal beside Gaisano Mall in Bajada .You could reach the place in just two hours while enjoying the beauty of nature. From Makilala North Cotabato, it is about thirty minutes of riding a single motor to reach our destination with nothing on my mind. It was clueless but I have in mind that for sure I would enjoy the vacation. Not far from the place proper, you need to pay a toll fee and register your name in the record book. The people there were nice and accommodating. My bestfriend who came to be my companion told me that there are tamed monkeys in the place. Wow! Yes! Tamed monkeys!

New Israel welcomes people around the world by their colorful world flags of different countries facing the gate. Our tour guide shared that many foreigners had gone to this place and even the Gobernor of North Cotabato had tried the zipline. The zipline is the first reason why people keep on visiting the spot since it is known as one of the longest zipline in Asia. Upon your arrival to the finish line, a photographer is waiting for you ready to capture the moment of your experience that are printable. They will also post it to their Facebook account the following days. They also had souvenir items and shirts and stores where you can buy personal things and needs. They also have restaurant with Pinoy dishes.

New Israel has two stations of zipline, the first which has 1kilometer and the second of 1.3 kilometer. Never in my life would I dream of experiencing zipline, not in this far place where I don't know somebody, except my bestfriend with me. Then, we decided to see the beauty above the place and have there the decision of riding the zipline or not. It was tiring but awesome walk to the starting point of the zipline especially I had my heels with me. Our tour guide was just so enjoyable to be with and she said they are paid ranging from 250 above just accompanying tourists. Along the walk, you could see from a far the beauty of the province and the blessed place. It was a little bit of heaven here on earth. At last! We succeeded the 340-step stair to heaven. We decided to ride the zipline since we felt tired and we do not want to go back down with all our effort again. The first zipline was about 1 kilometer and we reach the finish station. It was awesome. It was my first time and I did not look down while hanging on the harness since I am afraid of height. Then, we walk to the starting point of the second station with 1.3 kilometer. I told my bestfriend that I will overcome my fear. YES! For this time, I look down and the wonderful forest. It was like a big surprise. There are things in life that people must discovered from the things around them, and there are things in life that we keep on searching for but we can only discover it within us.




Things that we experienced are not just to make us visually enjoy and to learn literally, but if we look and deepen our understanding to it, we can find wisdom and peace of mind. We just need courage to comprehend and relate with nature since He, the Creator communicate in different way, in the most creative way.




/// Written by Sheena Lou Y. Alagao, The Philippines