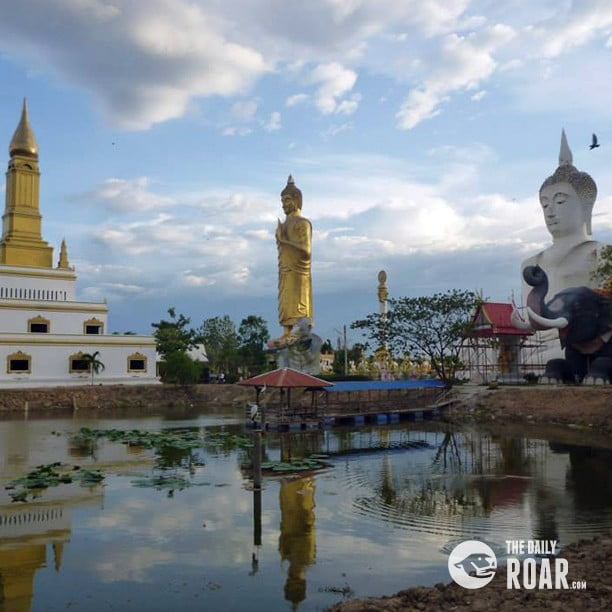 Phichit Historical Park a top attraction
Whilst Northern Thailand's Phichit isn't particularly popular with foreign travellers exploring the Land of Smiles, there is quite a lot of interest to enjoy in the old city. Steeped in legends related to a fearsome crocodile king of old, Phichit Historical Park, the swamp of Bueng Si Fai, the temple of Wat Tha Luang, and Dong Charoen Vineyard are amongst the area's top attractions. Another must-see when visiting Phichit is the temple of Wat Mai Plai Huai. Unlike many other temples in the area, it holds a few surprises!
Admire Beautiful Structures
Within the temple complex there are many pretty buildings, shrines, and statues to send your camera into overdrive. A small golden building with a shimmering red and golden roof rises up out of a pink lotus flower, lots of small Buddha statues are housed within the alcoves of a pagoda, statues of former Thai kings stand in front of a white bell-shaped chedi, and a tall white pillar is topped with a golden wheel of life. There are many different architectural styles throughout the grounds, with designs typical from different parts of the country. Many golden Buddha statues top memorials dedicated to people who have died, and there are numerous other statues of the Lord Buddha, large elephants and monkeys, and more.
Climb On Top of a Giant Crocodile
In line with Phichit's crocodile tales, the temple features a number of crocodile statues, including two mini crocs that stand either side of the main gateway. There is one large scaly crocodile with a pathway leading from its tail and up its back to a small shrine on top, it's wide-open mouth just in front. The shrine is filled with a number of offerings, including the regular candles, flowers, and incense, along with some that are fairly obscure, such as makeup and mirrors.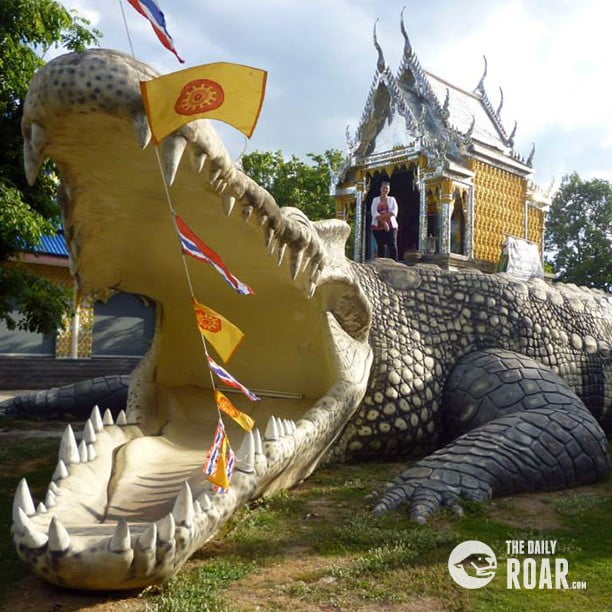 Learn How to Live a Good Buddhist Life
There are many statues that depict daily life, showing how a person can lead a righteous life as they follow the path to becoming more spiritually enlightened. With beatific features and a radiant aura, the statues might just encourage you to examine your own character and habits.
Peek into Buddhist Heaven
Although a major feature of Buddhism is that souls are reborn until they attain nirvana, between death and rebirth is a period spent in either heaven or hell, depending upon the karmic results of a given lifetime. Buddhist heaven shows serene-looking people enjoying their tranquil rewards before being reborn and continuing their life cycle.
Be Awed by Buddhist Hell
On the flipside, a person who hasn't been so good in their life may find themselves being tortured and pained in the gory Buddhist hell! It's certainly an eye-opener to understand what punishments are doled out for certain actions. For example, a person who was unkind to animals may find themselves being torn limb from limb by a pack of angry hounds, their only chance of escape to climb a thorny tree and rip their own flesh, and a liar will probably have their tongue severed. It's gruesome! Large malevolent spirits tower over the scenes, adding even more curiosity and intrigue to those unfamiliar with the beliefs.
A top place to get more insights into Buddhist beliefs and the local crocodile lore, don't miss Wat Mai Plai Huai when in Phichit.